This week marked a year since we concluded our one year of around-the-world travel. Over this past year, we've had time to properly digest all that we've experienced. Our itinerary has been retold dozens of times. People seem to have a great interest at how we had structured our route, so here I share how we had planned our around-the-world trip.
Planning the Route and Logistics
Our entire year was shaped by visiting friends and families. One of the goals was to maximize time with people we love, but don't often see due to our lifestyle abroad. We used holidays and weddings as the anchor and then filled in the blanks with nearby travels.
With a rough idea of where we would go, we then plan the actual travels only around one month in advance. The logistics become too overwhelming otherwise. This is my order of operation for trip planning:
1. Read blogs and guides to map out a rough itinerary (how many days to spend where)
This is the most time-consuming step of planning. To solve this pain point, I started destination guides curating useful blog posts from the Internet. Only around 50% of blog posts I open are actually helpful and provides a visually pleasant experience to dive into. So many are littered with pop-ups and ads that annoy me to no end. Decided to pay-it-forward to save you time.
2. Research destination to determine accommodation options.
This step is also quite time-consuming. When traveling long-term, a comfortable stay is essential. The other consideration is location. If we are in a destination without a car, I typically book in a prime location where we can move around on foot. With a car, we have more flexibility to stay a bit farther to save on cost.
A lot of time is spent to compare options and find the best value. I typically book AirBnBs for extended stays of 2 nights or more. If Airbnb isn't very popular in a location, I look for private rooms in a hostel. For shorter stays, I find hotels a lot more convenient with flexible check-in and check-out times. I use Hotels.com as the primary source, to take advantage of their stay 10 nights get one free rewards program. But for more remote locations, I also look on Bookings.com for more options.
3. Check flights/car rental on Google Flights & Skyscanner.
For transportation, I typically only check these two aggregators. They've worked for me, and I currently don't see the added-value to cross-check with additional services. I'm sure other aggregators work just fine, but I limit myself to only these two, so I'm not overwhelmed with options. When it comes to booking the flight, though, I book directly with the airline. This will allow maximum flexibility in case changes are needed.
4. Draft an itinerary with lodging options and transport to understand overall costs.
Based on the above steps, I then draft an itinerary that includes the overall cost to get a sense of the daily average. I track all of our expenses but don't really budget. The only items I look at closely is transportation and accommodation since that's typically the big-ticket items.
5. Decide whether to pay for transportation/lodging out-of-pocket, or engineer miles & points redemption.
Based on the prices presented from the aggregators, I then cross-reference with my award miles in Award Wallet, an aggregator service of all of my loyalty accounts. For long-haul flights or rental cars, I try to find ways to pay for them with miles. Shorter flights, I typically pay cash, as the redemption value declines.
For accommodation, I generally reserve hotel points and free nights for expensive cities. The rest, I pay out of pocket. But since we planned so much of our trip to see friends and family, a lot of accommodation was free. We also participated in a few Workaway experiences to exchange time for housing. This is an ideal option for long-term travelers.
6. Adjust itinerary according to final transportation and lodging choice and costs.
I adjust the final itinerary accounting for any travel reward redemption to arrive at a final cost. Once I am happy with this, then I book. This overview helps me see if I want to adjust any options – perhaps go for a cheaper alternative to offset more expensive experiences.
7. Book transportation and lodging.
For accommodation, I almost always pay a few dollars more for refundable options. I've been burned a few times trying to save on a couple of dollars, but end up booking the wrong dates or need to change later due to a shift in the itinerary.
For transportation, since we don't book that far in advance, and there are fewer bookings compare to accommodations, a non-refundable option is an acceptable risk. Any significant cancellations would be covered by travel insurance.
8. Arrive in destination and research tours and things to do. Save on Google Maps.
I refer to blog posts I've saved, or research new places to go upon arrival. Sometimes this is done in airports while waiting to get to the destination. Either way, it's not planned too much in advance. I saved all the places (including restaurants and cafés) I'd potentially want to visit with the "want to go" green flag in Google Maps.
9. Enjoy the destination and adjust plans throughout the day.
If the day doesn't involve any tours, we typically set off on the day rather casually. Usually only with a rough idea of a neighborhood to visit if we are in a city, or one destination to reach if on a road trip. Along the way, we improvise the plan and stop at places I've saved on the map. This way of travel keeps things spontaneous and low-pressure.
Finances
At the start of our trip, we were unsure how long we would travel, or where life would lead us. Part of the journey was an experiment to see what lifestyle we may want. We wanted to have enough cash to not worry about making money as we explore (nor fret over how the market performs).
So, we had stashed a bit more than one year of our living expenses in Shanghai, which was around US$80k. The majority of this sum was sitting in high-interest savings accounts to access. Our cash reserve also allowed us to invest a bit when the market dipped at the end of 2018, generating some extra returns while we continued our travels.
As stated before, I track every expense in an old-school Excel file. Each credit card swipe and ATM withdrawal is accounted for. My anti-budget self only cares about the total sum spent. I did divide up the costs by region just to have an idea which leg of the journey was more expensive. Predictably, the Trans-Siberian leg was the priciest, since we were on a time constraint.
| 2018/2019 | Total $ | Days | Cost/Day/Person |
| --- | --- | --- | --- |
| Trans-Siberian | $5,249 | 26 | $101 |
| France | $2,966 | 49 | $30 |
| US/Canada | $13,335 | 111 | $60 |
| South America | $9,290 | 87 | $53 |
| USA | $7,671 | 88 | $44 |
| Europe | $4,078 | 36 | $57 |
| Total | $42,590 | 397 | $54 |
| | | | |
Cost breakdown by region for our year-long around-the-world travel
These costs are of course reflective only of our travels. One can certainly travel for much more or much less, depending individuals' desire for comfort. We typically will pay for a little bit of convenience, and balance costs between rustic and simpler experiences with pricier unique experiences.
Tip: When traveling long term, it's important to prioritize. $5 of entrance fee here, $10 ticket there all add up. We had forgone many museums if the weather was good, and instead walked around for free to soak up the city's vibe. When on road trips, we also only choose a few key sites that require payment. Often, you can find sites with similar views just around the corner.
Travel Hacking Adds Up
I was quite surprised that traveling was a lot cheaper than our fancy ex-pat life in Shanghai. Travel-hacking actually added up to be a healthy chunk of expenses, which lowered the total cost. In sum, the market value of all of our travel redemption totaled to be around $20,500. But this figure is MUCH higher than what we would have spent. We certainly would've found cheaper airfare alternatives, and not stay at 5-star properties.
| Month | Item | Market Value | Rewards Source |
| --- | --- | --- | --- |
| Jul'18 | Kiev (11 Mirrows Design Hotel) | $221 | Starwood Points |
| Jul'18 | Berlin (Grand Hyatt) | $183 | Hyatt Annual Award |
| Aug'18 | Paris – DC flight | $2,542 | AA Miles |
| Sep'18 | Boston (Hyatt Regency) | $1,272 | Hyatt & Chase Saphire Points |
| Sept'18 | Mariott Georgetown DC | $718 | SPG/Mariott |
| Dec'18 | Houston – Buenos Aires (2 tix) | $4,609 | American Airlines Miles |
| Oct'18 | Vegas – SFO (4 tix) | $170 | Alaskan Miles |
| Oct'18 | Vegas/Grand Canyon Trip | $1,188 | Chase Rewards |
| Dec'18 | STL-Houston Flight | $150 | Amex Offer |
| Dec'18 | Buenos Aires – Salta flights | $227 | Chase Rewards |
| Dec'18 | Trelew – Buenos Aires flights | $74 | Chase Rewards |
| Dec'18 | Puerto Madryn Hotel | $197 | Hotels.com Rewards |
| Feb'19 | Santiago-STL Flight | $1,849 | American Airlines Miles |
| Mar'19 | STL-Orlando Flight | $200 | AmEx Travel Credit |
| May'19 | STL-Paris Flight | $6,068 | Delta Miles |
| May'19 | Paris Holiday Inn | $747 | IHG Premier |
| | Total | $20,416 | |
Other Cost Savings
Since I don't keep a detailed budget, I can't tell you which categories saved more money. But instinctively, just looking at rough numbers, traveling is cheaper than regular living for a few reasons:
No Rent – This is a massive fixed cost that was eliminated, and we were able to be flexible and get creative with accommodation options. When living the stationary life, travel becomes expensive when you must continue to pay for rent/mortgage while also pay for accommodation.
No Fitness Expenses – I had always been a part of a gym or yoga studio while living in Shanghai. When on the road, this expense was removed. $10 class here and $20 there really do add up.
No Personal Care Expenses – Similarly, I eliminated all "personal care" luxuries from my life – no more hair, nail, wax, massage, etc. services. All those little perks that I felt made corporate life a tad more enjoyable were no longer necessary.
Little Social Expenses – Since we were mostly alone, the amount we spent going out decreased significantly. We also realized the amount we used to spend enjoying the Shanghai restaurant scene was quite a bit – whenever a bill feels high, we convert it into RMB for comparison…
Only essential shopping – When living out of a suitcase, we had a one-item-in-one-item-out policy to ensure everything fits. We only buy food we can consume within the few days of stay. This minimalist lifestyle meant very little extra expenses.
Health & Travel Insurance
I had quit the corporate grind several months before setting off on this journey, so I already had my health insurance sorted. I went with a private plan with CIGNA Global Health because we had a rough idea of starting a family in the medium-term future. Health insurance with maternity coverage requires one year of coverage before maturity benefits kick in.
For travel insurance, we bought them in segments as we traveled. For our Trans-Siberian leg, we bought coverage with World Nomad. Later, a fellow traveler told us about InsureMyTrip, a travel insurance aggregator. For the remaining of our trip, we bought different segments of travel insurance from this site.
Packing
We had minimized our lives to one backpack and one suitcase each. People easily travel with less, but we weren't sure where our lives would take us, so we took our home with us. Our voyage covered most climates, so we needed suitable clothing. The key is layering. Ushuaia was the coldest place we visited, and we layered on every long-sleeve item we had.
Packing cubes were essential to help keep our clothes organized. We each had a week or two worth of clothing on regular rotation before we needed to find laundry options. For space-saving, we also bought trail running shoes instead of bulky hiking shoes. Our journey didn't involve serious hiking anyway, and this served us well.
Electronic wise, I had my MacBook, Kindle, Sony mirrorless camera with two lenses, and my iPhone. Xav carried his iPad, camera, and iPhone. To charge all of these easily, we brought a mobile power strip. This was extremely useful. A portable speaker was also convenient for entertainment; endless hours of podcasts and music were played on the go.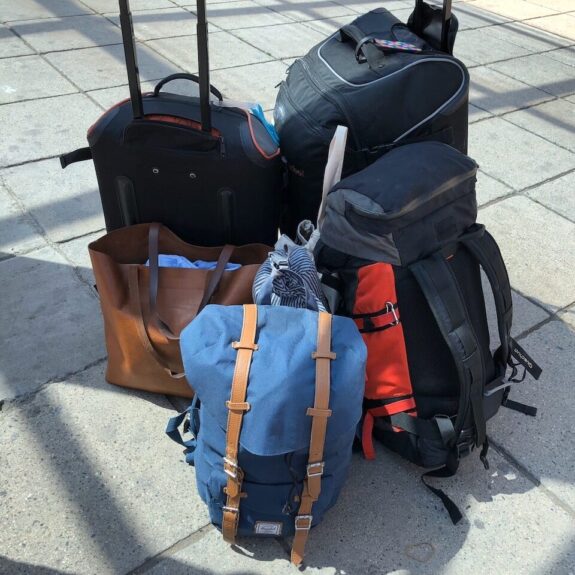 Around the World Travel Itinerary
Here's the monthly recap of our journey, with links to relevant blog posts for further reading:
June: Trans-Siberian Railway via Beijing, Ulaanbaatar, Irkutsk
We left our lives behind in Shanghai toward the end of June and set off on this trip. Saying goodbye to China via the Trans-Siberian railway was very fitting and bittersweet.
July: Trans-Siberian Railway via Russia, Ukraine, Poland, Germany, to France
We traversed across Russia and headed into Europe, all the way to our destination at Xav's hometown, where we had our final wedding celebration! Most Trans-Siberian railway journey begins in Moscow and ends either in Vladivostok or Beijing. I quite enjoyed doing the trip the other way around and extending the train journey well into Western Europe.
August: Les Vosges, Paris, Washington D.C., New York
Summer in France is wonderfully laidback. The whole country seemed to be on vacation. I headed to the U.S. Mid-month to catch up to attend a Peace Corps reunion, celebrating 10 years since we were shipped off to Cameroon. It was also an excellent opportunity to catch up with friends along the East coast.
September: Vermont, Montreal, Maine, Boston, New York, Washington D.C.
I attended a wedding in Vermont and then showed my Frenchie the American Northeast in the fall. I hadn't traveled much in the U.S., and it was an excellent opportunity to go through tiny towns in the USA. We journeyed from Montreal, Canada, following the coast all the way to Washington D.C.
October: Las Vegas, National Parks in Utah and Arizona, San Francisco Bay Area
After the East Coast was time for West Coast, but first a family road trip across astounding national parks in Utah and Arizona. The U.S. truly is a beautifully diverse country. We then flew out West to the San Francisco area, where we spent quality time with more relatives.
November: St. Louis, Kansas City, Houston
I love Thanksgiving and was happy to spend the month mostly at home, catching up with old friends and quality time with family. The few weeks were also a much-needed reprieve from non-stop travel. We flew to Houston to see some more family before starting our South American journey. I wasn't kidding when I said we based our entire trip around friends and fam!
December: Buenos Aires, Northern Argentina, Patagonia
We had planned to spend Christmas with Xav's family in Uruguay. The plan naturally included Argentina. We spent three weeks traveling across Argentina from the North all the way to Ushuaia, or otherwise known as "the End of the World." Wildlife sighting had never really excited me much until this trip. Argentina really excites me to see more of nature. We made it to Montevideo just in time for the holidays.
January: Uruguay
When we left Shanghai, our travel ideas only extended until December. But we decided to keep the voyage going, but rather than hopping all around, we decided to try out Workaway and engage in some work exchange. In Uruguay, we had an incredible experience living on an off-grid farm.
February: Chile
Our Workaway experiences in Chile were rather touch-and-go. However, I still enjoyed the opportunity to spend an extended amount of time in Valparaiso, and then an epic road trip to the Atacama Desert.
March: Royal Caribbean Cruise, St. Louis, Detroit
We joined my sister and their new baby on a cruise ship. My brother-in-law works on the ship, so we got some insider access. Again, uninterrupted family time, even if cruising isn't much my style of travel. The remaining month was settling in St. Louis for the following couple of months. It was some quality time seeing good friends in Detroit.
April & May: St. Charles & St. Louis
We had some much needed time to stay put in one place to devise our next plan. While we house-sat for my parents, this was also my last time in our family home, so I underwent massive cleaning out of childhood items. Thankfully, I've already had ample minimalist training. During this time, plans for Vietnam was firmed and would end our nomadic life experiment.
June: Paris, London, Munich, Zurich, Lyons
Before ending our journey and setting into a new life in Saigon, we had one final month of travels spreading across Paris, London, Munich, and other parts of France. Once again, catching up with friends and families. This quality time really never gets old!
Final Thoughts
I have so much gratitude that all the stars aligned for me to embark upon this lifelong dream to travel full-time. The experience revealed the truth of full-time travel – it's exhausting and absolutely not a never-ending vacation. Nevertheless, the opportunity to dedicate time fully to discovering the world is a real privilege.
Whenever I share our around-the-world travel experience, and people say, "Wow, amazing. I've always wanted to do that," I always encourage them to find a way to make it happen. Even if only for a few months. The exercise to be consistently outside of our comfort zone and exposing ourselves to new senses is incredibly intense. We are humbled by our encounters, and gain insights into who we are, what we need, and our place in the world.
If you need further convincing, the lightness of knowing we are living life without regrets, and the rare opportunity to have ample quality time with friends and family are two solid reasons!