Journey to Moscow
After hours upon hours of long-distance train travel, we hopped on a high-speed rail to reach Moscow. The train was impeccably new yet comfortable. Somehow, having been used to the luxury of spreading out on our beds during train journeys, the 4-hour ride on a seat felt long and rigid. We could have taken the slow train down, but the time didn't seem worthwhile.
There are also plenty of trains between St. Petersburg and Moscow, thus cutting down the price. The more countries that I travel, the more I become dismay at the lack of train infrastructure in the United States. This dismay grows stronger when you experience the museum-like subway stations in St. Petersburg & Moscow. Alas, I digress. 
Allez les bleus!
Xavier has a cousin who had been living in Russia for as long as he had lived in China. Our time in Moscow thus centered around time spent with family. Before we left China, we had custom-made two football jersey for Team France for the two 6-year-old boys. Luckily, France was still in the tournament when we arrived! The kids didn't take the jersey off for our entire stay with them! 
When you spent time with 6-year-olds, activities tend to revolve around parks. As result, we visited quite a few parks in Moscow. Gorky Park, in particular, has an amazing playground that made me wish I could go back in time! 
Church Hopping & The Kremlin
As we usually do, we spent a good deal of time walking randomly around the city. Moscow has a much different feel than St. Petersburg. The streets are massive, much less human-sized, and well, more Communist. The city reminded us of Beijing, where structures are massive, and somewhat cold. 
The cold feeling could also have been that we didn't have fantastic weather during our time there, and the intermittent rain didn't help the case. Nevertheless, we walked. The Red Square felt much smaller than it had appeared in films and photos; perhaps because the World Cup fan zone took up a good part of it. 
Despite the grey, the mighty St. Basil's Cathedral is every bit as colourful and impressive as it appears in photographs. Once you get past the droves of selfie-taking tourists, gazing at this historical structure can transport you back into time. This is true for most of the buildings that we came across in Moscow. The surroundings aren't always welcoming, but treasures are hidden across the city, waiting to be admired. 
We did not plan ahead to book tickets for The Kremlin, and the line was a few hours deep. Despite this being the top thing to do, we decided to forgo it. We encountered the same in St. Petersburg for The Hermitage. Somehow, we don't feel to have missed out. When you travel slowly, you get to experience parts of the city that tourists on the Top-10-Mad-Dash cannot.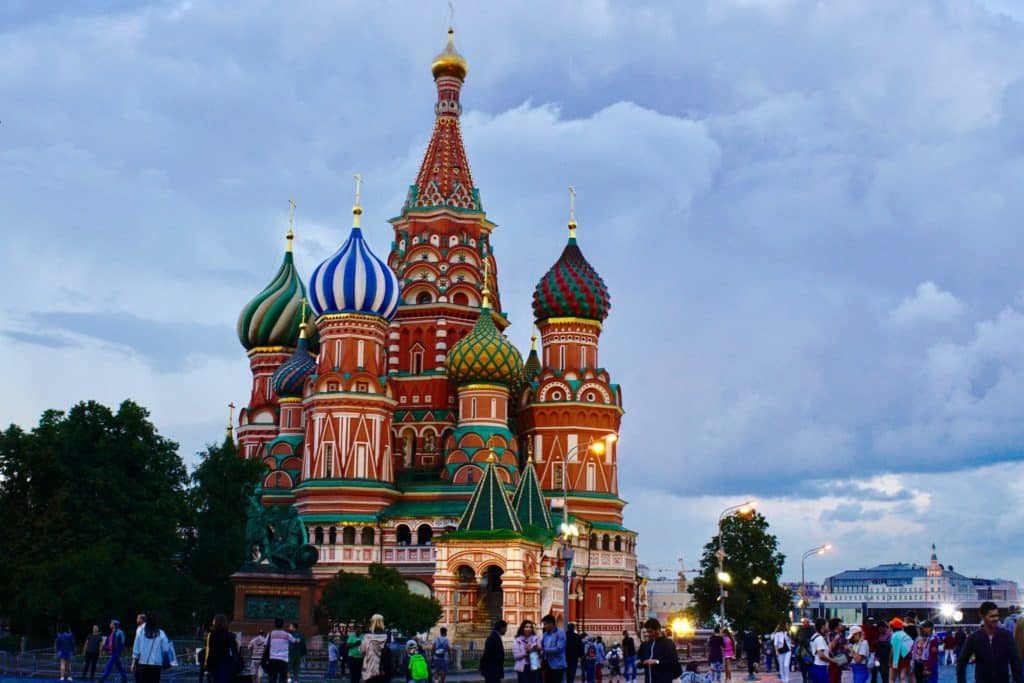 Wander with Locals
One of the reasons we love aimless wandering is the unexpected paths that it takes us. When rush hour came around, we saw a stream of professionals crossing into a gate seem to lead to nowhere. We decided to follow them. To our surprise and delight, it was a shortcut that leads to a popular subway station. The streets of Moscow may seem massive, but you can count on the locals to show you the human-size neighbourhood streets! 
Staying with a Muscovite family and skipping out on the touristy sites gave us a good sense of what living in Moscow could look like. Everywhere that we visit, we envision living in the space, and moving to the rhythm of the place. This, combine with our love to grocery shop at every destination, may seem simple, but is one of the greatest joy of travel. 
Planning your own Trans-Siberian journey? Check out the complete summary from our journey and pre-departure planning tips!