During my planning, I had read that Yekaterinburg is a good stop point to break up the Trans-Siberian route, but that it was an industrial city not worth lingering. I took that silly advice and only allowed for less than 24 hours in this lovely city.
Self-Guided Walking Tour
If there's any place that I wish we could stay longer, it's Yekaterinburg. To maximise time and see as much as we could, we followed the Red Line Tour, which is a self-guided walking tour that the city has planned for tourists to walk on a literal red line around town. It's brilliant, and I wish more cities would have something similar!
It was a hot summer day. After lugging our luggages up 4 flights of stairs at our hostel (Hostel R.E.D.), we headed out for our walk. We followed a guide I found online with short description of each place. Following the numbers on the Red Line, we'd stop at street corners and read about each stop.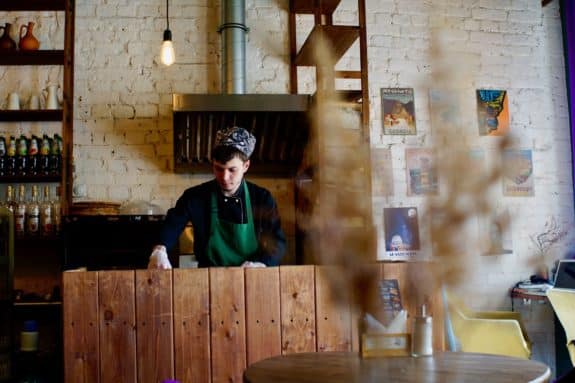 The more I read, the more I wish we had time to actually visit the museums, and take our time. Half way through the walk, I needed food, so we stopped at this adorable Georgian café (Khachapuri Dlya Pushkina) for their version of the pizza. The restaurant scene in Yekaterinburg is apparently really stellar, and I was beyond sad that we only had one meal in town.
Nevertheless, carpe diem. The chef at the Georgian café was whipping up our little pizzas right after we order. That dough is as fresh as it gets! While waiting for our food, I enjoyed the quaint ambiance of the café, decked out in a purple and green décor that is surprisingly tasteful and didn't turn the place into Willy Wonka's Chocolate Factory.
World Cup Frenzy
The walk resumed after full bellies. We stumbled upon a massive American bar on the corner of a popular pedestrian street. Russia was scheduled to play Spain in the World Cup that evening. There would be no better place to watch the game. Politics aside, I found it incredibly amusing to watch a Russian game at an American bar on the edge of Siberia. Our globalised world never seize to amaze me. The game was advancing slowly with little action, so we decided to continue our stroll around the city.
We strolled along the river as the golden hour approaches. Non-tourist activities have become our favourite part of travels. Walking amongst city residents who are dancing, picnicking, relaxing along the river banks make us feel like we belong, even just for a short moment. It was heart-warming to witness a community effort to rescue a drowning dog. Despite the language and culture differences on the surface, humanity is quite similar in its core.
Planning your own Trans-Siberian journey? Check out the complete summary from the journey on planning tips, itinerary, and more!
From the Blogosphere