Day 1 – Irkutsk Wandering
We checked into our hostel at Katyusha Travel Centre, a no-frills hostel that is clean, spacious with a large common space. I didn't realise that bathroom wasn't en-suite for a double room, but hey, a little hostel living is good for the soul. 
First order of business is to get a Russian SIM card. I did a bit of research and turns out Megafon has the cheapest rate, but Tele2 has better coverage in Irkutsk. Since we are only in the area for a few days,  we went with the cheap rate across Russia. In the main square, there are many mobile service providers next to each other. 
With the help of Google Translate, the nice guy at Megafon helped us get our SIM cards. He also made a joke about Xav's name and X-man via Google Translate! 
We wandered around town, visited the Central Market, and got a general feel of the city. The sun doesn't set until nearly 10:30pm. After a downpour around 9pm (apparently this is occurs quite often in the summer), we went back out for sunset. And boy, that Siberian sunset is on  point! 
Day 2 – Lake Baikal & Walking along Circum-Baikal Railway
One of the reasons we chose to stop over in Irkutsk for so many days was to experience Lake Baikal. After much research, we decided to hire a guide from Baikalier to take us on the Circum-Baikal Rail Walking Tour. We left around 10am. After 90 minutes of drive, we arrived at the start of the hike. 
A easy 45 minute hike through the woods, and we arrived at the 149km mark to start our walking tour on the Circum-Baikal Railroad. Our guide left us at this point, and we were instructed to simply follow the rail until Kultuk village. 
The lake was well worth the hype. At the height of summer, temperature soared to beyond 30 degrees Celsius, yet as we walked along the trail, breeze from the cold water served as nature's air-conditioning. 
This stretch of railroad was the most difficult part to build on the Trans-Siberian railway. A more direct route was later constructed, and this winding stretch is now used only for infrequent tourist or local trains. 
All the worries of our mundane lives dissipate as we walked along this 12km stretch, with the pristine lake on one side, and a vast forest on the other. Perhaps there would be more peace in the world if our collective humanity spend more time outside in nature and less time in cubicles, be it office cubicles or bird-cage apartments. 
Along the walk, we found a shady patch to sit and enjoyed the picnic we had packed. There was absolutely no one around, just the two of us, the lake, and some bugs roaming about. Coming from so many years of living in China, where people are aplenty, this is supreme luxury. 
We dipped our feet into the lake at the end of the lake, and the water was still SO COLD. We couldn't stand to be in it for more than 15 seconds, while the locals came by to fetch water, and then dove straight in for a swim! 
Ah yes, the water from Lake Baikal is so clean that you can drink from it. Even in Irkutsk, the tap water come straight from the lake, and you can drink from it! 
Day 3 – Irkutsk Free Tour

Due to our limited time in the city, I found a free walking tour in Irkutsk. Around 10:45am, we met our guide, Natasha, at the Lenin monument. She's an eccentric geologist who grew up in the Far East of Russia, but her family are from Irkutsk and they moved back when she was in her teens. 
I love these tours for the chance to interact with the local population and get their insights. Upon discussing the monument of Russian astronaut, Natasha made a comment that she thinks Armstrong's ascend to the moon is photoshop. I couldn't tell what percentage of that comment was a joke, but nevertheless eye-opening to meet someone who holds some percentage of that belief. 
The tour lasted over three hours. We hit up various monuments and architectural highlights of the city. For lunch, we stopped at a local diner and we ate some buuz, the love child of soup dumplings and baozi. 
Serendipitous Encounter
At this diner, a young Asian-faced man was our server. He was really interested in us and asked Natasha various questions about where we come from. His curiosity and excitement was endearing.
Later in the afternoon, Xavier and I walked to a historically working class neighbourhood to visit the Kazan Church of Irkutsk. I had seen photos of this colourful Russian Orthodox church, and was eager to witness it. 
The church was out on the edge of the historical centre, but instead of taking the bus, we opted to walk to see a different part of the city. As we walked through a park to cross over a small river headed for the church, I felt someone running toward me and tapped on my shoulder.
Turns out it was the young server from lunch! He was SO excited to run into us, and  was saying a bunch of stuff to us and gesturing for us to follow him. Finally, with the help of Google Translate, we understood that he wanted to introduce his sister to us, who speaks some English.
We followed him to meet her. She served as translator and asked us a lot more of the young man's questions about us. We learned that they are Mongolians who come from a small Siberian town of Chita. They are in Irkutsk studying. 
The encounter was so heartwarming, and in light of all the distressing news coming from the US about immigration and separation, it's comforting to reaffirm that we are all immigrants from somewhere. Love one another, and be curious to understand one another, even if it requires Google Translate. 
Day 4 – Central Market & Trip-prep
In preparation for the upcoming 48+ hours train journey between Irkutsk and Yekaterinburg, we stopped by the Central Market to buy some food for the journey.
Staying put in a place, even just a few nights, can quickly feel like home. Between the few days, we had our cheese lady, cafés and shops that we frequent. Humans are very adaptable, but also like comfort whenever we can get it. 
We stocked up on cheese and dry sausage, since they are easy to carry. Our cheese lady was incredibly helpful. Despite not understanding a word that she said, we were able to try various kinds of cheese and decide on our order. After all, trying delicious cheese doesn't require verbal communication. Our lovely lady threw in a free block of cheese for us in the end! 
Traveling reminds us how similar we all are. Who doesn't like cheese, right? 
Restaurants We Enjoyed in Irkutsk
This basement restaurant is a bit of a tourist trap in the 130 District, but nevertheless the food was good. Most importantly, the Soviet-era decor is so over-the-top that it actually is worth checking out. 
This is the local diner we visited with our free tour guide. It's on the edge of the old town, but if you are on the way to visit Znamenskiy Monastary, it's worth a stop. The food is hearty and cheap. Located across a busy street from a shopping centre, you get a really local feel.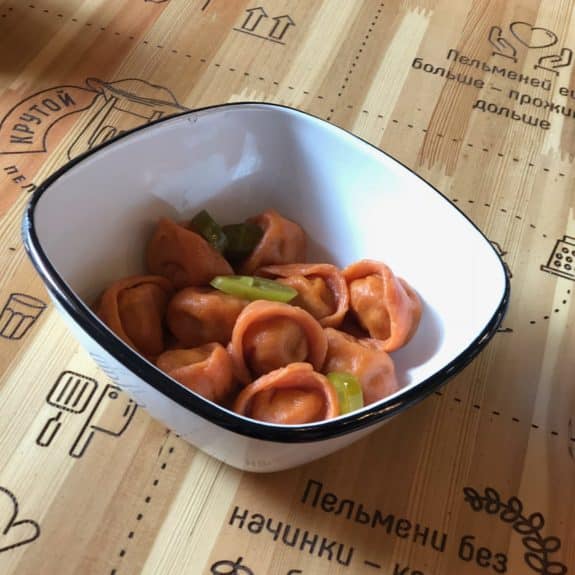 We went to this place twice in 4 days because we liked it so much.It's a dumpling place where you can find a variety of dumplings from Chinese wanton look-alike to Italian tortellini. They have an English menu, but I just opened up photos on Google and pointed at ones that looked good to try! Very cool vibe, and extremely affordable!  
Across from Real Znamy is a little hipster coffee shop. If you are craving a good cup of coffee after drinking too much nest cafe on the train, this would be the spot. 
---
Planning your own Trans-Siberian journey? Check out the complete summary from the journey on planning tips, itinerary, and more!