Journey to Kazan
Our train left for Kazan from Yekaterinburg early in the morning. The 13-hour journey was our first non-overnight train; the perfect time to do some good old-fashioned reading without the distraction of Internet. I read Sapiens: A Brief History of Humankind and completed Hillbilly Elegy in one sitting. I cannot remember the last time I read a book cover-to-cover in one sitting!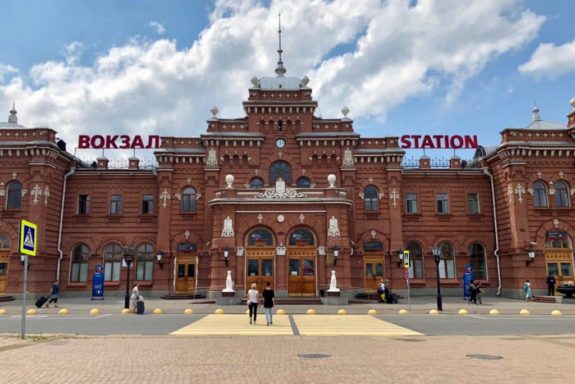 We shared our second-class cabin with a mom and her toddler. The kid was surprisingly well-behaved for the entire journey, and we witnessed first-hand what traveling with kids could be like – it's not that bad! 
We arrived in Kazan late in the night, and checked into our Hostel at Geography Hostel Kazan. Our dates in Kazan were right before the Brazil-Belgium quarter-final for the World Cup, and hotels were all sold out. The only thing we could afford were classic bunk beds in hostels! Every now and again, it's good to be reminded how we used to travel in our 20s.
Aimless Wander
Kazan was a delightful change of scenery from our travels through Siberia. The mix of Tartastan culture and religion can be seen from the architecture crossing between mosques and orthodox cathedrals. The city is smaller than I had imagined, so we didn't have a set itinerary, and instead set off on an aimless wander across old town. 
Along the way, we stopped into the Museum of Soviet Life. I had read positive reviews on TripAdvisor, but sadly, it was a two-story space of random items from the Soviet times. No explanation of any type. Calling it a museum was a far stretch. Certainly not worth the entry ticket. This experience made us more aware of random establishments calling themselves a "museum"…
We wandered across the river to Old Kazan. Unlike the touristy Bauman street, this side of town was eerily quiet. Streets are really clean and the buildings are well-kept. Somehow it felt like being on a movie set. 
Sunset at Kazan Kremlin
The Kremlin in Moscow is world renown, but the Kazan Kremlin has a special charm of its own, minus the insane number of tourists. We spent both days lingering in this space to watch the sunset. Architecture has a way to showcase its beauty in the golden hour. We saw reporters taking advantage of this beauty, reporting World Cup news at dusk. Despite the World Cup crowd, we still had ample room to bask in the history and grandeur. If you only stop in Kazan for one day, make the Kremlin your destination.
People Watching on Bauman Street
In Kazan, you will inevitably end up on Bauman street, the pedestrian stretch that features Epiphany Cathedral. The street really comes alive after dark, and on the eve of the World Cup Quarter Final, Brazilian fans were a-blazing! We, however, prefer the early quiet mornings of people watching. Order yourself a set of traditional tartar tea at Skazka, and spend the morning watch tourists stroll around. 
Canteen style eateries are quite popular in Russia, and on Bauman street, Khanuma is one of the best we had. Both days, we had lunch here. The options are plenty, food is decent, and most of all, it is crazy cheap! We paid nearly the same prices for lunch here as our coffee in the afternoon at Skuratov Coffee. That's the trade-off I am willing to make! 
Central Market
When traveling, we love grocery shopping and visiting markets. Buying food the way locals do teaches us a lot about people's way of life. We were thus very excited to stumble upon the Central Market in Kazan. This indoor open market has all the life's necessities. Xav, the Frenchie, needs to try every bread product he comes across, and the freshly baked flatbread at the market entrance were ideal for breakfast. We also went nuts at the nut stand. All the options! I wish the "modern world" would sell goods the old-fashioned way – not wrapped in plastic! 
3 Days in Kazan is quite long if you are on a tight schedule, but we welcomed this break from our constant travel. Kazan marked the halfway point of our Trans-Siberian journey, and we were reenergised for the second half! 
Planning your own Trans-Siberian journey? Check out the complete summary from our journey and pre-departure planning tips!