As soon as we got off the train, we felt the breeze of that fresh Mongolian air with a shining sun. We saw a guy holding a sign of our hostel (Zaya Hostel), and walked towards him.
But first, cash. With 3 ATMs in the train station, only one worked with my Charles Schwab VISA card. With 2,000 to one USD, I withdrew 60,000, and it was only $25. To my surprise, many places in UB takes credit card, even the roadside BBQ stands!
The ride to the hostel in centre of town only took 15 minutes. We dropped our bags and went for lunch. It was Sunday, and the streets were quiet with few restaurants open. Luna Bianca, a vegetarian restaurant located near us, came recommended.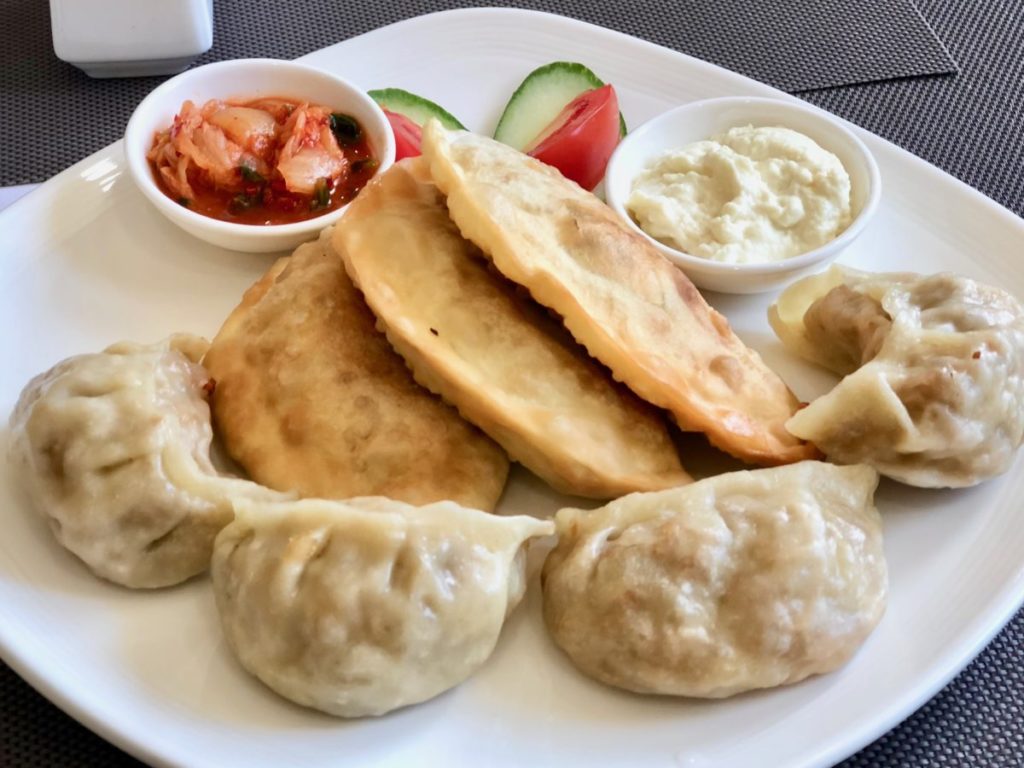 We ordered the Mongol plate with Khusus and Buuz (distant cousin of the Chinese baozi). They were vegetarian and delicious. I'd imagine without these restaurants, being a vegetarian or vegan in Mongolia would be quite difficult, as the dishes are meat heavy, and often even vegetables are cooked with minced meat of some sort.
A stroll about town to the Ghengis Khan Square gave us a feel for the city. The soviet-era influence is still well and alive, but one can sense the city trying to find its footing with skyscrapers surrounding ancient monuments, and streets dotted with trendy restaurants.
In the evening, we stumbled upon a street of food trucks. It's comforting to know that these things are beloved everywhere. The World Cup game between England and Panama was one, and the streets were also dotted with tents set up for this celebration.
We read that in front of the State Department Store on Peace Avenue has good Shashlik (meat on the stick BBQ). When we arrived, we saw a tent set up for the game, so we settled in for beers and BBQ. As much as the media tries to highlight our differences, we has humanity are pretty similar. People enjoy watching sports, drinking bear, eating barbecue.
The next day, we had the morning to explore a bit of Ulaanbaatar, and below are highlights:
I visited this temple with high hope. It's supposed to be the "temple of pure joy" after all. But in reality was somewhat disappointing. The beautiful arch facade of the temple had been covered with rather ugly glass coverings. And the 9am ceremony I read about did not happen. The buddha statue, however, is still worth the visit. It is absolutely massive and well-maintained. I've seen some massive buddhas in Myanmar, but this one is particularly awe-inspiring.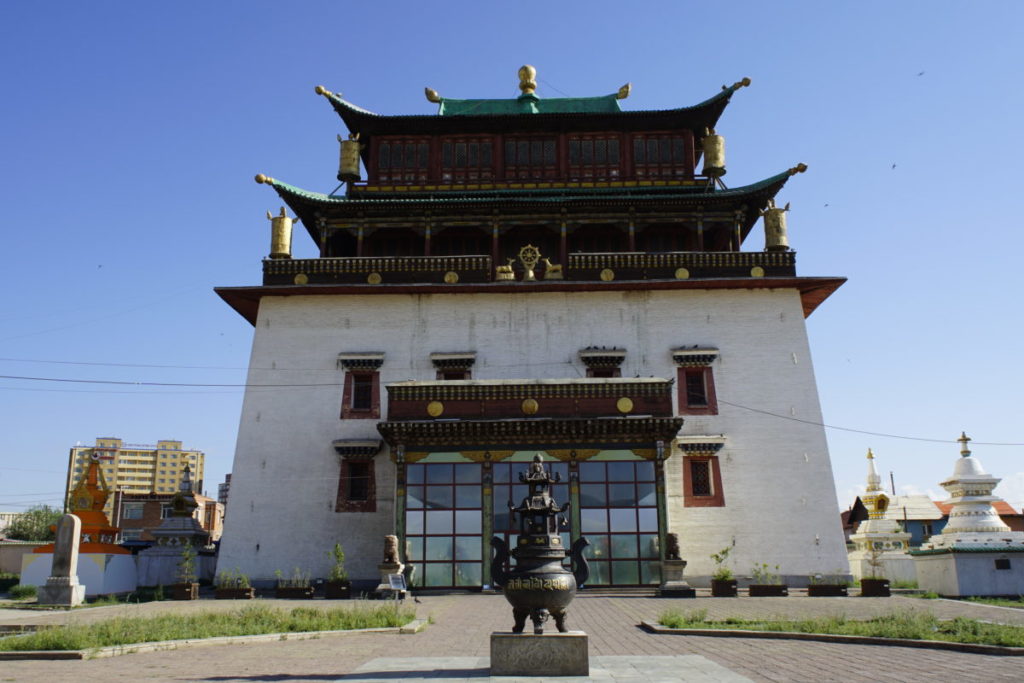 This temple is well hidden in the midst of skyscrapers. At the entrance of the museum has a map of Ulaanbaatar from the early 1900s. I marvelled at how the city has changed, yet the map also explains all the small roads and hodge lodge of buildings that had taken in place of yurts.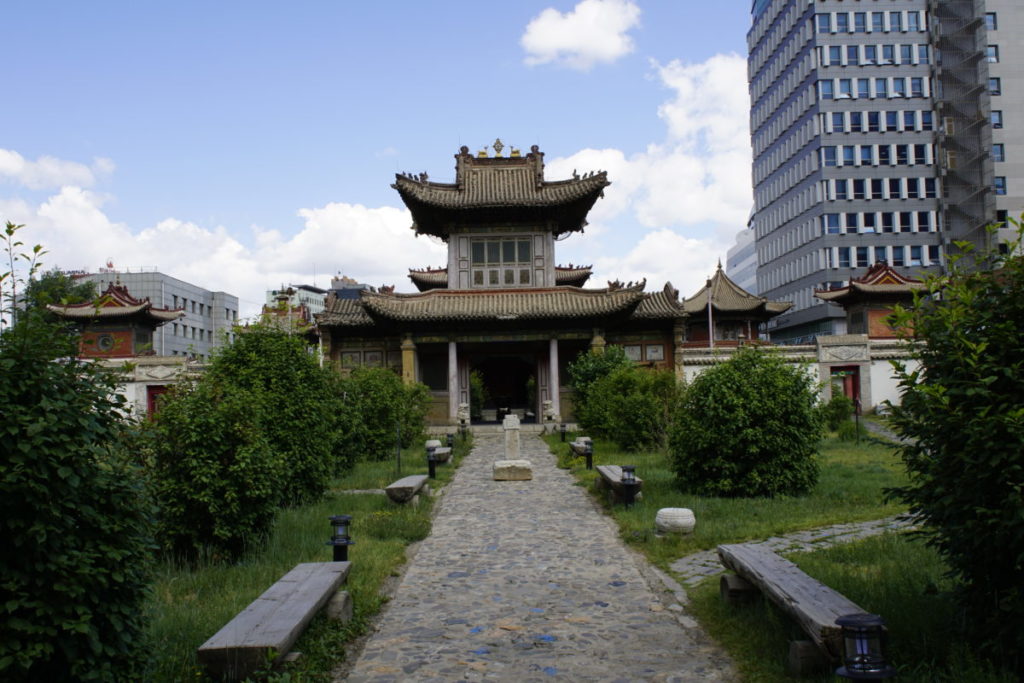 we fuelled ourselves with a meat-heavy meal prior to boarding the train. The restaurant was a bit on the relatively expensive side, but the dishes are delicious. We had lamb shank, and a lamb liver dish, and balanced out with a salad.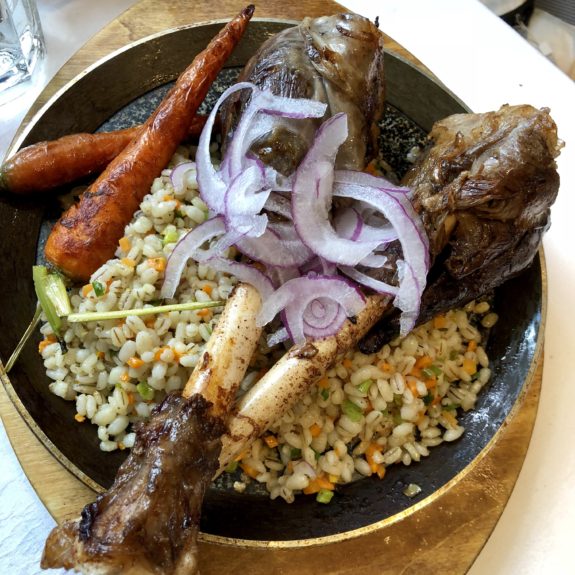 We felt the 24 hours we had in the city was plenty. If you travel through Mongolia, I'd use UB as a base and go onward to other adventures in the country. We opted not to since we had already experienced some pretty cool yurt living during our journey to Inner Mongolia two years prior!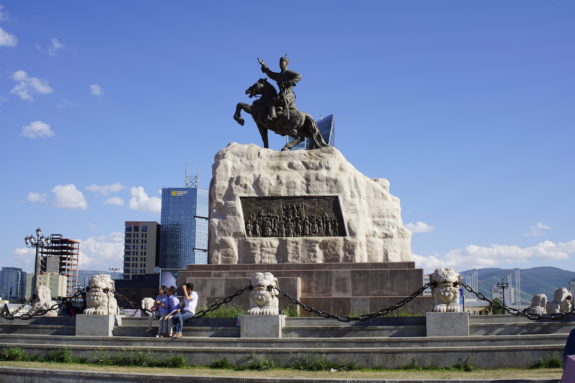 Planning your own Trans-Siberian journey? Check out the complete summary from the journey on planning tips, itinerary, and more!
Helpful Resources