At the end of last summer, I was in Vermont for a wedding. Since Montreal is so close and I've heard so much about this charming town, it was necessary to make a stop. I booked the Greyhound bus that journeyed from Burlington Airport to Montreal Bus Station on Busbud. The journey took a bit less than 3 hours, including a friendly stop at the border. Bus ticket only cost $25. Not a bad deal!
Accommodation & Getting Around
My Frenchie was still in Paris, and he flew into Montreal to meet me. This was his warm-up stop before our travels across the U.S. I had booked an AirBnB quite far north in the Nouveau-Rosemont neighbourhood. Can't remember what compelled me to do that, but it was likely the cheap price. Since we had a whole week to spend, it was not the end of the world to be a bit far.
If I visit Montreal again, I would find lodging in Le Plateau/Mont Royal neighbourhood. We spent most of our time here, and it would've been nice to be closer by. Nevertheless, we got a sense of how locals who don't live downtown navigate life. I give a lot of credit to the Montreal bus/train system. It's on-time and very efficient! We seldom took Ubers since the public transportation worked so well. You can buy a transit card at a subway station that works for both the bus and train.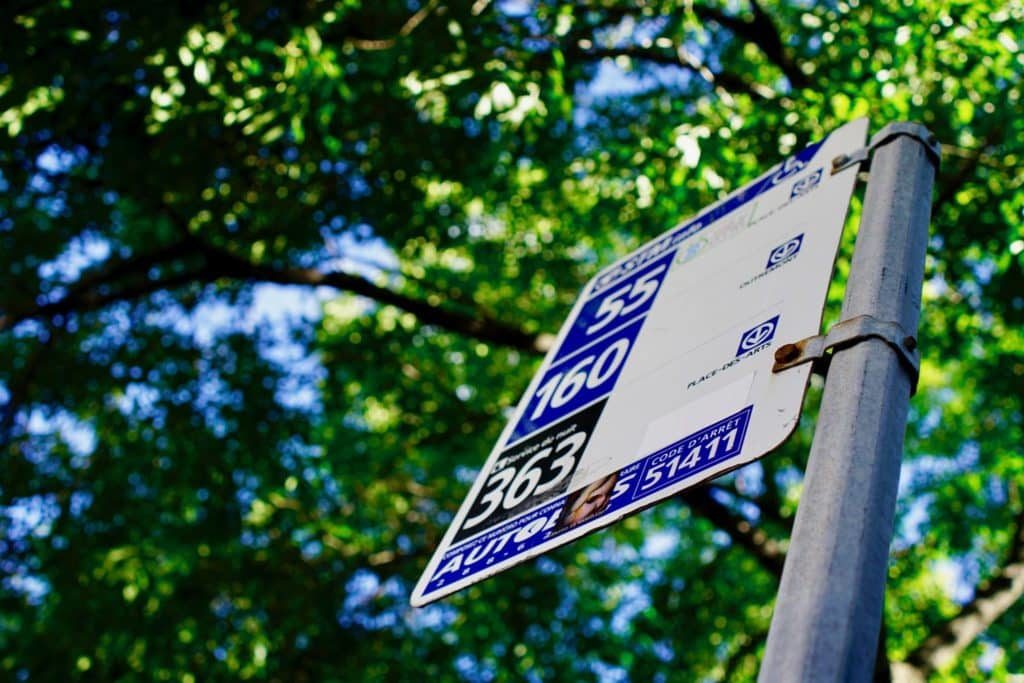 Things to Do
After a summer of whirlwind travel, including journeying from China to France on the Trans-Siberian rail, we were craving for a slower pace. Montreal was a perfect place for some slow travel. I had ideas of places to visit, but otherwise, no big plans. The city felt like a medium size French city. It's metropolitan enough to have a variety of things to do, but small enough to move at a slower pace. It's true what they say about Canadians, they are spectacularly polite. Having been accustomed to the more brusque ways of China-living, I was often pleasantly surprised, especially at how well people stood in line!
Pro tip: When I visit a city, I like to star all the places I want to visit on Google Maps, including restaurants & cafés. Download the map onto your phone to have an offline version. I then decide which neighborhood I want to explore for the day, and can make decisions on the go.
Explore Chinatown – It's nothing extraordinary, but I always like to visit Chinatowns to compare notes.
Have a drink in the Latin Quarter, and people watch. Montreal has a diverse population, and it's a delight to watch people interact. This area often has street fairs and markets.
Park-hopping between La Fontaine Park, Sir Wilfred Laurier Park, and Mont Royal. The surrounding streets are lovely to stroll, with cafés nestled in between, and the parks make for a good place to break and do more people-watching.
Climb up to Mont-Royal for a panoramic view of the city. It's quite a bit of a hike, but the view is worth it!
Go up to Les Enfants Terribles at Place Ville Marie for a drink and look at the city skyline by night – If you aren't up for the climb at Mont-Royal park, you can take the elevator straight up to this trendy bar and restaurant. You don't even need to buy a drink. The establishment is quite happy to let you come for a few photos. But I would have a drink and take it all in.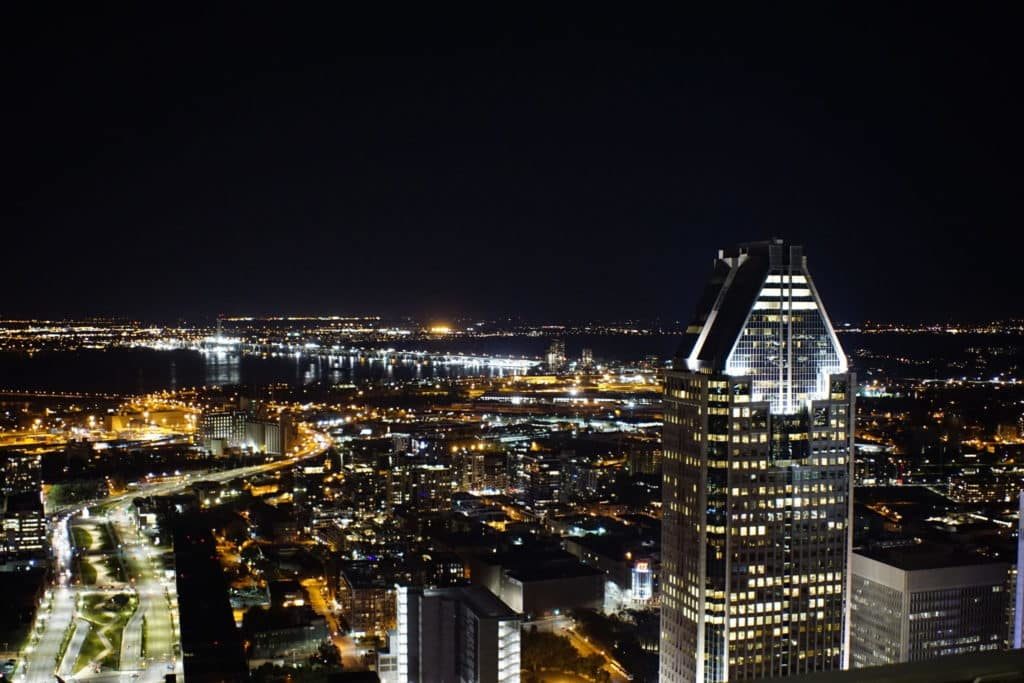 Aimlessly Wander – This is my favourite thing to do no matter in which city. But in Montreal, you will run into vibrant street art, and there seems to always be a festival to participate. We stumbled upon one celebrating the Ukrainian community in Montreal. Talk about inclusion!
Places to Eat
Arts Café – A corner café that is well-suited to rest your feet after walking around the neighbourhood. Refuel with their special poutine (I went for the canard confit with poached egg), follow by a dessert and a nice coffee. As the name suggests, artsy atmosphere.
Atwater Market – This is a great weekend activity to stock up on groceries while getting a few delicious bites. It's a foodie heaven! I particularly loved the laksa at Satay Brothers.
Fairmount Bagel – There is a pretty intense bagel battle that exists in Montreal, between Fairmount Bagel and St. Viateur Bagel. We gave them both a try, but far prefer the airy lightness of Fairmount! During our weeklong stay, we went there 3 times, include buying half a dozen to bring on our road trip when we departed.
DJ Poulet – This West African restaurant featuring rotisserie chicken, was actually a recommendation from a Ghanaian Uber driver I had in DC. His aunt apparently owns this place. It had good review, and we checked it out. The best value meal we had in Montreal was in this little joint. Great flavours!
Guillaume – We were in Montreal also to celebrate my birthday! Though since we've gone down the minimalism journey, birthdays are now rather, well, minimal. Nevertheless, a special treat is a must, and we found a perfect one here. Guillaume serves this Queen Elizabeth cake, that is some sort of coconut caramel goodness. I've never had it before, and I dream of having it again as we speak.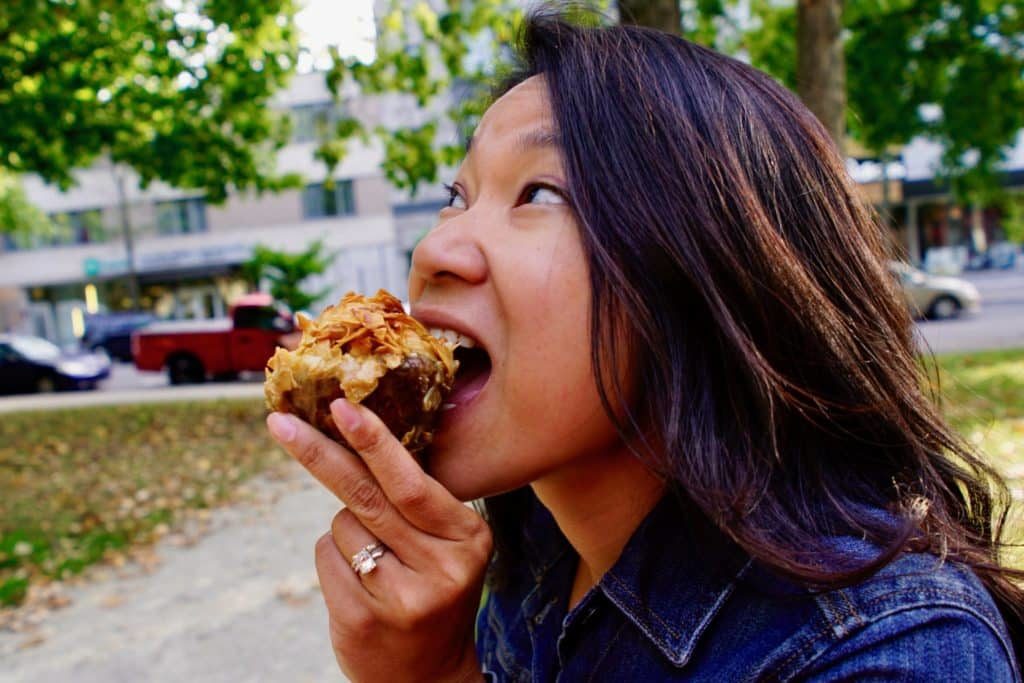 Le B-38 Sushi – This tiny but cozy sushi place was in between our AirBnB and downtown. We stopped here for dinner on our last night, and was blown away by the quality. Really great value, and so tasty!
Madre – Montreal has quite a few BYO (Bring Your Own), usually wine, restaurants. This was one of them. The trendy but not over-the-top decor serves up fusion Spanish menu with prix fixed.
Restaurant Kamela – This little hidden gem in Le Plateau neighbourhood was such a delight. It's a small family-run eatery serving delicious Algerian food. The owner was so friendly and served us some extra dishes. A friend who had lived in the neighbourhood didn't even know about it, and was equally delighted on the find.
Other Tips from the Blogosphere