Day 1: Rental Pick-up & Overnight in Trelew
From El Calafate, where we sighted the impressive glacier and the infamous Patagonia mountain range, we headed East to Trelew, where we begin another road trip to see penguins and other beautiful wildlife.
Learn Manual Shift Driving Before Arrival
We picked up our rental car at Trelew airport. An Asian-American couple ahead of us was returning its vehicle. "I thought you said you could drive a manual car?" said the attendant. Turns out, they couldn't. Having just picked up their vehicle earlier that day, they weren't able to navigate the stop-and-go required in the town. Yikes.
I counted my blessing that Xav is very well-versed in manual-shift driving. We picked up our little four-door sedan and was on our way. Already, from the airport, the road into town was a straight shot with not much vegetation around. Quite the contrast from our road trip in Northern Argentina.
Pizza With Fries & Fried Eggs
We arrived at an adorable guest house in Trelew, La Casa de Paula. The host welcomed us warmly, and we checked into our private room. With the remaining daylight hours, we headed for a grocery store to stock up on snacks and had dinner at a highly-rated local restaurant, Mi Destino.
The place was empty on arrival. Perhaps we are eating earlier than the rest? Then we ordered. I went with a basic bolognese, and Xav had a pizza. The server conveyed that the size is quite large. We thought the prices were reasonable and were happy to have some variety.
Boy, she was not kidding. The perfectly shaped pizza arrived with a pile of potatoes wedges on top and FOUR fried eggs. The cuisine in South America hasn't been the best fit for our pallets, but this meal was another level. We couldn't stop talking about this pizza to friends when describing food in Argentina.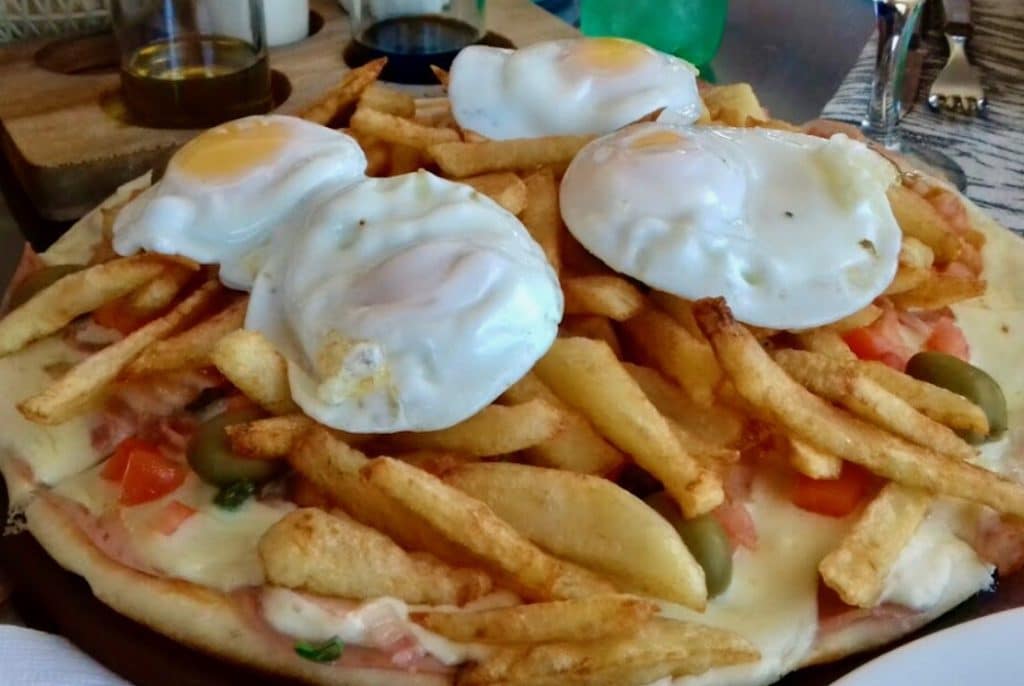 Day 2: Penguin Heaven in Punta Tombo and Tea Time in Gaiman
Quality Time with Penguins at Punta Tombo
We departed at 7am to drive 125 km to arrive at the penguin reserve in Punta Tombo by 9am. The goal was to beat the tour buses, and we achieved it beautifully. The reserve is massive stretching two squared kilometers, with thousands of penguins as far as the eye can see. I was surprised at the lack of barriers. We were so close to these penguins that one could theoretically pick it up. Of course, we didn't. We respected their space and let them passed when they insisted on walking right in front of us.
The time of our visit was mid-December, and that meant baby penguins were aplenty. I was beyond delighted to see fuzzy grey penguins feeding off of their mothers, wobbling to get out of their nest. An experience like this makes the zoo seem an incredibly strange concept. We wandered for two hours, reaching the sea, where penguins were free to dip in for a swim and catch food. I was so glad we didn't pay an exorbitant fee to see penguins in Ushuaia. This experience was much cheaper and feels less harmful since we were supporting reserve effort.
Off the Beaten Path for Sea Elephants in Isla Escondida
As tour buses began to pile in, we left the reserve and toured the museum at its entrance, then headed North to reach Gaiman, a sleepy Welsh town where we would spend the night. En route, I had read about Isla Escondida, an off the beaten path beach to see sea elephants. The road reaching the beach was not paved, but it was so worthwhile.
The beach is not a part of any protected area. We saw a few locals hanging out on the beach. Giant sea elephants were also chilling, enjoying a good afternoon nap. Once again, I was surprised by how close I could get to the animals. We ate our picnic lunch onshore, taking in the quiet scenery and marveled at our good fortune to experience nature in such an authentic way.
The downside of an unprotected area is the littering. We picked up quite a bit of trash along the way. Travel responsibly. Pick up trash after yourself, but also others. These cute sea elephants deserve a clean place to live, and they can't move very quickly to avoid our waste.
Tip: Always pack a lunch or at least have snacks! You've probably noticed that we eat a lot of lunches in picnic form. This is our way to reduce meal costs, but also provide flexibility to eat whenever we want, and often accompanied by incredible views.
Gaiman: Welsh Settlement in Patagonia
After our fill of wildlife sighting, we headed to our accommodation for the night in Gaiman. I had read about this peculiar Welsh village in the middle of Patagonia and was curious to check it out. Sure enough, when we arrived, it felt like stepping into a time machine back to a rustic English town, with tea houses!
We checked into our room at Posada Los Mimbres, a large European style family home tended by Welsh descendants. The property has a fascinating history, and our host showed us details like a framed newspaper that was found in the windowsill during the remodeling. Behind the house was a creek, and irrigation allowed the surrounding land to shine in a luscious green that is quite the contrast from this arid region.
The idea of having afternoon tea in tiered platter isn't anything to write home about, but doing so in the middle of Patagonia is quite the novelty. We had our fix at Plas y Coed, and were the only guests on this languid afternoon. The entire time, we were simply perplexed by how Welsh people ended here.
In the evening, we found an audio interview that detailed the Welsh history in Patagonia. The poor souls wanted to go to a place to preserve the Welsh language. Instead, they were basically tricked into arriving in the midst of winter, during the height of summer in Wales. They were promised a new life, only to find themselves in an arid region with hardly any supply. Stories of early settlers always amaze me. In comparison, our life abroad is so impeccably easy.
Day 3: Sea Lions at Puerto Madryn
After a relaxing slumber, we bid farewell to our lovely host and the adorable guest house to head North for Puerto Madryn. This major seaport was where the Welsh settlers landed back in the days. The city is well developed for tourism, and felt like any seaside town.
Before checking into our hotel at Dazzler by Wyndham, we swung by Punta Loma to see sea lions. This reserve has hundreds of them hanging out. We could admire them only from the cliff above. The protective area barred us from getting too close.
In the late afternoon, during high tide, we headed to Playa El Doradillo. Legend has it that from June to November, one could spot whales from the shore. Despite being mid-December when we visited, we wanted to try our luck.
Unfortunately, no whale-sighting after two hours of waiting. It was, however, a very meditative experience to intently watch the waves roll in. I got the slightest taste of the patience required for wildlife photography. When it comes to seeing nature in action, there isn't an app for it!
Tip: For off-beaten-path lodgings booked on Bookings.com, we often were required to pay in cash. For this particular stay in Gaiman, we had to trek into town for ATM. Either pay ahead or be sure to have cash on-hand!
Day 4: Whale-Watching at Penisula Valdés
Determined to see some whales, we headed to Peninsula Valdés, a preserved island known for whale-watching and other wildlife sightings. We stopped first at the visitor center to pay the necessary fees. At Puerto Pirámides, we booked a whale-watching tour for the afternoon. The boat took us out to Gulf Nuevo, where whales breed for the winter and head off to Antarctica for summer feeding.
We spotted a Southern Right Whale mother and calf duo, and another lonely calf who lost his mother. Unfortunately, our guide said that the lost calf isn't likely to survive without his mom. These elusive whales are massive, yet so gentle. They moved fluidly in and out of the water, showing us their might. This pair was swimming away from the gulf and heading toward Antarctica. Turns out our boat is the last tour of the season. How lucky!
After whale-watching, we drove around the island a bit more, visiting Caleta Valdéz and Mirador Lobería to get our final penguins fix before heading back to Puerto Madryn.
Day 5: Fly back to Buenos Aires Trelew via Puerto Rawson
We had an evening flight out of Trelew back to Buenos Aires, and that gave us an entire day to slowly make our way to the airport. After checking out of our hotel mid-morning, we headed South and stopped by Puerto Rawson. We had lunch at Cantina Marcelino, and it was the best meal of the week. The seafood platter was so fresh and flavorful, and the service was amiable.
With a full belly, we headed to Playa Unión to see how the locals spend their Saturday afternoon. A down-to-earth beach town, not yet infested by tourists. A relaxing day to end our time in Patagonia before heading for our evening flight to Buenos Aires at Trelew airport.