Day 1: Traveling from Ushuaia to El Calafate
For part II of our Argentina Patagonia adventure, we took a short 70-minute flight from Ushuaia to El Calafate. Unfortunately, we didn't realize the flight was delayed until we arrived at the airport. The short journey, unfortunately, took us 6-hours door-to-door. I've heard flight delays can be common since the weather in Ushuaia can sometimes be unpredictable.
In El Calafate, we had booked a cottage at Solares del Sur that is equipped with a kitchen. The location is slightly outside of town, while still walkable, it's not the most convenient. The cottage had arranged a car pick-up for us at the airport. The drive into town immediately revealed a unique Patagonia beauty. Lake Argentino glimmered in its pure aqua hue, contrast against surrounding arid land.
Tip: In retrospect, I would have booked lodging closer in town since we didn't have a car and would have been nicer to be able to walk easily. Our accommodation is more suitable if you are traveling through with a car.
Sort Out Travel Plans with Baft Travel
Once we settled into the cottage, we headed into town to sort out transportation for Perito Moreno Glacier. I had read that it's possible to go via public transit, but I wanted to see our options. We stumbled upon Baft Travel while looking through various agents in town. Something about its down-to-earth look drew me in.
One of the guys was wearing a St. Louis Cardinals shirt. It's a sign! We asked about transport to Perito Moreno. They asked how long we were staying, checked the weather forecast to ensure a sunny day at the glacier park, and proposed some options. For just US$5 more than the public bus, we booked a ride with Baft that included hotel pick-up and drop-off.
These guys also recommend a day-trip to El Chaltén to check out Mount Fitz Roy. We hadn't considered this plan since it seems quite far, but we couldn't resist seeing the famous Patagonia (the sports brand) mountain logo. And just like that, we sorted out our travels for the next few days within half an hour!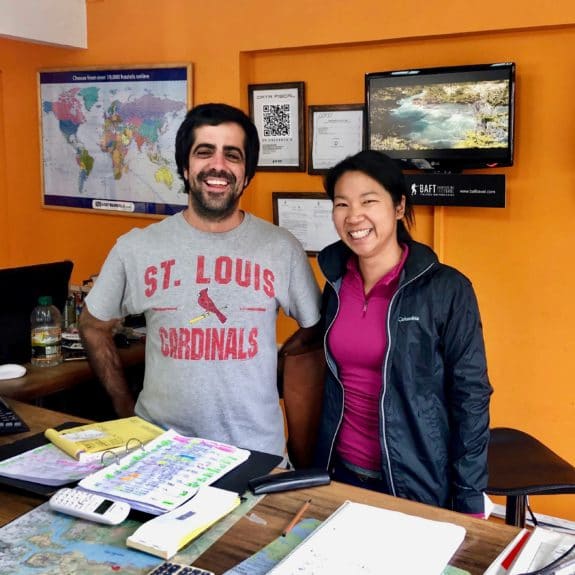 Tip: When traveling long-term, I don't plan out details like what tour to take until I've landed in the area. I usually have an idea in mind on things to see and do, but leave the actual booking until the last minute. Prices are generally better when booking locally, and guides often can propose alternative options. This saves a lot of stress from attempting to book ahead.
Day 2: Day Trip to Explore Magnificent Perito Moreno
Around 8:30 am, the van from Baft Travel picked us up from our cottage. We made several stops to pick up other passengers and were on our way for Perito Moreno. The 75km drive took approximately 90-minutes. The tour guide gave a very informative history of the region, and about the Los Glaciares National Park itself.
We learned that the Patagonian glaciers are the third largest body of ice after Antarctica and Greenland, also the size of Buenos Aires! Once we were near the glacier park, we could immediately feel the crisp fresh air. Upon arrival, the tour dispersed and we had 4-hour worth of free time to roam about the park.
Strolling along a well-maintained pathway, we were in awe at every turn. These majestic glaciers measure up to 70 meters (230ft) tall. They are constantly moving and changing based on weather conditions, thus feel very alive. We witnessed quite a few breaking glaciers. Each time a piece breaks, the roaring sound reverberates throughout. Couldn't help but think of the sound as nature's plea to stop global warming.
Some people had opted for the boat tour to get closer to the glaciers. We didn't find the additional cost worthwhile. Instead, we spent the entire 4-hours roaming around the park and literally watching the ice melt. I never thought I'd be so happy to idly looking at ice for hours on end, yet here we are. Who knew ice can be so awe-inspiring!
TIp: Pack a lunch for your walk, and you'll have one of the most magnificent views for the picnic. Just be sure to clean after yourself and leave no trace. Also, dress in layers! Obviously, being around ice would be cold, but the temperature varied quite a bit depends if the sun is out, or even the wind is howling.
Flamingo Sighting on Lake Argentino
We arrived back in El Calafate with still a few hours left of sunlight. Not very interested in the tourist activities in town, we opted for a long walk along Lake Argentino to an observation point. At dusk, we witnessed a flock of flamingos coming for their evening feast. I've ever only seen these pink birds in a zoo. Seeing them in their natural habitat was mesmerizing and beautiful.
Day 3: Meet Mount Fitz Roy in El Chaltén
We had an early start at around 7am. The shuttle from Baft Travel once again picked us up at our cottage. The journey to El Chaltén was 216km (134 miles) and took approximately 3.5 hours. The shuttle made a stop at Parador La Leona, where we could get coffee and stretch our legs. This guest house/café is straight from one of those adventure movies. Very fitting.
Unlike our journey to Perito Moreno, there was no guide providing background information about our trip. This was purely transportation. Just as well, since we had woken up so early, most were happy to catch an extra snooze on the journey. Upon arrival, we were ushered to the National Park's visitor office for a safety introduction before being dispersed.
By the time we began our hike, it was already late morning. We followed the signs for the Fitz Roy viewpoint and head off in search of that infamous Patagonia mountain range. This stretch of the trek wasn't particularly challenging, and each hilltop we reached was rewarded with breathtaking views. As always, we packed lunch, and by the time we finally meet Mount Fitz Roy, we sat to enjoy our picnic spread.
On the way back, we routed to visit Laguna Capri. The water reflected the magnificent mountain range behind. So peaceful. Indeed, a world apart from our daily worries. With an hour to spare before the designated departure time, we had snacks at one of the many charming cafés in town. We boarded the bus around 7 pm. Another few hours of the long drive back to El Calafate, and the sun was setting as we pulled into town.
Tip: I wish we had an extra day to spend the night in El Chalten. I'm not a fast hiker, so we didn't cover very much ground. There are so many trails within this mountain range. If hiking is your thing, spend a lot of time here! El Chalten is also much quieter than El Calafate and has a welcoming vibe that made me want to linger.
Day 4: Depart for Trelew
A relaxing morning was in order after that very long day to El Calafate. We packed up our belongings and headed into town for lunch at Elba'r. This colorful has excellent service, just the relaxing atmosphere we needed to prepare for our onward travel to Trelew. Try the lemon pie!
It was a whirlwind few days in El Calafate. The town is a transit hub. Other than wishing we had a few more days in El Chaltén, I felt we had enough time. We were ready to head to our final stop in Argentina and see all the wildlife!
Other Tips from the Blogosphere