In 1998, I landed from Taichung, Taiwan, to St. Charles, Missouri, as a 12-year-old awkward girl who didn't speak much English. I was confused at the people-less streets. I hated the need to drive everywhere that took away my freedom to walk and bike places. A city girl somehow found herself in a small suburban town.
In the six years that I lived in this town, I couldn't wait to leave. The town was so tiny that we used to drive 20 minutes to a nearby suburb to hang out at their Starbucks. Somehow, over the past decade, this sleepy little town has really transformed. On my most recent visit, I felt I was on the set of Gilmore Girls while walking along the Historic Main Street.
We often don't cherish a place until we've left, and over the two decades since I arrived in St. Charles, I rediscover this town for its charm. If you happen to be in the area, come check out my hometown!
Eat & Shop on Historic Main Street
In recent years, the once run-down looking historic street had a makeover. The street is filled with antique shops, restaurants, cafés, gift shops, and all things not that practical but quaint.
My regular spot on this street is Picasso Coffee, which opened well after I left this town. This adorable café is now where I catch up with old friends when we are all home for the holidays. They serve up a pretty decent breakfast and sandwiches, but the coffee comes in that classic big satisfying mug.
The street has plenty of craft, antique, and kitschy tourist shops. But I highly recommend stopping by Main Street Books and support a local independent book shop. They are so rare these days. Sure, the prices are a few bucks more than Amazon, but I gladly pay a bit more to keep this shop alive rather than giving it to Jeff Bezos. He has enough money.
The one American food that I always miss is TexMex. This place has the hometown Mexican joints that I love – friendly and funny staff, great chips and salsa, huge portions, and delicious food. Always leave feeling mighty satisfied.
A popular BBQ place in the city has a branch here. You can also find the St. Louis favorite – toasted ravioli here! A one-stop shop to check off quite a few popular St. Louis eats.
If scent is your thing, Main Street has its fair share of candle and soap shops. But if you are looking for an activity, I recommend making your own candle at Candle Fusion. You can mix and match oil to have your own signature scent. Show your love by gifting your creative fragrance.
Tip: On the Saturday after Thanksgiving, businesses on Main Street participate in Small Business Saturday. Great way to buy your holiday gifts (I recommend focusing on experiences), and support local merchants!
Festivals on Historic Main Street
Even before the Main Street is its chic state today, there were always festivals. I vividly remember the Little Hills Festival that takes place every year, sometimes coinciding with the Fourth of July firework on the riverfront.
These days, plenty of events take place on Main Street. Halloween was particularly epic, Christmas is beautiful as always, and Thanksgiving is wonderfully festive. Basically, the entire autumn season from Halloween to New Years is a great time to stroll the street and look for activities.
Bike and Wine on the Katy Trail
I've only biked on the Katy Trail a small handful of times. I'm not sure why I didn't take more advantage of it. This 237-mile trail connects all the way to Kansas City. On Main Street, you can rent bikes at Bike Stop Café. To reach wineries in Augusta, either you are up for a relatively long bike ride (around 30 miles), or you can drive to Defiance. From there, rent a bike at Katy Bike Rental, or bring your own and ride to the Augusta Trailhead.
Not located right on Main street, but a few blocks away, this gem only opened in recent years and is now one of my favorite places in town. My picky Frenchie even gives it his stamp of approval on their pastries. I recommend the lemon meringue pie and orange poppy seed cake. But really, everything I've had there has been delicious!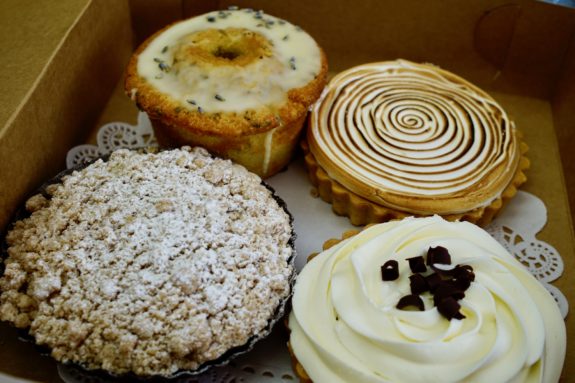 This hometown coffee shop opened during my junior year of high school. It was named after a crooked tree at nearby Lindenwood University. Unlike hipster cafés all over the big urban areas today, The Crooked Tree has that small-town charm. It's outfitted with comfortable couches, a piano, random bits of antiques, board games, and books. On weekends, local music groups play here. They still offer an unlimited refill on its black coffee. This classic offering is still alive and well in the Midwest.
From spring to fall, this local joint in St. Charles was where we spent a lot of time in middle and high school. The place hasn't changed much since we were kids. Located just next to the local library, I used to come here for ice cream after school before I go to the library to geek out or do my homework. With only outside seating, this is where the kids hang out after a sport's game or school activity. So much small town charm!
I was so surprised when I saw a yoga studio in town. With low expectations, I tried out a few classes. From the outside, the place doesn't look like much, but when you step inside, it transforms you to a tranquil place. The classes offered suit different levels. If you are in town for more than a day and looking for something to do, I recommend a class here!