Journey from Buenos Aires to Montevideo via Colonia Express
After three whirlwind weeks in Amazing Argentina, we headed to Uruguay. Xav's brother has lived near Montevideo for over a decade and visiting his family for Christmas shaped our winter plans in South America.
I had booked tickets only a few days in advance via Direct Ferries. The most economical option was a ferry to Colonia with a direct bus transfer to Montevideo. The one-way ticket cost around US$60 per person. From Buenos Aires, we taxied to the ferry port over 90-minutes before departure to have ample to through passport control.
The ferry is large and comfortable, equipped with wifi and a duty-free shop. We arrived in Colonia after 4 hours, and then transferred onto a bus that took us to the Tres Cruces bus terminal. The entire journey took around 5 hours and relatively painless.
Our time in Uruguay was centered around family and a unique Workaway stay. We did take some road trips on our own and spent some time in Montevideo. Below is a rough itinerary that you could follow for your time in Uruguay.
Day 1: En Route to Punta del Diablo
Uruguay is a small country, and from Montevideo to Punta del Diablo, the journey took less than 4 hours. We opted for the scenic Highway 10 and often stopped along the way. It took us quite a bit longer than Google's estimates, but the drive was straight forward.
We had lunch at Trattoria Da Piero, a delicious seafood place that was a tad expensive but with a stellar view. Situated away from the touristy downtown Piriapolis, we were able to enjoy the calm scenery before moving forward on our drive. As we drove past an appealing town, I made a mental note to check them out on our return journey.
Since we have a car, we decided to spend two nights in Punta del Diablo and journey to nearby places. Whenever possible, I try to minimize switching lodging too often. I found an adorable lodge, Cabanas Tierra Firm, on Airbnb. For dinners, we bought groceries in town and grilled, enjoyed the very fresh air and star-gazed.
Before settling in for dinner, we spent the first afternoon strolling along Playa de Los Pescadores. Perhaps people were still recovering from the Christmas festivities, but the area was more tranquil than imagined. We grabbed some empanadas from a stand next to Hamburguesas. They were large and delicious. A perfect snack to refuel for grocery shopping and dinner making.
Day 2: Beach-hopping between Playa Rivero and Playa Grande
A relaxing morning completed with homemade breakfast and coffee at our cozy cottage set us up for more relaxation of a day on the beach, a first, and much-needed do-nothing beach day on our journey.
I relished to the unlimited quality time with my Kindle, with the sound of the ocean as background noise. There are certainly worse ways to spend the day. We spent the morning at Playa del Rivero, followed by a delicious lunch at Resto Pub 70. We had some reprieve from the sun and fueled up for more beach time in the afternoon.
We drove out of the backpacker bubble and spent the afternoon in Playa Grande. To get to this beach, we drove through the Santa Teresa National Park. Beautiful scenery and so much tranquility.
Day 3: Enjoy Hippie Cabo Polonio
We head to Cabo Polonio for the day before heading back to Montevideo. Cabo Polonio was supposedly a hippie central, and the only way to reach it is via a shuttle at the national park entrance. The shuttles look like a tanker, with massive wheels, no windows, and might strong to manage the sandy roads.
The ride took only about 30 minutes, and then see a classic backpacker beach town emerged, with colorfully painted buildings. Restaurants were serving inexpensive meals and drinks. The pace of life on this beach town was amusingly slow. After some exploration on the beach and around, we stopped at a café to get smoothies. No joke, we waited for an hour before two smoothies, and two cakes were delivered. Perhaps the joke was on us because no one seemed bothered by the slow pace!
On our journey back to the car park, the wheel of our safari bus literally went kaput. We descended on the side of the road until another bus could be arranged. The entire experience reminds me that life happens, and you gotta go at its pace.
We continued our drive back to Montevideo and arrived at La Barra, a busy town just outside of glitzy Punta del Este. We avoided that Miami like beach resort mecca and had dinner at Chill Out in La Barra instead. Nevertheless, the pace was much different from the chilled hippie heaven. The contrast is most amusing.
Day 4: Indulge in Colonia del Sacramento
After spending a night in Montevideo, we headed to Colonia del Sacramento, a seaport that still has a great deal of European influence. I had booked a house in Carmelo, a quieter town 70km outside of Colonia. We had lunch (delicious burger at Bocadesanto) in Colonia and explored the city under the afternoon heat. It's a charming place, and I immediately wished we had booked accommodation in the city instead.
I always attempt to strike a balance between staying in a touristy area in town vs, in a cottage further away. When we have a car, I tend to opt for the farther away option. Most of the time, it works out wonderfully. This time, it did not.
Upon arrival at our lodge at Mykonos Carmelo, we saw a "for sale" sign on the gate. Not a good sign. When we arrived inside of our apartment, the place was large but very rundown. It was quiet, at least. We visited the small stretch of the beach nearby and walked into downtown Carmelo, a rather sleepy vibe.
Tip: For a transit night in Montevideo, we stayed at Days Inn, near the bus terminal. I tend to opt for chain hotels for transit nights. They are usually more reliable and accommodate for late arrival/early departure. The quality is standardized, and you know what to expect. Perfect for just one night.
Day 5: Wine Tasting in Carmelo
Bodega El Legado winery is situated just north of Carmelo, but at the time of our visit, the main bridge into town was broken, so we had to go on a long detour to reach. The estate is amongst acres of farm, with animals milling about.
The winery is a real family joint. We sat out on the picnic tables, enjoying a cheese and charcuterie board and various kinds of wine. The owner brought out a photo album that showcased how the property had transformed over the years.
This makes a lovely afternoon activity, especially if you stay inside Colonia and want to get away from the tourists a bit.
Tip: Based on our experience, I would recommend staying in Colonia and take longer day trips out to the wineries. There is simply more to do in and around Colonia.
Day 6-8: Explore Historical Montevideo
Before wrapping up our time in Uruguay, we spent a few days in Montevideo to get a feel of the city. Our comfortable AirBnB was in a local neighborhood within walking distance to the Old Town, which made for a perfect base to explore the city. Montevideo is not a big city, and depending on how quickly you want to travel, 3 to 4 would give you a good idea of this city's vibe.
Things to Do in Montevideo
Read a Book with Coffee at Puro Verso Librerias
We stumbled upon this gem on our stroll and returned it a few more times. Puro Verso Librerias is 3-floor bookstore + café is in a beautifully restored building. When you need a break from the tourists outside, duck in here for some calm and surround yourself with beautiful books. The space oozes sophistication.
Stroll Along the Rambla
Montevideo is unique in that the city center also borders an ocean for a beautiful 22km stretch. Residents have the unique advantage of hanging out on the beach without going out of the city. Along the Rambla, restaurants abound, and the city has developed an excellent running and biking path. Enjoy the ability to go for a beach run while in this city.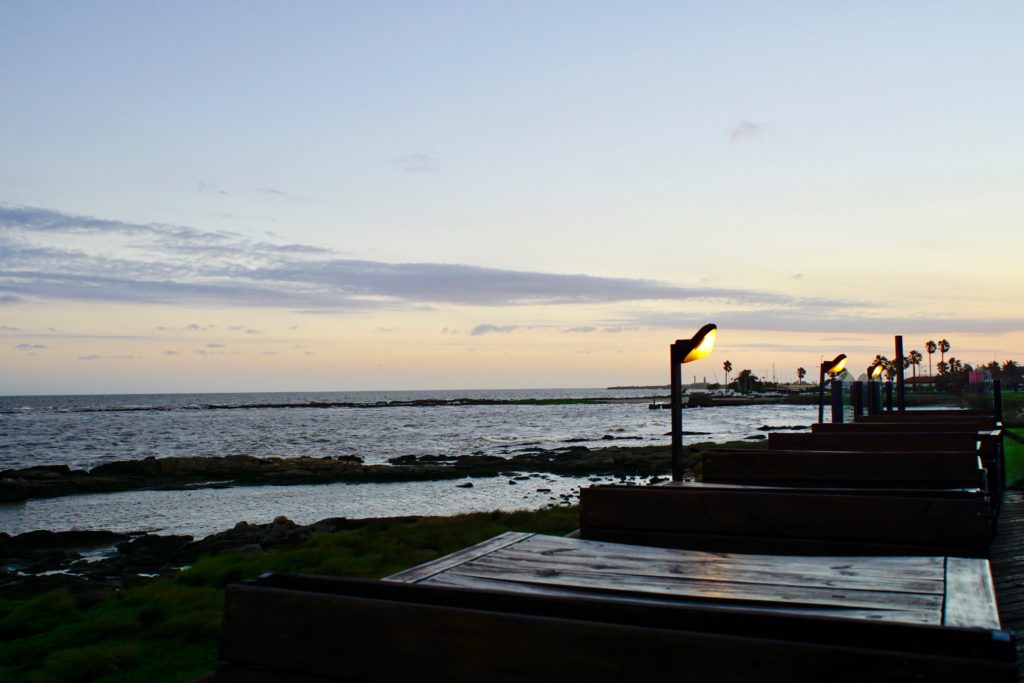 Fill Up on BBQ at Mercado del Puerto
Mercado del Puerto is a historical market turned popular tourist destination. Tour groups and cruise ship guests often descend upon this place in droves. The vibe is a tad kitschy, but the area hasn't been sanitized to feel dull. Each of the stalls has its own hustle and grill master that still gives the place an authentic vibe. If you are in the neighborhood, worth a stop. If it's too crowded at the time of the visit, have a look around at the outdoor stands nearby first and come back.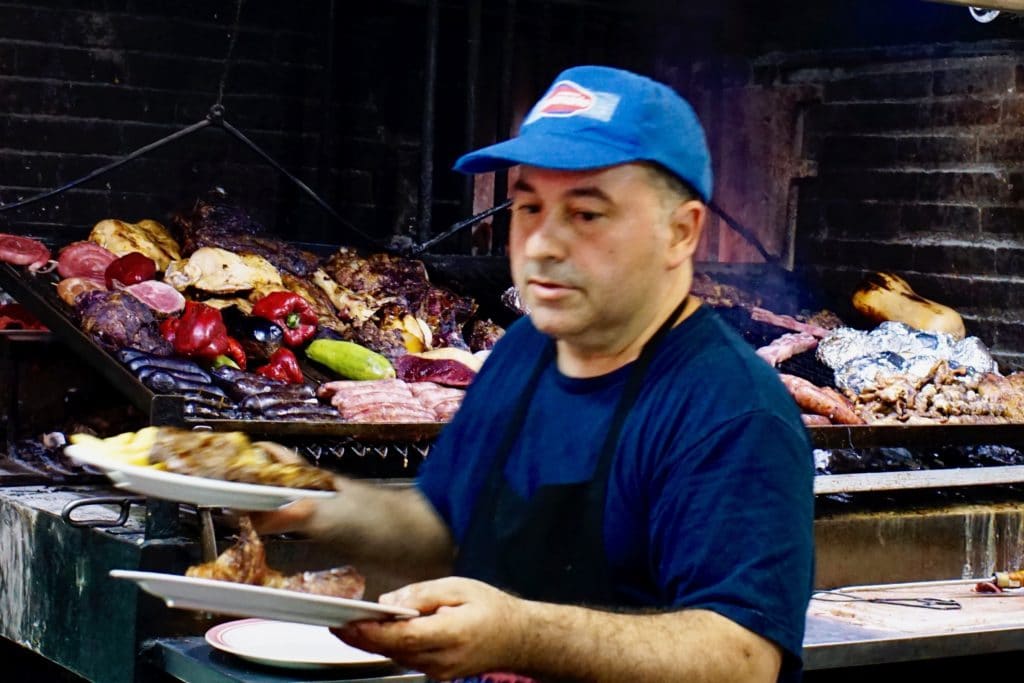 Fill Up on Hipster Food at Mercado Ferrando
If you are looking for something a little less touristy and a lot more hipster, head to Mercado Ferrando. This is where the hip, young, urbanites in Montevideo congregates for happy hours and fancy hipster food. What is hipster food, you ask? Poke bowls, deluxe pizza, you know, Instagram-worthy (*cringe*) food.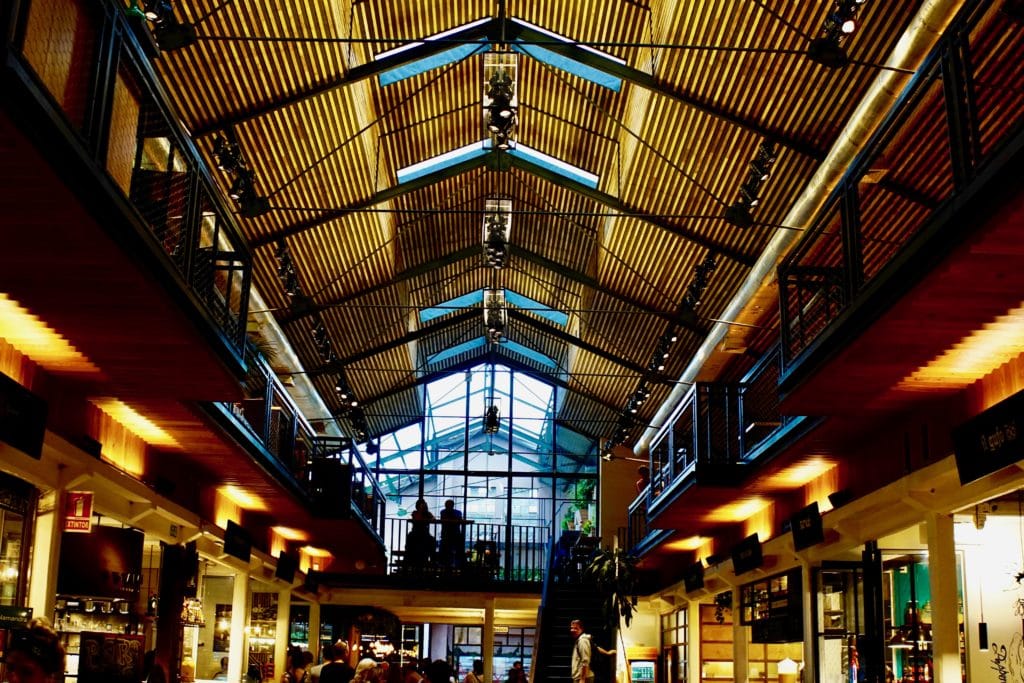 If Visiting in Late January/Early February, Catch the Carnaval Parade
We were fortunate to catch the Carnaval kick-off parade in Montevideo during our stay. I've heard a lot about carnivals and were looking forward to witnessing its vibrancy in person. The parade did not disappoint. The floats were filled with so much color, energy, music, dancing, and FUN.
Between this journey and our time at the eye-opening unique Workaway experience on a permaculture farm, time spent in Uruguay transformed us in many ways than one. The country is small, sandwiched between Argentina and Brazil. If you are already in the region, then do spend some time here!