I've been living in Asia for the last four years, but yet never ventured to Vietnam. I heard there is good coffee, so I decided to give it a go! One note of caution: Vietnam recently changed its visa policy for Americans. We were only able to obtain 1 year, multiple-entry tourist visas to Vietnam.* The downside is, that visa costs $135, and no other short-term visas are available; not very worthwhile for a 7-day trip. This policy came in effect only after I had book my flights; I suppose I will need to go back a few more times this year!
*Visa regulation has changed since. See the latest at the U.S. State Department page for Vietnam.
Day 1: Ho Chi Minh City
Flew in late in the previous night from Shanghai on the direct flight between Shanghai and Ho Chi Minh City on China Eastern. We spent the day exploring the city. Our hotel is very centrally located in District 1, so we were able to go everywhere we wanted on foot. Kicked off the morning with a strong Vietnamese coffee at Café Vy. Walked to Ben Thanh market, to Notre Dame, Post Office, down to the river. We had the best banh mi of our lives at Banh Mi Huynh Hoa. It lives up to the hype in every way. The line moves very fast, and it's worth it!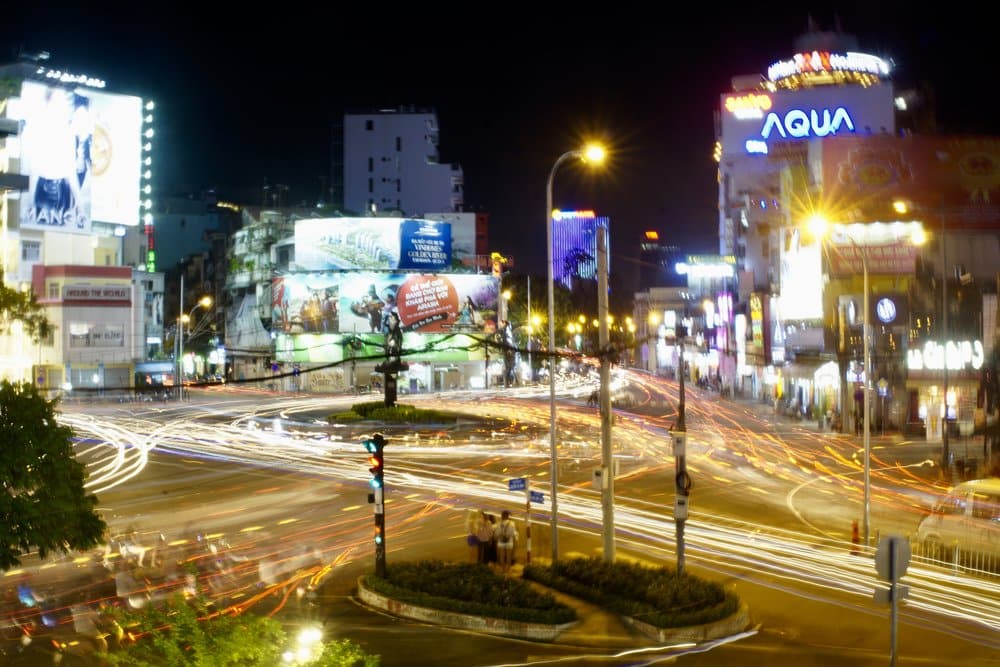 Day 2: Can Tho
After breakfast, the hotel arranged a taxi to take us to the Futa bus ticket station in town to purchase a ticket for the bus to Can Tho. The actual bus station is really far out of the city, so after you buy the tickets, there's a free shuttle to take you to the station. Bus fare between HCM and Can Tho was 100,000 VND ($4.50) per person. The bus was luxurious and had working wifi! I was impressed.
Upon arriving at the hotel, we were introduced to the various activities and tours offered. In the evening, we joined in on the food tour offered by the hotel. We took the motorboat for an hour into the city, visited 4 different restaurants, then took the boat back to the hotel; slightly touristy, but cool to see the evening activities.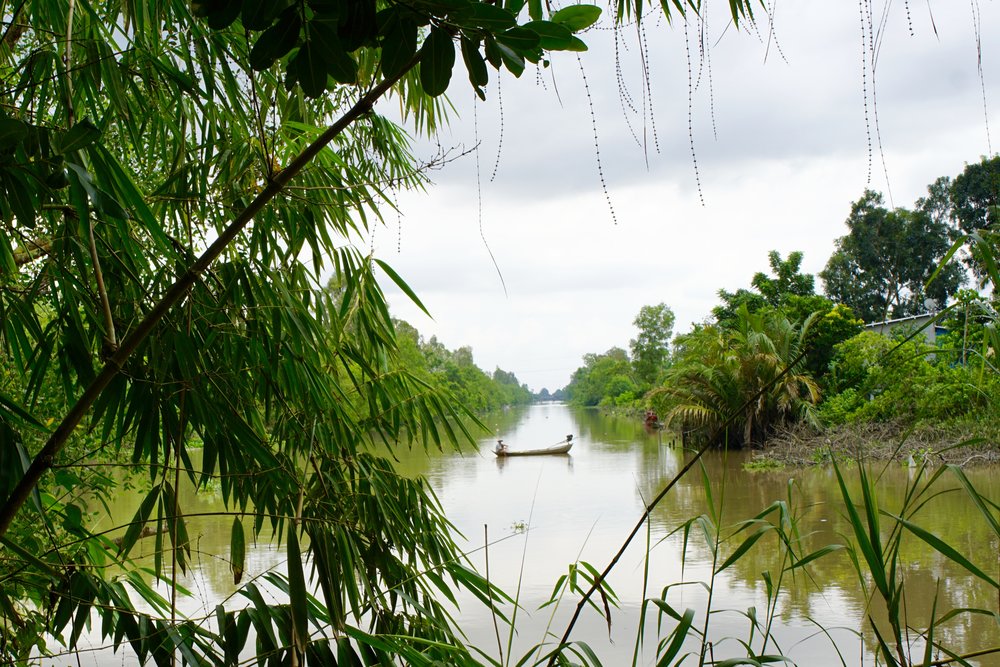 Day 3: Can Tho
We opted out of all the tours this day and wandered on our own. We went for a run in the morning to the nearby villages. It was Sunday, and so cool to see weddings and just people hanging out and about. Post breakfast, we went for a long bike ride all around Can Tho. Ended up in the city near where the food tour took place and were able to contrast the city in daylight.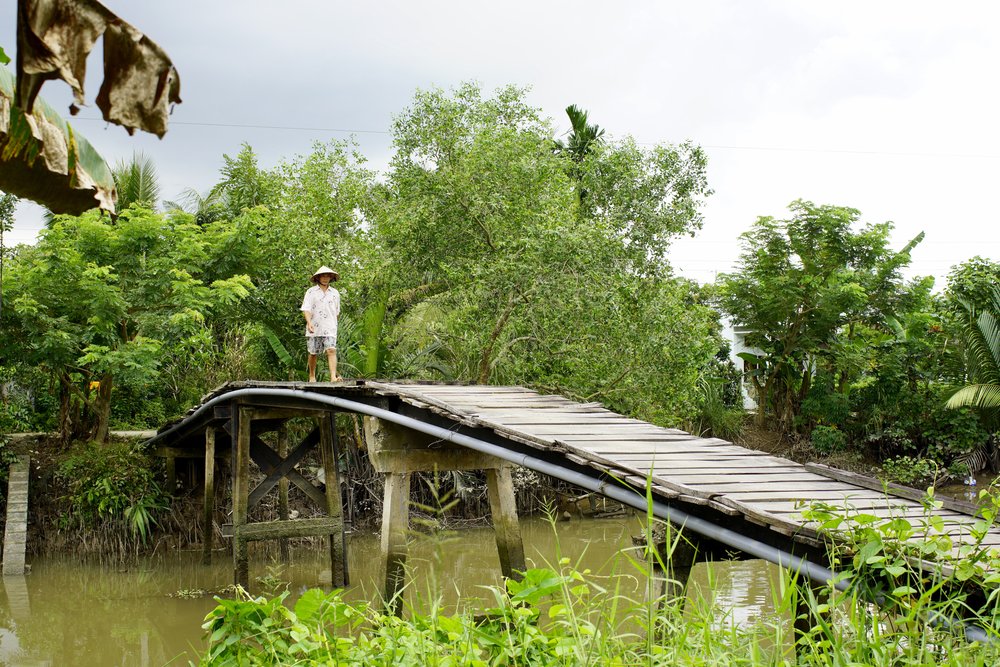 Day 4: Can Tho/Ben Tre
Spent the morning in Can Tho. Woke up at 5am to experience the famous Floating Market at Cai Rang. Even though it was nowhere near the flurry of color and activities as I had imagined, it was still a neat experience to witness this rapidly vanishing tradition.
We were off to Ben Tre after. There's only one local bus between Can Tho and Ben Tre, so we split a private carfare with another couple ($70 in total). I always like to end a vacation with a little bit of luxury at the end. Unlike the previous two hotels, this one is resort-style. We lounged by the river for the afternoon and then headed off for a short bike ride around town. Ben Tre is definitely much less touristy than Can Tho, but the bike routes we took were less pleasant.
Day 5: Ben Tre
Went for a bike ride in the morning. Visited the local market. We got a lot more curious looks here than in Can Tho, likely because they see far fewer tourists. We biked through the gorgeous rice fields, stopped at a local home to photograph, and ended up was invited in for coconuts! The sun was pretty brutal, so we were back at the hotel pool by 12pm. The afternoon was all pool time!
October is the tail end of the rainy season, but we were pretty lucky to avoid any big rain showers. You get pretty good at judging when rain will arrive based on cloud movements.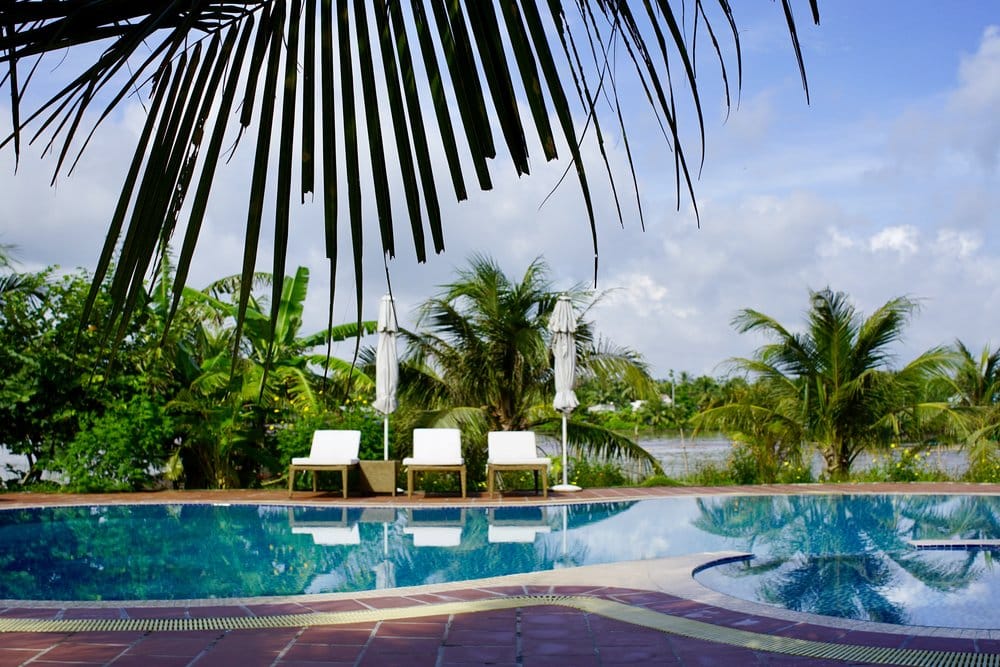 Day 6: Ben Tre / Ho Chi Minh City
Easy morning in Ben Tre; we squeezed in a final bike ride and a little pool time before checking out of the hotel at noon. The hotel arranged a shuttle to take us to the bus station for Ben Tre. This one was less luxurious than Futa, and it made frequent stops along the way to pick up passengers. Nevertheless, we made it to Ho Chi Minh in 2.5 hours. Bus fare was only 50K VND per person ($2.25).
Back in HCMC, we went back to Nguyen Shack, Saigon. We were flying out that evening at 2am. Even though we didn't have a room booked, Henry the host had told us we could come back and leave our bags there. We debated whether to get a room in order to shower and have a nap. Henry offered a room at a discounted price. We ended up roaming about the city and didn't need the room, but the offer was much appreciated. The first stop was back at Banh Mi Huynh Hoa for the sandwiches that we had been thinking about all week. We got the sandwiches to go, and went back to Café Vy to enjoy the good coffee and also people watch!
We roamed about the neighborhood for the next few hours, and treated ourselves to some pampering at May Spa; 2 hours of hot stone massages + a pedicure for $30. It's a vacation after all!
Back at the hotel around 11pm, Henry called a taxi for us to head to the airport. We recommend using Vinasun taxi in HCMC. The drivers are very courteous and always use the meter. Grab also works well in HCMC!
Visit Best of Vietnam Travel Guides to see other travel writing and guides from me and the blogosphere!