I've just returned from 10 days of visiting Shanghai. This was my first trip back to the city since we bid farewell in June 2018. Since arriving in Saigon four months ago, despite my best effort to be objective, I couldn't help but compare this new home to Shanghai, a city that I knew so intimately well. I suppose our experiences in this world are shaped relative to our previous encounters.
I arrived in Shanghai in 2012, at the beginning of the city's economic boom. Everything was changing rapidly. On this recent visit, things seem to have reached a steady-state. Meanwhile, Saigon today feels like Shanghai circa 2012, perhaps even earlier. The buzz and energy are palatable.
Traffic: Saigon Vrooms vs. Shanghai Silence
During my first week in Saigon, I was genuinely culture-shocked by the noise level and wild traffic. While I quickly learned the art of street crossing, the noise level is harder to adjust. The traffic leaves a constant vroom vroom sound that lingers in the air, mixed with beeps from the constant honking. Traffic lights aren't available in all street corners, and horns are the best way for drivers to inform one other of their presence. Fair enough.
Upon arriving in Shanghai last week, I felt as though I had landed in a village. Over the past few years, the city had been on an aggressive crusade to ban motorbikes, allowing only electric scooters under a certain power. Meanwhile, significant subsidies had been granted to encourage car owners to buy electric. The effort paid a dividend. While sitting in heavy traffic on a Sunday afternoon in Shanghai, I noticed just how quiet the street was, despite surrounded by cars.
Shanghai wins for traffic. I prefer the near-silence road powered by electric vehicles over the vroom any day.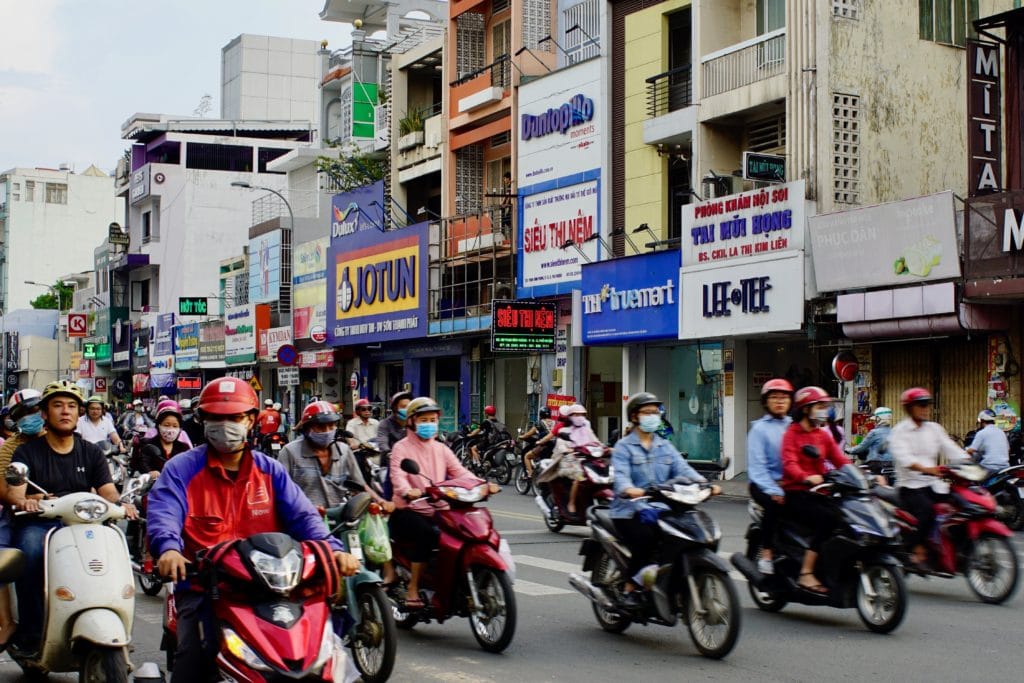 Public Transport: Shanghai Subway vs. Saigon Bus
Today, Shanghai has the world's most extensive subway network, covering 676 km, allowing residents an affordable way to get to all corners of the city. Not only is the subway system efficient, but the bus also continues to serve, with many updated electric models. While the Meglav didn't quite Iive up to its potential for direct access from Pudong Airport to the city center, it does help to get people closer to the city quickly and cheaply.
Saigon, well, that's a different story. The one subway line that has been under construction since 2007 keeps getting delayed, and has become a bit of a joke among local residents. The bus system does exist, although, given the traffic, motorbikes are a much more efficient way to get around. Fortunately, Grab, and other ride-sharing apps have stepped as an intermediary solution, though fares can be relatively expensive.
Shanghai wins the public transit battle hands down. Even back in 2012, the city already had an effective system in place.
Street Vendors: Ubiquitous in Saigon vs. Nearly Non-existent in Shanghai
Growing up in Taiwan, street vendors hold a special place in my heart. They are a sign of entrepreneurship. Anyone who's willing to work hard can push around a cart to sell goods or delicious food.
Shanghai used to have ample street vendors. The flower cart, the ceramic cart, the books cart, or the guys selling umbrella at the subway station – they seem to come out of nowhere the very minute that rain falls from the sky. And then there's the street food – the late-night fried rice lady, the jianbing guy, the bbq kart, etc. These vendors gave Shanghai streets a unique flavor, figuratively, and literally.
Unfortunately, on my recent visit, vendors all have largely disappeared. I saw a few carts milling about popular neighborhoods in the old French Concession on one Sunday. Otherwise, during my walks, street food vendors have all vanished from a government ban. Some relocated into stands that they rent from restaurants during off-hours; others simply disappeared. The city is now remarkably clean, but it feels overly and unnaturally sanitized.
Meanwhile, street vendors of every kind are alive and well in Saigon. They are everywhere, selling everything under the sun, and providing services like haircuts, motorbike repair, and more. While shopping malls and online shopping are beginning to take off in Saigon, the overall demand for street vendors is still substantial. I hope the government will allow street vendors to stay in business, the way they've been preserved in Taiwan. It's such part of this culture, and it'd be such shame if they disappear in the name of development.
Saigon wins by far for the street vendor scene, since Shanghai, sadly, no longer has a scene. The vibrancy of these mom and dad pop-ups was what drew me to Vietnam in the first place.
Saigon vs. Shanghai on Air Quality
I've lived through the worst of Shanghai's "Airpocolypse" in 2013, when the pollution went above AQI 500. After that experience and subsequent years in Shanghai, I consider air quality to be decent if I can see distinct cloud formation and blue skies.
I was thus surprised to hear Saigon expats complain about air pollution. The pollution from traffic is indeed much more noticeable than the invisible PM2.5 pollution, but on most days, I can look up in the sky and see blue-ish sky and clouds. We had a week this past month that the air quality was particularly bad. It had the haze that we were so familiar with from our Shanghai days, and we immediately ordered a Xiaomi air filter for the bedroom.
On my recent visit, friends tell me the air quality has improved quite a lot in Shanghai. I did witness a few days of blue skies before the haze took over. For the second half of my visit, haze shrouded over the skyline. The problem hasn't entirely been resolved yet, though it does seem to be improving.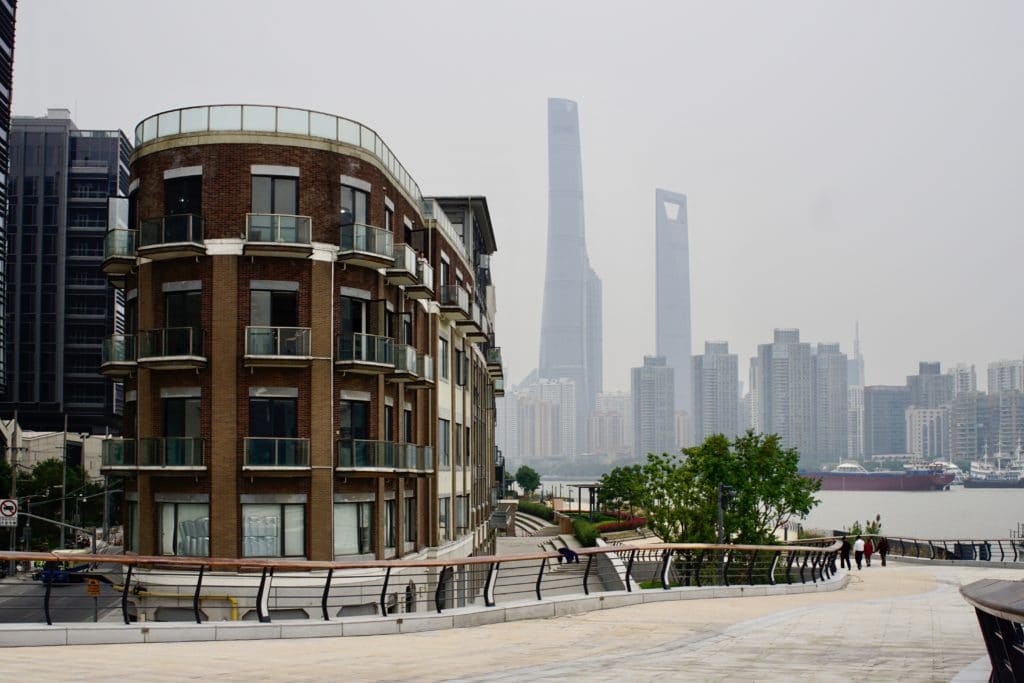 For air quality, this battle is a tie. Different types of pollution, but pollution nevertheless in both Saigon and Shanghai. Much work is still needed to reach the blue-sky-everyday-level.
Historic Preservation: Shanghai Nongtang vs. Saigon Hems
I lived through the years when Shanghai went on a rampage to tear down historic Shikumen homes and made way for high-rises. Jing'an District, my first neighborhood, is nearly unrecognizable on my recent visit. Many neighborhoods that had old homes had been transformed into modern buildings that could be anywhere in the world.
I understand the need for more housing as the city's population grows, and preserving old homes is far more costly than start over and build new towers. Despite understanding this fact, I am no less saddened by the loss of history. Last week, I stumbled upon the Xiaonanmen (小南门) neighborhood, and this is one of the last old areas waiting for destruction.
A chatty middle-age Shanghainese man was intrigued by my photography, and he explained that his family had been moved out, and the last one remain is his 95-year-old mother. I asked if they are sad to leave the old neighborhood. "Of course, we look at old photos sometimes, and tears fall. I grew up in this courtyard, and look at me, I'm not young anymore. Lots of history here."
This is but one of the millions of families facing relocation as China speeds through its various stages of development. I was especially saddened to see that iconic Zhang Yuan has also been emptied. These buildings will be preserved, but turned into yet another shopping center. I was comforted to see more preservation on existing residential buildings taking place in the Xuhui district, where the Former French Concession is located. Progress is inevitable. Change is the only constant, and memories become mere history.
Below are shots of deserted Shanghai Zhangyuan. The developer coined the project, "Renew". Renew to a shopping area. Modernity = Consumerism?
Similar growth and development have torn through Saigon as well. I haven't been here long enough to know whether preservation efforts are underway. Though reports that I've read are not very optimistic. I do witness many modern buildings shooting up in Saigon's historical center to echo the pessimism.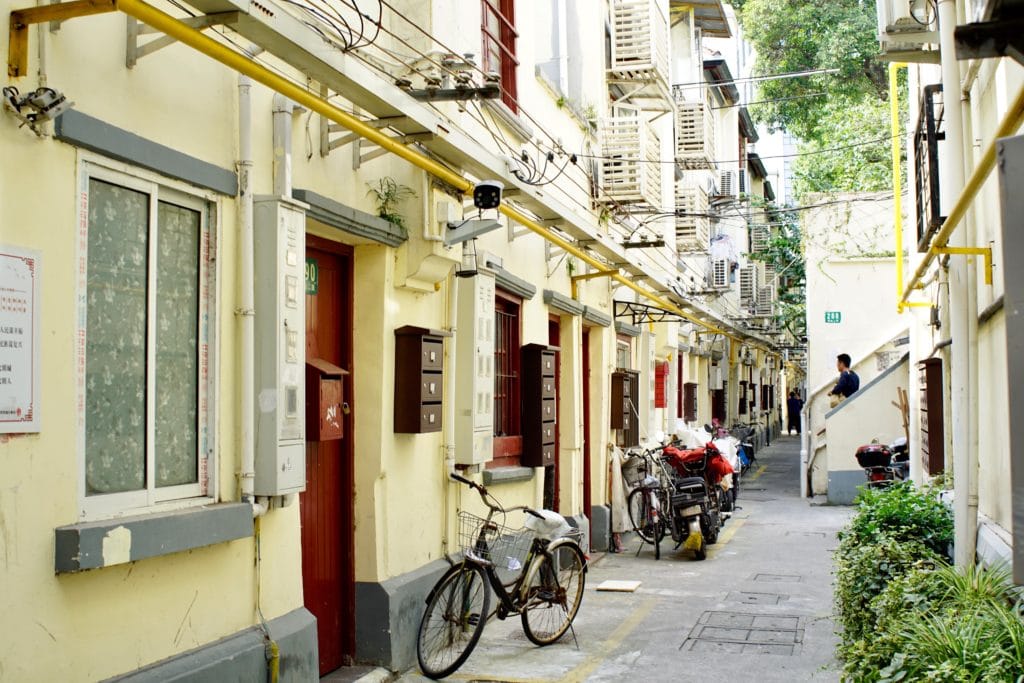 Shanghai vs. Saigon on historical preservation? Shanghai may be a tad better, though it's still early days in Saigon to know for sure.
Shanghai vs. Saigon: Same Same, but Very Different
It's hard not to make comparisons between Shanghai and Saigon. On the surface, so many elements seem so familiar. Having lived through Shanghai's boom, we can nearly predict the trends coming Saigon's way. Though heavily influenced by Chinese history, much of the Vietnamese culture is different. Despite the growth, the vibe in Saigon is far more laidback than Shanghai.
We have met many expats that have also migrated from Shanghai to Saigon, or have heard others planning to make the move. The cost of living in Saigon is still very affordable, especially on an expat salary. Saigon is a few steps behind Shanghai on its stage of development, for better or for worse.
My visit to Shanghai gave me a newfound appreciation for Saigon's hustle and bustle. The unorganized chaos is what gives Saigon so much character. The trend seems to be for cities to move toward the sanitized version as Shanghai has followed. Must enjoy the chaos while it still exists.
With that, I'm back in Saigon, with a big dose of motivation to make this hot mess of a city my own, while I still can.