We can read all about an experience, but until we've lived it ourselves, it's just a story.
Nomad Envy
I have wanted to travel full-time for years. I read blogs and watched vlogs of people who trot around with their life's possessions in a backpack (or a suitcase), and call the world home. When I was trapped in the corporate grind, these stories served as an important mental escape. I transported myself into these lives, imagining the freedom that comes with hopping from one place to another.
When I share my envy to friends and colleagues, some would say, "I could never hop around forever like that. I like my routine" Really? I totally could. How free to not be tied down to a place. And routine? Yuck. I couldn't get far enough away from my routined life.
I was never one to have an idea and sit on it for long. After paying off my debt and saving up, I convinced my husband to let go of our established life in Shanghai, sold our belongings like a cliché, and traveled the world.
Nomad Honeymoon
I used the term honeymoon both literally and figuratively. When we kicked off our travels with the Trans-Siberian journey, Frenchie and I were in the midst of our 9-month long global celebration of our marriage. The celebration spanned so long that a child (my nephew) was conceived and born during this time. The travels in the first few months therefore were both a honeymoon period of the voyage, and our literal honeymoon.
First few months of the nomadic life were blissful. The departure from our routined office lives put our senses on overdrive. The freedom to do whatever we wanted, whenever we wanted was intoxicating. When we felt even the slightest dread to pack our bags, the reminder that at least we don't need to sit in pointless meetings literally sent us packing. Living like a turtle with everything we own in our bags felt really liberating.
At long last, I was living the life of those whom I had envied for years.
Nomad & Family
The best thing about living a life with unlimited vacation days is that we can prioritize friends and family. People asked how we've mapped out our travels, and the truth is: we planned it around our loved ones. Fortunately, we know people in a lot of great places. From Moscow to France, to various parts of U.S. all the way to Buenos Aires and Uruguay, we cherished time with people who matter. It's also a great reprieve from life on the road, where we only have each other, and people we meet in passing. Side note: it's a great test to our marriage to literally spend 24/7 together during our first year.
Spending days and weeks with our family and friends all across the world has been one the best part of our nomadic living. Relationships require cultivation and care; intentionally spending time with people we love is the most worthwhile investment of our time and resources.
Nomad Fatigue
After 9 months on the road, we began to feel travel fatigue. The challenge of being in a new place, getting acquainted with our surroundings, finding the local grocery store and a coffee spot, visiting major attractions but also wandering aimlessly to get a sense of local life, all began to feel pretty repetitive and, well, not challenging. We've become pros at traveling, and have the entire process down to a science; traveling became our routine.
We love our new routine, but within it, we miss elements of our old grind. Despite all the inspirational and wonderful souls we meet on our travels, the connection is temporary. We miss a solid social circle, where conversation can leap past small talk and get right into the good stuff. The ability to go beyond the surface and know a place for its essence is something we also missed; being a traveler puts us only on the peripheral.
Living out of our suitcases had been so freeing, but a three-week stay on a farm made us really miss a well-stocked kitchen. The dull knives and lack of spices at AirBnB kitchens were no longer sufficient. By living only with our essentials over the last year, we are able to clearly identify what truly brings us joy and meaning. Cooking a great meal and share it with friends is on the top of that list.
Craving a Base
Over the last two months, we have been in St. Louis doing some house-sitting. By quarantine ourselves in America suburbia, we are not tempted to be out and about, and have ample time and space necessary to craft the next phase of our lives. Since St. Louis is my hometown, and where I went to college, I had been reconnecting with old friends. The process further reassures our desire for a community.
I have been happily writing, revamping this blog, rebuilding my network to craft a freelance career. Spending hours on end in front of the computer doesn't feel like work when it's on my own terms. Meanwhile, Frenchie has gotten so bored of suburbia life and Netflix/Prime watching that he actually wants to work again. Our year on the road taught him that unlike me, he does not enjoy working remotely without a structure, and without people around. So, he began looking for a job.
Hello Again, Vietnam
20 years ago, a trip took Frenchie to Vietnam for the first time, and he fell in love with Asia. Instead of Vietnam, he spent nearly 15 years in China. 3 years ago, we took a trip together to Southern Vietnam. It was my first time in this intoxicating country, and I also fell in love. I had been talking about that Bahn Mi in District 1 of HCMC for 3 years. The organized chaos, the energy, and ALL the delicious food has been on our minds, and Vietnam has been a country that we are keen to explore further.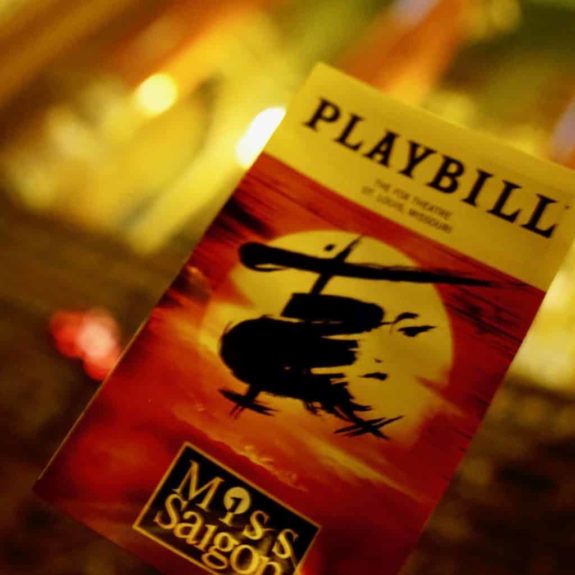 For all of those reasons, I'm overjoyed to announce that we will be relocating to Ho Chi Minh City, aka Saigon, in July. I am so excited to be put squarely out of my comfort zone again, to learn a language, navigate a new culture, and discover a whole new way of life. This next dot feels like full circle for Frenchie, and feels very correct to me.
It so happened that we received confirmation on the same day that I had gotten us tickets to see Miss Saigon. Coincidence? I think it's a sign!
We won't know a soul in our new city, so we would very much appreciate any contacts or resources that will help us hit the ground running in HCMC. The world seems to get smaller everyday, and we love the global connections these moves allow us to make!