The initial shock from the overwhelming traffic and noise in Saigon during week 1 has somewhat dissipated. There is now even a sense of calm energy when I watch a steady flow of traffic (preferably from a café window). While slowly settling into the city's rhythm, we are still moving about town largely clueless. More than a few times, we have paid the "foreigners tax". Can't exactly complain, since we can't communicate and thus have zero bargaining power. Motivation to learn Vietnamese quickly.
Roadside Barber
On our stroll down Nguyễn Binh Khiêm, a tree-lined street in District 1, we spotted a haircut stand under a tarp, on the side of the road. Xav happened to need a haircut, so we decided to try it out. A guy was waiting in line. We take it as a good sign. We sat in little plastic chairs to wait for our turn.
The barber swiftly finishes two haircuts and then soon it was Xav's turn. This middle-aged gentleman was well-dressed, wearing a mask for hygiene. He was very skilled and his attention to detail was most impressive. I was slightly nervous when he whipped out a blade to trim edges, but all was well. The previous customers had gotten a shave as well, but Xav politely declined. I've seen Xav gotten many haircuts, and this was by far the most meticulous.
When it came time to pay, we definitely got the "foreigner tax", because the previous guy paid way less. Again, no negotiating power. We happily paid the ₫100,000 ($4.30). Later, we learned from a friend that he most likely had charged us 3 times the regular price. Alas, what can you do? Chug it up to the photography fee.
Part of the joy to living abroad is trying out everyday services in a different way. I marveled at how creative entrepreneurs find ways to make a living. A chair, a tarp, a mirror, and a set of scissors, and you have a barbershop! Roadside barbers quickly disappear as the country develops. Fair enough, it's more comfortable to cut hair indoors. If you come across these roadside barbers, give them a go. But learn from us and establish prices first!
Saigon Chinatown
Perhaps because we subconsciously crave a bit of familiar environment, we have found ourselves in Chinatown twice already. Located mostly in District 5 of Ho Chi Minh City, Cho Lon, the Vietnamese name for the area that means big market, used to be its own city that later merged into greater Saigon in the 1930s.
Stepping into this area reminds me of childhood in Taiwan. Buildings have a balcony so typical of tropic living, but also marked with Chinese details like a mini shrine by the doorway, and of course, seeing Chinese characters warmed my heart.
We stopped by a tea stand selling a typical Southern/Hong Kong snack – grass jelly (龜苓膏). The signs were in Chinese as well as Vietnamese. I relished in the comfort to order and being understood. Even Xav was able to understand the vendor and responded in Mandarin. True to form, based on the 3 words that he uttered, the vendor praised his fluency in the Chinese language!
I often find visiting Chinatowns as a sort of time travel experience back to old China, with many of the traditions that are often lost in modern China. We visited two ornate temples thus far. While I am not a religious person, I do always feel a deep sense of spirituality and connection when I step foot into temples.
Nghia An Pagoda
The first temple we visited was Nghĩa An Pagoda, one of the oldest temples in Saigon, built in the 19th century and most recently restored in 2010. The color was vibrant, and its unique wood-carving was well preserved. Yet its newness took away some of that spiritual feeling. The shiny colors upstaged history and authenticity.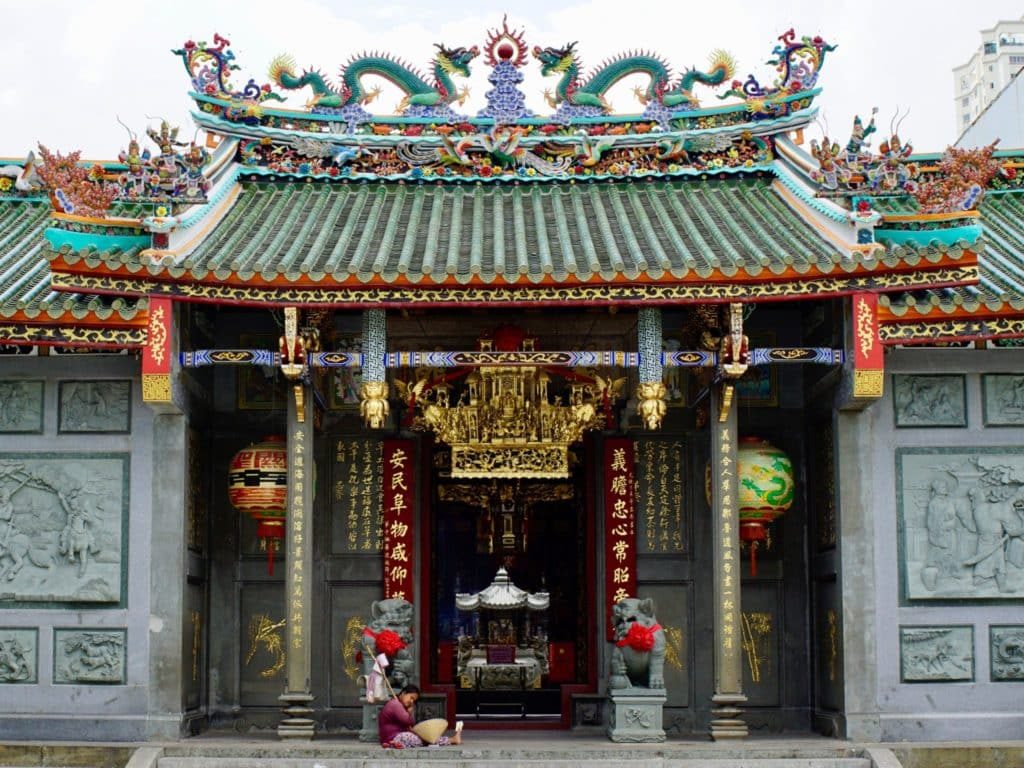 Thien Hau Temple
A bit further down the same road on Nguyễn Trãi, we visited Bà Thiên Hậu Temple, one that has equally impressive architecture details. The temple hasn't been renovated and many features have been covered by dark incense smoke. I rather liked the ruggedness of this temple, and had a greater sense of history looking through smoked images. We purchased a coil of incense as a donation to the temple and for good fortune to start our new life here in Saigon!
Thao Dien Eco-Market
Over the weekend, we headed over to Thao Dien in District 2, one of the expat areas in Saigon. I learned on Facebook there was some sort of an eco-friendly market, and we decided to go check out the area. The neighborhood feels suburbia, but rather than individual houses you have apartment buildings. Often, we find a luxury building next to a small plot of farmland. The roads are eerily quiet compared to downtown. I see why people live here; it's quiet and the streets are much easier to navigate on foot. We even spotted quite a few runners!
The market was hosted at Saigon Outcast, a sort of outdoor venue made from containers and has a rock-climbing wall. The vibe feels like our expat-centric life in Shanghai. I always enjoy these markets to discover local entrepreneurs. We didn't make any purchases since we aren't settled into a home yet, but I noted a few brands that made an impression on me. Perhaps fellow Saigoneers would find them useful, and can buy local!
A Little Bit VN – A company that sells products to help us reduce plastic use. Nice products. Will definitely be buying some stuff here. Plastic waste is a major problem here!
Brokopondo Lakewood – Beautiful wooden charcuterie boards. Great as gifts or stock one for your own kitchen.
Coconut Religion – a lovely Australian lady started her own coconut butter with quality essential oil.
Farmi – This grocery delivery service works with local producers and checks on their supply chain. Will likely purchase meat product from them!
Gluten-free Gourmet – Self-explanatory. We had its gluten-free bagel and cinnamon roll. Very delicious indeed!
Legumes – All the dry goods. Cocao powder. Cashews. Dried fruits. I perused through their site and see they also sell green juices and other healthy eats!
Coconut Man
Finally, I will end this week's update with a heart-warming story, because we desperately need more of them. On our wanders this week, we came across a man selling coconuts out of a cart. It was a hot day, so a fresh coconut was the perfect snack. He cut open the fruit, and we enjoyed the fresh juice. The bottled stuff will never compare! We then asked him to chop open this coconut so we could indulge in coconut meat.
He chopped, and I whipped out my metal spoon to go at it. As we scrap this coconut on the side of the road, this nice man looks at us amusingly, then signaled for us to let him help. I handed over the second half and the spoon. He proceeded to scrap the entire half of the coconut meat in one unbroken piece for me. We ate it like a coconut taco!
The nice man showed off his coconut skill. We had a delicious snack. It was a win-win, and we didn't even need to speak the same language. Human connections are my favorite part of traveling and living abroad.