It's taken me over a year of living in Saigon to finally feel like I have a decent grasp of life in this chaotic city. Even still, I'm learning about new spots that make life just a tad easier every week. I am paying it forward here with a list of things I wish I had known during week 1 of Saigon living. I hope you find these tips useful!
Facebook Groups
Okay, Facebook is the devil, blah blah blah. But one cannot deny its usefulness to connect individuals and share information. Facebook is widely used in Vietnam, and many merchants have a Facebook Page before a website. Expat-focused groups are some of the best places to ask odd questions, and someone almost always has the answer!
Useful Saigon Apps
Here is a list of the apps that have made my life in Saigon infinitely more convenient:
Google Maps – Other than blogs and random recommendations that I come across on Instagram, Google Maps is the first place to find restaurants and cafés. Reviews are quite trustworthy. I've compiled a public of my Sagon Favorites – it contains every place I've recommended on this blog.
Grab – We never got around getting a motorbike, so we rely 100% on Grab to get us around town. Very English friendly, and also has food delivery. Our life would be significantly more difficult without Grab. I can link a U.S. credit card to this account for payment, making for a seamless experience!
Now – Speaking of food delivery, it took me a while to get on board with Now, since I had a bit of trouble linking my credit card. But once I figured that out, I use this exclusively for food. The restaurant selection is vast and also very English-friendly!
Chopp – A grocery delivery app that will go shop at various stores and bring it to your front door. The fees are often cheaper than me taking the taxi. I am a weirdo that enjoys actually going to a wet market or supermarket, though, so I only use it occasionally. Nevertheless, it's a good service!
BTaskee – A cleaning service app that allows you to book a service as needed. The first few times of using this is a tad of a gamble, so I would only book someone with 4.8 stars or above. But once I've identified the staff that I like, I can pay a tad more to manually choose from my favorites. If you are looking for a regular cleaning service, I've heard the social enterprise, Dependable Progress, is quite good.
Lazada – I don't do too much online shopping, but when we first arrived and settling into the apartment, I bought quite a few items on this app. It's English-friendly and allows payment with an international credit card. Quite please with its selection and never had any issues! Note: be sure to filter for items from within Vietnam first; otherwise it'll show items from China.
Payoo – This payment app isn't the most intuitive for non-Vietnamese speakers. But I set up our Internet payment with this app and made monthly payments rather than running to a convenient store.
Specialty Grocery
Co.op Mart – This grocery chain scatters across the city and offers all of your basic needs. Some branches have more offerings that are more Westerner-friendly than others. My favorite locations are in District 3 and Phu Nhuan.
Big C – Another grocery chain. The two District 2 locations carry many Western products. The Thao Dien Pearl location has a decent bakery at the entrance with quality baguette and croissants.
Phuong Ha Store – This hot mess of a grocer has (almost) all the international foods and ingredients that you may need. But be warned – this is not a place to browse. Go with a list in hand and try to avoid weekend afternoons. The prices are worth the hassle to me, but I do not dare going more than once a month.
Thai Hoa Grocery – Situates right next to Phuong Ha, this is another rather fire-hazard shop filled to the brims with ingredients. The second floor of Thai Hoa has a vast selection of baking and cooking tools. Again, go with a specific mission to minimize frustration.
Ze Farm Box – Whenever possible, we order fresh produce from Ze Farm Box that delivers in-season fruits and vegetables weekly. Each Monday, I receive this week's item listing via Facebook Messenger. I have until Wednesday evening to place an order for weekend delivery. The bounty of produce comes in 3 (290k VND), 5 (380k VND), or 8 kg (550kVND) sizes in a bamboo basket that the vendor will collect to reuse.
Annam – When I want to treat myself to some really fancy ingredient, I come to Annam – a chain of pricey grocery store that has a decent selection. The location in Saigon Centre is incredibly well-stocked with goodies.
Naman – Rumor has it Naman is a spin-off (knock-off) of Annam. Similar vibe and selection, but have locations in farther reaching areas. We have one near our apartment in Phu Nhuan, so we shop here occasionally when we are in a pinch for supplies.
Auchan D7 – On the rare occasion that we venture out to District 7, we always stop at Auchan to stock up on supplies. This French grocer has locations around the city. Still, this particular one in Crescent Mall targets the expat clientele and has a vast selection of goodies at reasonable prices.
MegaMart – This Costco equivalent in District 2 is hectic and overwhelming, though a reliable place to stock up on massive blocks of cheese, cream, and other supplies. This place was also useful to set up our household, as it has a wide selection of daily essentials. Again, avoid weekend afternoons to preserve sanity!
Household Items and Services
Since there isn't an IKEA in Saigon, I had one hell of a time running around the city to find essential home goods. Below are places that I had success:
Lock & Lock – a brand of decent quality storage containers and other kitchen supplies that are a tad pricey. Most of the grocery stores carry Lock & Lock products, but the branded stores have a more comprehensive selection of goods. The District 2 location is quite extensive, but I also like the one in Vincom Center.
Daiso – This chain of Japanese home goods store reminds me of the dollar store in the U.S. The products aren't of high quality. Still, it's a good place to pick up those household items on which you don't want to spend a lot of money. The Thao Dien location is pretty decent.
Hachi Hachi – A higher-end Japanese home goods store than Daiso and has a decent selection of reasonably priced items for kitchen and household needs. I frequent the D3 location and the one near us in Phu Nhuan.
Color Living – I'm a fan of sparkling water. The first order of business upon arrival was finding out where to buy a SodaStream. Color Living in District 2 saved the day both with the machine and the gas bottle refills. The shop also carries some fancy Italian coffee machines. Another location exists in District 7.
Sapuwa – Speaking of water, we get our drinking water delivered from Sapuwa. All communication is done via Facebook messenger. I usually need to only give half-day of notice, and the lovely delivery guy brings water to my door. They have bottles that come with a tap, so you don't have to fuss with trying to find a stand.
Thien Hoa Electric – Another priority for our household is finding a good oven. We looked at many outlets and finally found a reliable 60L Sharp oven at its District 10 location. The service was excellent and offered delivery. They have locations across the city and has a wide selection of home electronics.
Uncle Bills – I first discovered this random kitschy shop on Lazada. I then came across its physical location in Thao Dien. The shop carries an assortment of random imported household items, Halloween costumes, holiday decors, etc.
Gagaco – This is a great place to order plants. I've interacted with them solely via Facebook. They delivered high-quality plants at very reasonable prices. Highly recommend this service. If you collect compost at home, they will also collect your compost!
Mi Store – We purchased our air filter from Xiao Mi, and the store is a good place to take a look at the actual product. Ended up ordering it from Lazada since the store didn't have what we wanted in stock.
Saigon Photo Centre – I was looking for quality photo prints on wooden plaques, and the Saigon Photo Walk organizer recommended this place. Very reasonable pricing and excellent results.
MyStorage – If you are minimizing your home, and want your old clothing and shoes to go to charity, MyStorage has a box outside of their office for drop-off.
Eco-friendly Shops
The plastic waste situation in Vietnam is serious, so whenever I can, I try to support eco-friendly shops dotted around the city. I don't have much to say about each of them, as they are all somewhat similar. Worth a look if you are near any of these shops.
Gifts, Books, & Unique Shops
OHQUAO Concept Store – A fun shop nestled in the Da Kao area of District 1. This unique place carries a selection of funky maps, prints, stationery, and other Saigon-related art.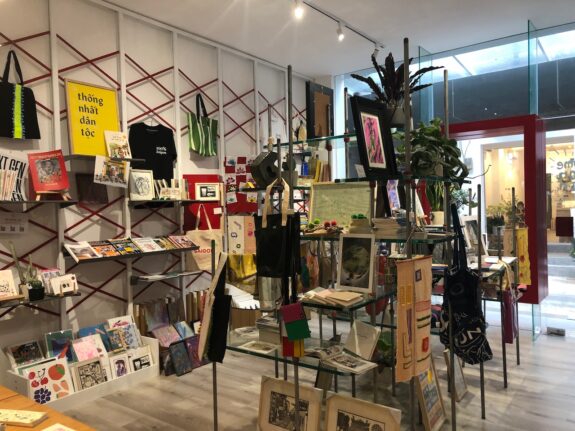 Ginkgo T-Shirts – If you are looking for some Vietnam-inspired t-shirts and fun outfits, this is your place!
Artbook – A book store that carries unique Saigon and Vietnam related books.
Tranhart.com – I ordered some canvas prints on this site. Depending on what you are looking for, you could get them for slightly cheaper on Lazada. The quality is better, though.
Health Services
Maple Healthcare Chiropractic – I suffer from migraines and finally had my spine checked out this year at this chiropractic clinic. Love the combination of chiropractic adjustments and physiotherapy. I frequent the District 3 location, but they also have clinics in District 2 and District 7.
Tam Duc Traditional Medical Clinic – Before I discovered chiropractor, I frequented this acupuncture clinic for my headaches and other well-being maintenance treatments. Dr. June is very professional and kind. If you find the clinic a tad too far, Dr. June has been known to make house calls, although I've always gone to the clinic.
Victoria Healthcare – I first discovered this clinic after some search on a right OBGYN specialist. Dr. Anh is a fantastic doctor with excellent patient care and provides a thorough explanation. Since, I've returned to Victoria in D1 for other ailments and have been delighted with the overall service.
FV Hospital – During my stay in Saigon, I needed a small surgery and was referred to FV Hospital. I was pleased with my care and treatment at this hospital. The price tag is high, though, so do check whether your insurance provides coverage.
Westcoast International Dental Clinic – There are plenty of dentists in Saigon. I've been to a local one that cleaned my teeth for $15. But, you do get what you paid for, and Westcoast's top-notch service is worth the price tag. This dentist also has a Thao Dien location.
Spa Services
Noir Spa – I've only recently discovered this gem, and I don't know what took me so long. The place is beautifully designed in that Indochine style, quietly hidden in an alley. The menu is simple, with only three items – oil aroma body massage, hot stone massage, and foot massage. That's it. Quality over quantity, though, and this is by far the best massage spa with the best value that I've experienced in Saigon.
L'Apothecaire – Xav had gifted me spa certificates to this lovely villa. It's a great place to retreat for the day, enjoy the sauna, steam room, and the pool before a delightful treatment. Not a place that I'd frequent often, but for a special occasion, this is a solid self-care spot.
Spa La Sen – Thao Dien has no shortage of spa services. I visited Spa La Sen for a deep tissue massage and was pleasantly surprised at the service. I still prefer Noir Spa over this place, but this is a good choice if you want to stay near Thao Dien.
Ace London Hair – Soon after arrival, I chopped off my long hair and donated to a breast cancer charity for my birthday. Before this, I didn't have short hair for over a decade. I entrusted Chiyono at Ace London with this task, and she was fabulous. I've since gone to this delightful salon for all of my hair care needs.
Marina's Skin Boutique – One of the best facials I've experienced in my life. Usually, facials consist of a rotation of massage, cream, and face masks, but Marina's facial was different. She takes the time to examine my skin and then gave it a deep clean with her state of the art equipment. Highly recommend this service to clean off the city's grime from our faces.
Privé Nail – A lovely retreat in District 1 for nail care. This is the spa of choice when I'm with a friend to catch up on life while getting those nails looking pretty. The quality control of this place was most impressive!
Top Nail – For more practical and inexpensive nail care, I head to Top Nail in District 3. Clean, professional, and no fuss.
Saigon-Related Newsletters
Vietnam Weekly – This newsletter is produced by journalist Michal Tatarski. I rely on this to keep myself informed with the happenings in Saigon and Vietnam in general.
Saigoneer – This website is an excellent source for events taking place around the city. I also love discovering new hole-in-the-wall places via its Hem Gems section.
Vietnam Twitter – I've curated a list of interesting Vietnam and Saigon related people on Twitter. This list is often where I obtain the latest information on what goes on in the city and around.
For restaurants and café recommendations, head over to my Saigon Visitor Guide!