After a month of living in our temporary apartment, we began the hunt for our longer-term home in Saigon. The process proved to be more challenging than I had anticipated, but I am happy to announce that after two weeks of painstaking search, we have been blessed by the apartment-hunting gods, and landed on a great two-bedroom apartment, with a stellar view of a rooftop pool to boot! Hopefully, my experience will help you in your search for the ideal home in Saigon!
Narrow Down on Location
Based on my understanding, District 2 and District 7, both located on the outskirts of the city center, are the expat havens in Saigon. High-rises are aplenty in these areas, as are all services catering to foreign residents in the city. District 1 and 3 are the city center, with restaurants and services aplenty as well, but buildings are generally older. The prime real estate makes for a higher cost.
When we searched for our temporary apartment, the process was fairly straight-forward. The location needed to be not too far from Xav's office near the airport, and also within a reasonable distance from life in District 1 and District 2/Thao Dien – we wanted to be halfway between work and play. Our requirements were fewer at the beginning since it's only temporary. We looked at a few places within the Phu Nhuan, District 1 area, and settled on a place along the canal on Phu Nhuan side within a few days.
Over the last month, we've spent weekends exploring alleyways and identifying potential apartment buildings. Through our exploration, we also become more familiar with different neighborhoods, extending our search into District 3 and District 10. When we see a building in a neighborhood that we like, we take photos for future reference. I also saved them on a list on Google Maps, in case it's of use to you.
Tip: Saigon's traffic is a madhouse with hardly any public transportation. Whatever the commute time that Google Maps quotes you, add 50%, and imagine the madness in the rain. Try out the commute a few times during high traffic times, and make sure it's manageable.
Identify Priorities
Quiet Space to Sleep
Several weeks of living in a serviced apartment helped us evaluate our priorities. Our current place sits right on the canal on Truong Sa. Since the windows aren't of great quality, the constant motorbike traffic can be heard all day. At night, the street vendors blare their recorded calls for business. And the enthusiastic guys with one too many beers often decide to fire up their karaoke machine in the streets after midnight. A quiet space to sleep quickly became a top priority.
Not a Serviced Apartment
Many of the apartments offered, especially those targeting foreigners, are serviced apartments that come with cleaning, laundry, Internet, drinking water. It's incredibly convenient and saves the hassle of figuring out how to pay bills, source drinking water, etc. Yet, for our longer-term home, we don't need cleaning 3 times a week, and figuring out how to manage everyday life is part of integration into society. Besides, the serviced apartment tends to way overcharge on electricity. Service comes with a fee, and by focusing on a non-serviced apartment, we can get a better value.
Pleasant Design
Apartment rentals often come furnished in Asia, which can be a blessing and a curse. Throughout my years of living in Shanghai and now Saigon, I've seen all sorts of, ahem, unique designs. When looking at spaces that many in the US would consider a tiny home, efficient design is important. I also enjoy beautiful spaces and takes into account how much work is required to decorate. Not all landlord will agree to remove selected pieces of furniture, so be sure to check on this if that's what you would like.
Tip: Your priorities most likely would differ from ours, but my tip is to identify three non-negotiable elements and keep them at the top of mind during your search. Otherwise, a sleuth of factors can quickly become overwhelming and frustrating.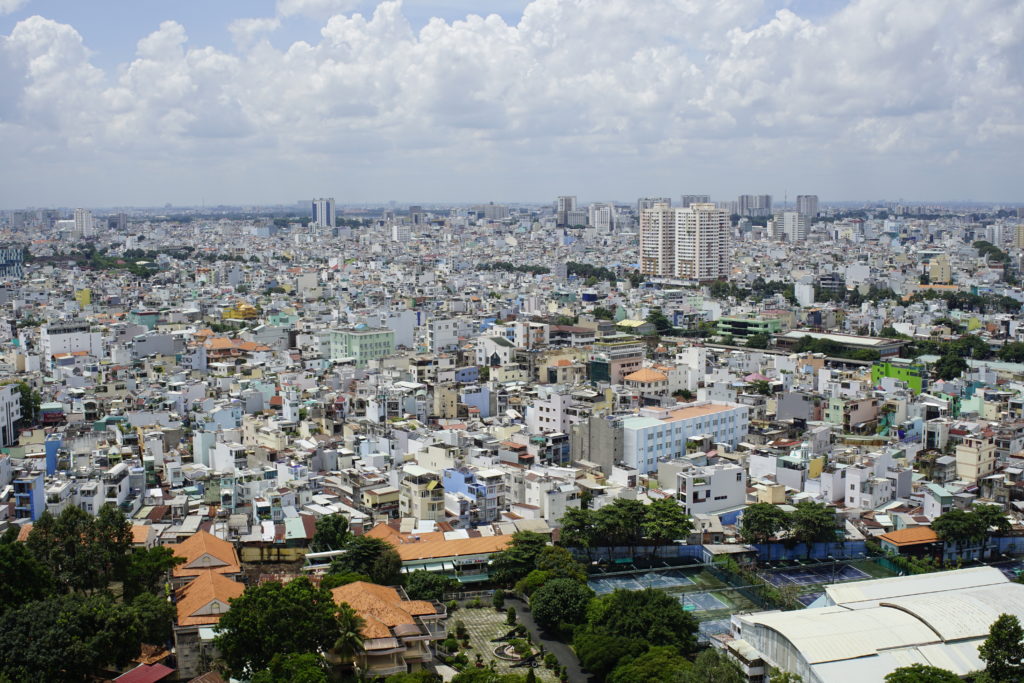 Enlist Agents from Facebook Groups
Once we've determined our search criteria and budget, I wrote up a small blurb and went on Facebook to find agents. There are a plethora of housing groups for Saigon, and many agents cross-post listings in them. Some people post their requirements directly in a group, and let agents message them. I didn't adopt this strategy, because based on some of the comments I saw, often agents response with listings that clearly do not meet the requirements, and I didn't want to deal spam.
Instead, I scrolled through listings that seem to fit our criteria and contacted the agent directly. Agents tend to have sources in the same vicinity, and from there, can generally send similar suggestions and set up several viewings at once. Since we were considering a few different neighborhoods, I had created a team of 5 agents sending me potential listings.
Listings come with photos, but their quality varies. If a listing meets the location and square footage requirement, we make an effort to take a look. More than a few times, we've been pleasantly surprised. Photos often don't do a space justice. If there is a particular building that you like, ask the agents to search for listings in them. We've seen several units in our desired buildings through this method.
Tip: Housing groups on Facebook that I find useful:
– Place in Saigon
– My Saigon City
– Housing Saigon
– Housing/Apartment Solutions in Ho Chi Minh City (Saigon)
– Apartment For Rent in Ho Chi Minh City (Saigon Housing)

Also, check in general expat groups for people looking for a lease takeover:
– Fexpats – Female Expats and Locals in Ho Chi Minh city
– Expats in Ho Chi Minh City (Saigon)
– Expats & Locals In Ho Chi Minh City (Saigon)
Re-visit in the Evening
Given our experience with nighttime karaoke, if a listing is in a neighborhood with which we aren't familiar, we make a point to return in the evenings to observe its surroundings. A place takes on a life of its own at night in Saigon. Street vendors come out, and what seems to be a quiet area in the day time becomes the place to be.
We had visited a gorgeously designed space in an old Vietnamese building with high ceiling – a rare element in newer builds. I was 100% excited about the place, but Xav was concerned with noise. We returned that evening, and sure enough, it was incredibly lively, yet without triple-layered windows, it was too lively for a quiet sleep.
In the old apartment building, units have a metal gate. To save on electricity costs, many of the families leave their doors open for airflow. A stroll through the halls and you hear the TV blaring, but the best/worst is the guys who have the loudspeakers going with thumping music. The building has a courtyard in the middle, and the noises echoed throughout. It's a fantastic atmosphere, and I'm so happy that we observed it, but not happy enough to live amongst it.
This particular visit, along with our own troubles with karaoke man, unfortunately, narrowed our choices to newer builds with good windows.
Tip: Re-visiting in the evening can serve those who are looking for more action in the neighborhood as well. It goes both ways. If you are a deep sleeper and noise doesn't bother you, living in the middle of a vibrant local building could be very ideal!
Trust Your Intuition
After viewing nearly two dozen listings, and contemplating locations that are even further out near the airport, I began to feel frustrated. Then came a listing that looked decent, though not great, I followed the advice to always give it a look. Xav was at work, so I went alone. By now, I have a good sense of what we want and don't want, and the minute I walked into the apartment, I knew this place is it.
I looked past the rather ostentatious décor and focused on the built. The entire apartment felt brand new, with custom-built cabinetry and modern finishes. I opened the door onto the small balcony, and the noise level increased 3 fold. Good windows! The price point ($860 for 2-bedroom) is at the lower end of our budget, and while the location (Phu Nhuan District) is a tad further from downtown than we had hoped, it's a shorter daily commute for Xav.
I was already very pleased with this listing, and then the agent showed me the rooftop pool and gym. It's five-star hotel grade with an incredible view, all included in the rent. Sold. I asked if anyone else has seen this listing. Two others had seen it that morning. I sent the video of the apartment to Xav. We agreed to sign on the spot. Et voilà, mission accomplished. The gut feeling says this is right, so I went with it. We move in three weeks!
Tip: Apartment hunting is a little like dating. You should clearly identify your non-negotiables. You should try out a few different places. When your top requirements are met and gut feeling tells you this is the one, commit and trust your intuition!
Other Tips from the Blogosphere