Since I am transitioning from a UK system to the US, my summer was cut short to just under 8 weeks. In which, I took up an internship at a social investment fund here in London. This is the 2nd time I have spent summer in London, and I remember just how much I love it.
Sure the constant 60 degree weather doesn't scream summer. But the occasional 70+ degree days accompany by sunshine make me grin and glad I am not suffering through the East Coast heatwave that I keep hearing about. With the LSE behind me and my nights and weekends free, I am finally able to really enjoy the city. This summer has also been filled with visitors and when showing people around town, I get to really appreciate the city from the view of an outsider. I forgot how lucky I am to live at Shad Thames, and within two minute walk to the south bank and a view of Tower Bridge.
Here are some of my favorite summer/tourist activities in London:
Follow Thames Path on the South Bank and walk from Tower Bridge all the way to Westminster (but stop by Borough Market for lunch first), cross the river to Parliament, cut through Whitehall to St. Jame's park, and get a peak of Buckingham Palace.
Regents Park up through Primrose Hill, rest and take in the view, then trek up to Hampstead High Street for the best crêpe in London.
Take the TFL boat to Greenwich (be sure to only do it on a sunny day) and visit the Royal Observatory. Or if you are cheap like, just enjoy the view of London from atop and knowing you are at the place where time begins (and ends).
Portobello Market – but avoid mid-day. Late afternoon is best. Then talk through Embassy Row and hit Kensington Gardens, then stop for a coffee or something sweet on High Street Kensington.
Grab a beer and fully relish in the freedom of drinking outdoor. I like sitting at the steps of South Bank at night and marvel at Tower Bridge (tourists have also disappeared by night fall in the area).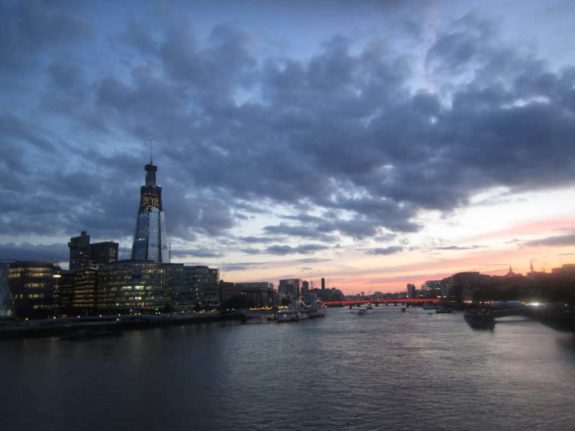 While I wouldn't chuck my year at the LSE as BEST YEAR EVER, great friends were still made and I've shared some pretty amazing moments. I am also blessed with 6 different visitors to the city, with two more on the way next weekend before I bid farewell to this place. Life likes to hide those silver linings, whether it's the best or worst year of your life. I've learned to watch for them. They tend to have a magical way of bringing a smile to my face.