Last Minute Booking
2014 had been a very busy year. Few weeks ago, when Ctrip had round-trip flights from Shanghai to Guilin for 789 RMB all-inclusive. I booked it. I had booked the trip rather spontaneously, and decided a trip alone to reflect was the best way to end and begin a year.
After speaking to a few friends, it was evident that I should spend my time in Yangshuo. A quick browse on Tripadvisor led me to a new boutique hotel (Mountain Nest Hotel) in a small village 90 minutes drive from the airport. I booked, and then didn't think about the rest until I was at the hotel.
Even on the car ride to the hotel, I was wrapping up tasks for work. After check-in and a quick dinner, I fell into a deep sleep. When I woke up the next morning, I couldn't quite believe where I was. My room looked out onto a sea of mountains as far as the eyes can see, sprinkled with farmland and farmhouses. The sky was blue, and I could see the sun ray for the first time in months.
I took a long walk into town to buy a few things that I had missed during my last-minute packing. I could have walked, but I prefer walking on the first day to get the lay of the land, and also to photograph the mundane everyday happenings that make a place so interesting.
The walk reminded me of life in a village, and walking into town for essentials. I passed water pumps and thought of the days of needing to fetch for water – a thought that haven't crossed my mind in a long while. I marveled at the simplicity of women chatting, and playing chess, children playing, chickens running around, etc. and how beautiful it all was.
The beauty of travel is less about the famous sites (though some admittedly are famous for a real reason), but rather observing daily lives that are so different from my own. I constantly need this perspective; a life can be lived many ways, and instead of merely visiting, I hope to experience many more.
Aimless Wandering on Bicycle
On the very last day of 2014, I took a mountain bike and roamed the villages. I road through farmlands, and for miles, I saw very few people, mostly farmers and people milling about the village. Around mid-day, kids were walking home from school. Walking toward me were two little girls, chatting, eating lollipops and having the best time. Their innocence and joy were striking, and I wanted to capture the moment. I stopped on my bike, and took out the camera.
The minute the girls saw me with a camera, they posed and gave me the sweetest smiles. It was simply adorable. I took a few shots, and they changed poses like little models. I thanked them afterward, and the girls said in Chinese, "Don't mention it." My heart was filled with joy. Why is it this level of joy never sustains, and eventually is tainted with cynicism? One of my favorite quotes comes from the movie, Under the Tuscan Sun, "Never lose your childish innocence. It's the most important thing."
Rafting Down the Yulong River
After hours of biking and photographing, I took a raft down the Yulong River. My boatman was a young guy. He was curious about the world and asked me many questions. We had intermittent conversations during the ride, and he was flirting with me in this incredibly coy way that is characteristically Chinese.
True to Chinese tourism form, there was a short stretch of the river where tour groups drop off, and for 5 minutes along our journey, we had bamboo raft traffic jam. Their journeys were short, simply to have taste, and soon I was back to complete solitude. China is an incredible country, and it's worthwhile going beyond the tourist destinations to discover its true beauty.
The weather was uncharacteristically warm. The sun was shining just enough that the mountains glistened on the water, yet the fog was present just enough to give everything a dream-like quality. It was one of those incredibly romantic activities, but I was alone. Rather than wishing there was someone to share the moment, I was simply happy to be on my own, to have the opportunity to think about my life on a beautiful day. They always say you should know yourself very well as a single before you become a couple, and at that moment, I was truly basking in my singledom, knowing more about myself than ever.
The journey ended two hours later, and I returned to my hotel just after 5pm. The sun was beginning to set, and the view became even more beautiful with various shade of pink hue. I cozied up in a big sweater and read Peter Hessler's River Town: Two Years on the Yangtze. Peter was a Peace Corps volunteer in China in the mid 1990s, and this is one of those books that every foreigner in China, who actually cares about the country, has raved about. It felt like a perfect setting to finally read it.
Happy New Year
On New Years Eve, the lovely owner of the hotel organized a dumpling-making party and dinner for the guests. I sat around the table and shared the last day of 2014 with a Japanese couple, a Danish couple (the guy is Korean descent), a couple from Hong Kong and Germany, and of course the Chinese staff. The international mix felt extremely appropriate, and is an adequate depiction of my globetrotting life.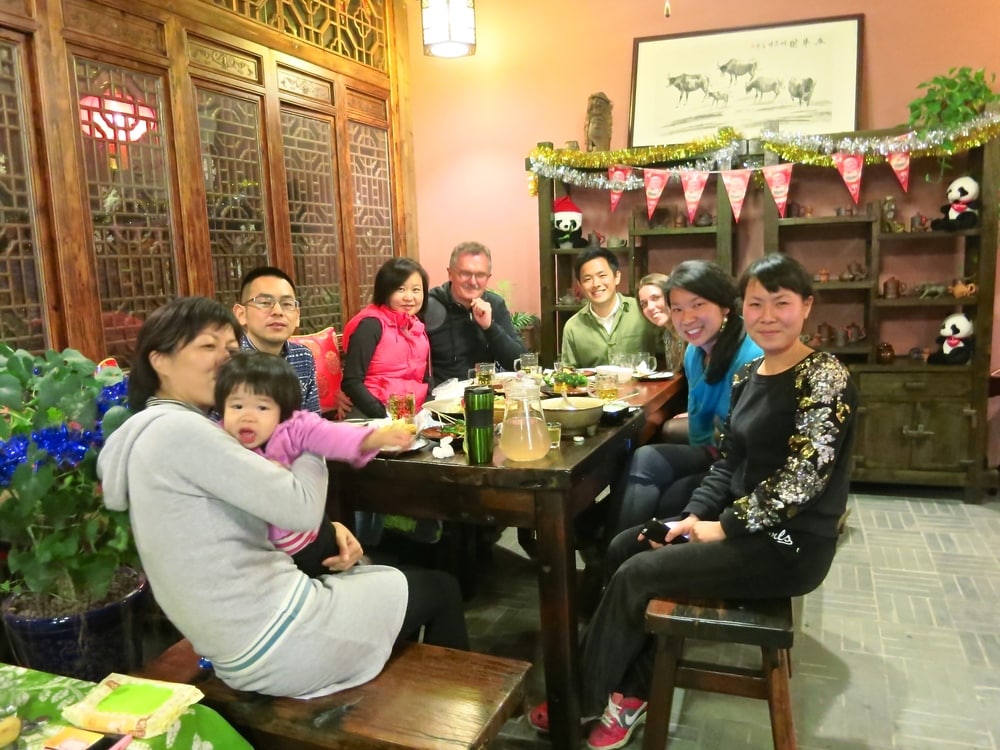 The guests retreated shortly after 10pm. I returned to my room and watched New Years celebrations from around the world on TV. The countdown happened on CCTV over Beijing's Olympic Nest stadium, and I felt a great deal of peace and gratitude. To begin something great, the ending of a previous experience should be properly honored. 2014 was busy, and challenging as I struggled to find my balance as a young professional, but it ended on a truly beautiful note.