My Frenchie and I took a 10-day trip in June to the Yunnan province, and this itinerary seems to be useful for many friends. We booked this trip because of a flight sale from Shanghai to Kunming. If short on time, I recommend flying directly into Dali and fly out of Shangri-la, but may be more expensive.
Day 1 – Kunming
Evening – Arrive in Kunming
Accommodation: Kunming Cloudland International Youth Hostel Total: 168 RMB
Day 2 – Dali
Travel to Dali from Kunming
Take a cab in Kunming to the Kunming West Bust Station. There are frequent buses to Dali. There are "express" buses that are nicer and slightly faster. We took the regular one that was leaving the sooner. Very safe. The bus stopped half way at a rest stop for about 20 minutes.
Day 3 – Dali
Dali Accommodation: SleepyFish LodgeTotal: 440 RMB
Dali was our favourite town over the entire trip! Rent bike and ride around Erhai lake; explore old town. Sleepy Fish Lodge rents bike for cheap. Ride to WuShe (无舍) hotel for lunch and enjoy the amazing view. If you want to splurge, I'd also recommend staying here! Sleepy Fish is run by an Australian (or maybe New Zealand?) family. Decent foreign food if you are craving for it. Basic but comfortable place. Good service.

Day 4 – Baisha
Travel to Lijiang via train.
Accommodation: Lijiang Baisha Holiday Resort – Total: 160 RMB
Right outside of the Lijiang train station, there are vans that will take you to nearby villages or into town. Share the car with other and they drop people along the way. I bought all of the train tickets ahead of time in a ticket office in Shanghai. Just check the train schedule ahead of time. It's less flexible, but worth it to me to not have to scramble and stand in line to buy tickets at the last minute. You never know in China; things often get booked up!
Baisha is a small village outside of Lijiang. Really quiet but interesting town that is starting to bloom with tourism. One night is plenty here, but a day trip is also enough. Nearby village Shuhe Ancient Town has more stuff – would also be a nice place to stay.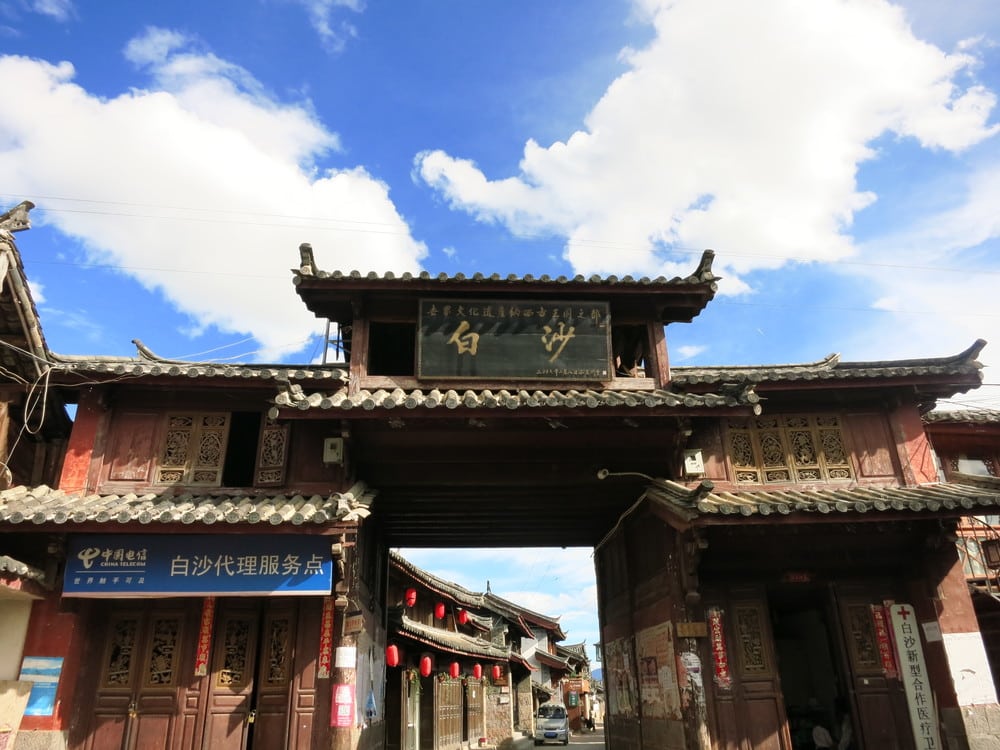 Day 5 – Tiger Leaping Gorge Hike
Travel to Qiaotou; hike Tiger Leaping Gorge
The hotel in Baisha arranged a car for us to go into Lijiang early in the morning. From there:
Take the bus that goes directly to Tiger Leaping Gorge (虎跳峡), the people managing the buys will drop your stuff at Tina's. Take just a day pack to spend the night.
If you take the bus to Shangri-La, ask to be dropped at Tiger Leaping Gorge. You can drop your stuff at Jane's Hostel before you start the trek. Can ask the return bus from Tina's to stop to pick up bags.
Can't get lost at the hike; just follow red arrows.
Accommodation: Tea Horse Trade Guesthouse – Total: 150 RMB
Basic mountain lodge. Hot shower and okay food.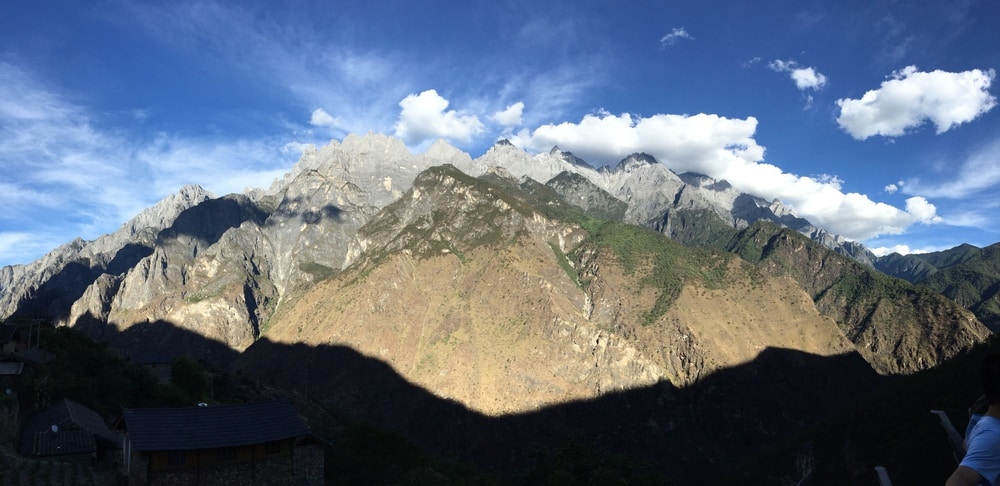 Day 6 – Tiger Leaping Gorge Hike
Since we only did the two-day hike, we hiked back down to Tina's. Book bus from Tina's to Shangri-La at the Halfway House lodge along the way. Bus leaves from Tina's at 3pm. If you still have energy, you can go down to the Gorge, but we were too tired to move!
Day 7 & 8 – Shangri-la
Accommodation: 香格里拉无府精品客栈(Not sure what the official English name is, but it translates into Shangri-La WuFu Boutique Hotel) Total: ¥815 RMB
Really charming boutique lodge with lovely details. Highly recommended. Within the old town and not far from the town centre. Quiet and not touristy. Hotel provides complimentary ride to the bus station or airport.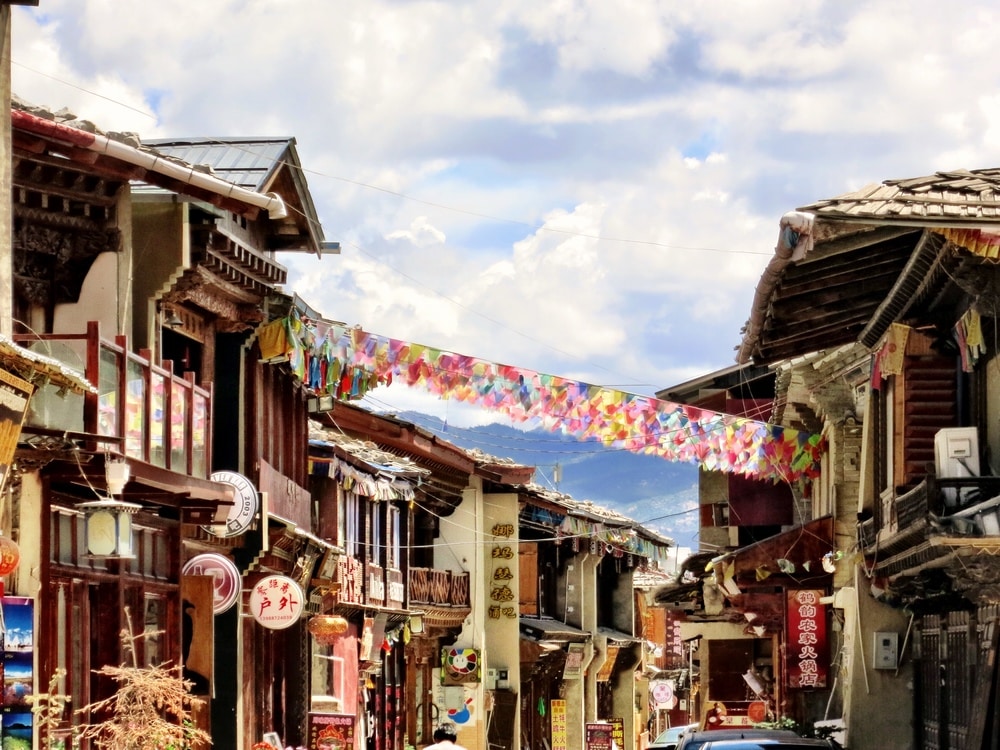 Day 9 – Lijiang
Travel to Lijiang via bus.
Accommodation: Lijiang Zen Garden Hotel (Wuyi Yard) – Total: 305 RMB
Right in the middle of old town in Lijiang and insanely touristy. I'd avoid staying within the old town, as we had done. The hotel itself was nice, but the surrounding was typical of Chinese touristy destinations… The one cool thing in Lijiang Old Town is Lion Hill. We climbed up at sunset but the actual site was already closed for the day, so we stopped at one of the bars and bought expensive drinks. Well worth it for the view. We spotted a rainbow there!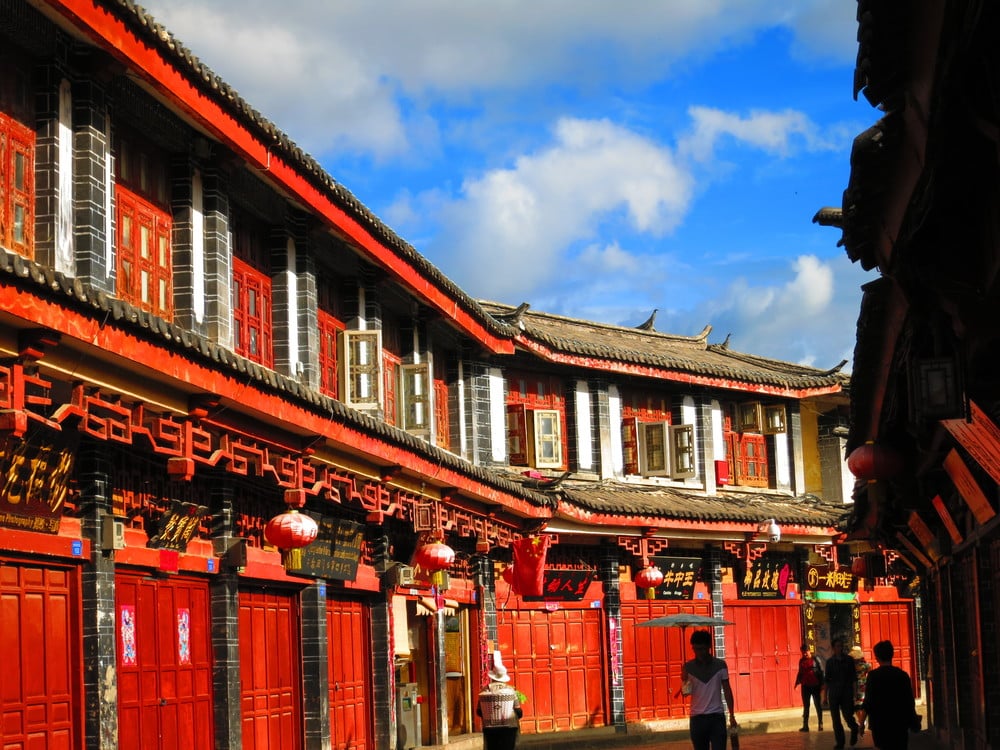 Day 10 – Lijiang
Spent the day exploring touristy Lijiang, then took the overnight train to Kunming. Again, I bought the ticket ahead of time in Shanghai. Get the soft sleeper. Very comfortable.
Day 11 – Kunming/Shanghai
The train arrived early in the morning, so we taxied into town and spent the morning in the Kunming. Had breakfast at Salvador's Coffee House (really good Western food!). Can leave your bag there and go walk around the lake and university nearby.