Life of a globetrotter can be strangely disorienting. One minute, you are in the Tibetan village sharing roads with goats, the next, you are in Shanghai, sharing roads with cars and motorbike drivers who possess severe road rage.
We live in the world where we can wake up in one setting and go to sleep in the next. Our minds no longer have the long, grueling journey to process the change (as much as we love to complain, the almost-always delayed flights in and out of Shanghai Pudong are not THAT grueling). Without proper documentation, voyages and dreams begin to blur.
It already feels like a dream, but two weeks ago, after conquering the hike at 13,000 feet, my Sichuan voyage continued, and I experienced another incredible journey in the valley of Danba (丹巴). This was a tiny Tibetan village in Sichuan titled 甲居 (jia-ju), which literally means 100 homes.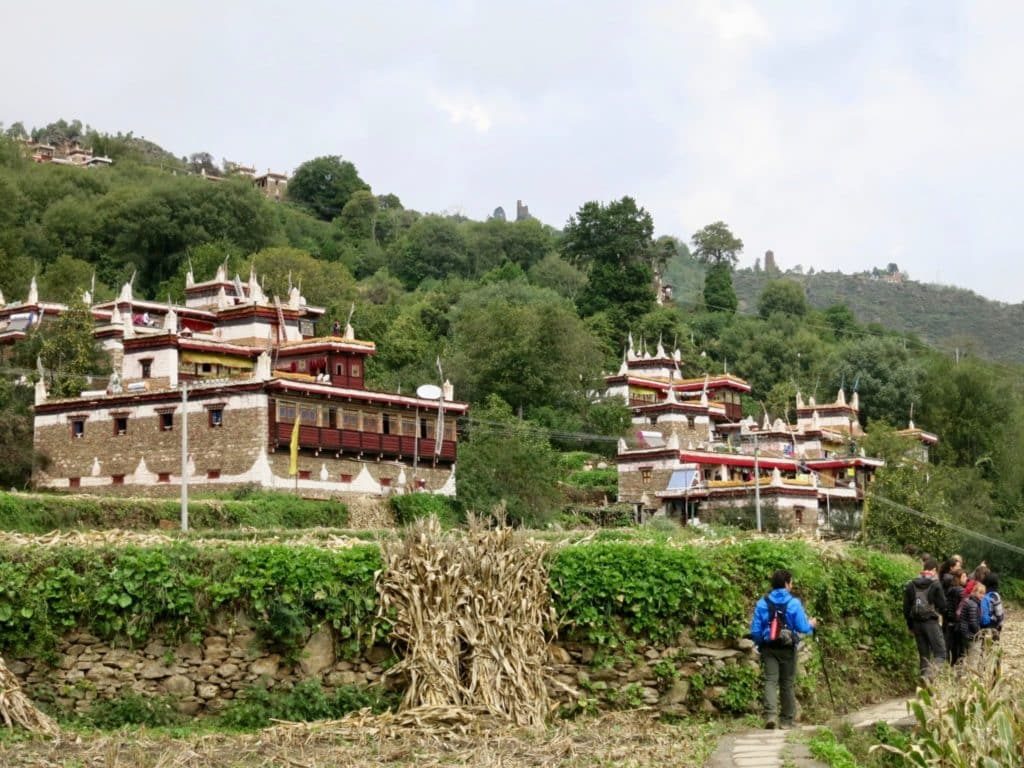 The beginning to this second part of the journey was rough. We had arrived at the village late in the night, because our mules somehow got stuck in the mountains and took longer than us humans to come down. Then, after being zipped through mountain roads in the night, the only priority that 20+ people, who had been climbing for 3 days sans shower is, well, a nice hot shower. Yet, because the trip was oversubscribed, showers were limited in the local guesthouse that we were staying in. When basic needs aren't met, no level of authentic local experience can make up for it. (Maslow's Hierarchy of Needs, anyone?)
Nevertheless, the next morning, after a good non-freezing night of sleep in a bed, everyone was in a better mood. The village was incredible under the sunlight. Imagine Lord of the Rings, except with lots of colors and Tibetan culture – that's the valley of Danba for you.
In this village of 100 homes, the tradition is to hand-build these homes, one brick at a time. This is not an exaggeration. We visited a house that was being constructed, and I witnessed a man loading up one big stone on his back, up the ladder, and laid it onto the wall. Talk about the connection you will have to this home after it is completed. By building a home, you are setting foundation for a family, and creating history. A home houses much more than just the people living within; a home houses memories and stories.
On a rare occasion to be alone, and away from the group, I walked to a shop to buy some water. On the way, I came cross goats walking along side me, cows just hanging out, and a little boy, no taller than 3 feet, walking barefoot and dragging a big piece of rubber on the ground. He walked alongside me for a long while, and I was wondering about his story.
I walked into the tiny shop that had goods scattered about in no particular order. The lady was sweet and we communicated in Mandarin. My simple conversation with her reminded me of the shops in my Cameroonian village that I used to frequent. The nostalgia made me happy. Life is so simple in a place so remote, yet happiness is so abundant.
Despite the fact that we were living in a local house, eating local food, and visiting local villagers, it's impossible to get a true grasp of life in a village on a two-day visit. After being in a city for so long, life in a place like that becomes so difficult to imagine. Where do people shop? How do they buy anything that they need? On the surface, it seems that you need to trek everywhere for everything.
And then, I remember that nothing is what meets the eye. Once upon a time, Posh Corps over here also managed to live a very happy life in a very remote village. For thousands of years, humans have managed to find ways to fulfill basic needs and then some, and this is no exception. I wish there was more time to really understand and embrace the Tibetan culture. I would have loved to have time to meditate, to practice yoga on the mountaintop, to write to my hearts content, and to reflect on life.
One can't have everything, and having a trip to remind me that lives can be lived very differently was vitally important. The prevalent nouveau-riche culture in Shanghai is one that needs to be constantly balanced with some perspective and reality check.  After all, "We are not rich by what we possess but by what we can do without." – Immanuel Kant.