Today is the last day of October break; what a whirlwind of a week it has been! I put my girls in a taxi to the airport this morning, and am now sitting at a café reflecting, and taking in this blissful week. On their last evening, we experienced a classic night of Shanghai outing, completed with bar hopping, street food, and ended with an epic session of KTV. In between, we squeezed in a blowout, but not without drinks from Family Mart to keep the buzz going. As we belted out Bad Romance, Waka Waka, and other popular tunes from 2010 in our private karaoke room, I was filled with incredible gratitude for this group of ladies in my life.

It was June 4, 2008, we met in Philadelphia for 3 days of debrief before we were to be shipped out to some small Cameroonian town with the Peace Corps. None of us really had any idea what to expect, and it was that very openness for uncertainty that would forever bond us for life. Fast forward to 2014, 6 years later, and this group of girls remain people who know me best.
Somehow, amongst our busy lives, the four of them coordinated their schedules to fly more than half way across the world to see me during my week off. We rented an adorable flat on AirBnB in the French Concession. Not only is it more cost efficient, it also allow us to be together every minute of every day. Most people would probably shy away from that lack of privacy and alone time, no matter how close, but we welcome it with great enthusiasm! Also, this makes me feel like I had a vacation within my own city, being away from my own apartment.
Years later, our lives have all evolved in different ways, and we are no longer the dirty, cash-strapped volunteers in the villages of Cameroon. Yet, we haven't lost our ability to adapt when necessary; we simply pamper when we have the opportunity. From Peace Corps Cameroon to Posh Corps Shanghai, our activities accurately reflected this change. Highlights included:
Hiking in Dongshan
Our week began with a day hike to Dongshan, a small mountain range near Taihu Lake. The hike was organized through Yejo Circle, a group whom I went on a long hiking trip with last year. The girls were able to easily adapt to squat toilets, and long wait for buses. The ability to manage these situations never quite leave you, much like bike-riding.
Word of caution on Yejo: For some reason, the company sent a tour guide who didn't speak Chinese that well, to lead a tour in a town where most people didn't speak English. The group sat on the side of the road for a good 45-minutes before I, the Chinese speaker, finally realized our guide was utterly clueless, and our bus driver completely lost and couldn't locate us. Just like back in the Peace Corps, we made things happen, and bus arrived shortly after I called the bus driver myself!
Wnder through French Concession & Tianzifang
Weather was perfect throughout the week, and we had many wanders through the city. Pockets of the city, like Tianzifang, was maddeningly crowded, but the rest of the city was relatively peaceful. Girls are girls, and shopping was of course involved! Shanghai is dotted with city parks that have the most entertaining activities. Ladies were dancing to fabric, men were practicing calligraphy with water on the ground; the park is a perfect place to people watch all day long!
View from the Vue Bar
This bar remains my favorite place to take visitors. It perches on top of Hyatt on the Bund is positioned on the part of Huangpu River that curves, allowing a gorgeous skyline of both sides of the river.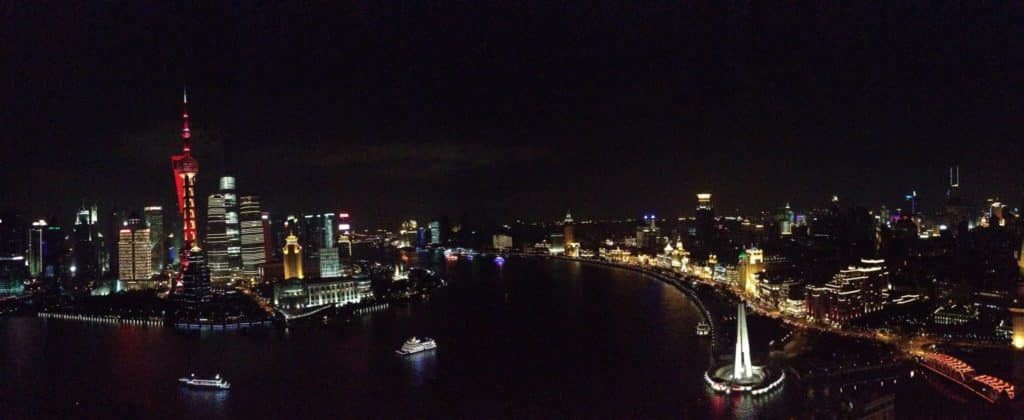 Afternoon Tea on the Bund
My girls somehow all haven't experienced the glorious relaxing activity that is the afternoon high tea. Since it's the week of pampering and relaxation, I took them to my favorite spot in the city, M on the Bund. Nothing makes one feel more wonderfully girly than sitting around a beautiful setting, eating crustless sandwiches, scones doused in jam and clotted cream, and sipping tea in dainty little cups!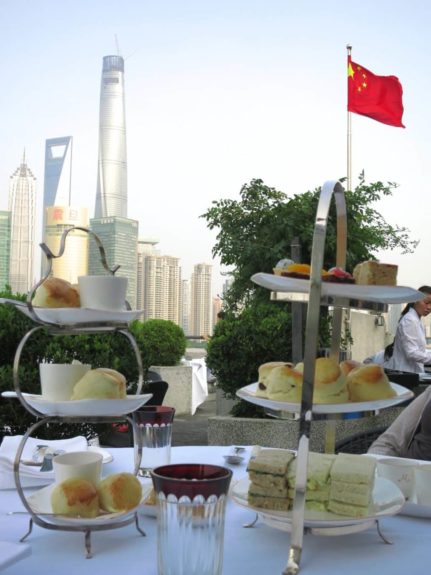 Endless Eating
Since we are in China, there was A LOT of eating, but we all got over taking photos of foods pretty early on. The food ranged from crunchy breakfast wraps, jianbin (煎饼), soup dumplings, xiaolongbao (小笼包), to food from almost all regions of China ranging from Shanghainese, Sichuan, Yunan, Dongbei, and of course, Taiwanese. We even had some corn dog, China style, at the market!To complete the experience, there was late night street food to top. In Cameroon, we ate a lot of brochettes, meat skewers sold on the side of the road. Naturally, I had to take my girls to experience the Chinese shaokao (烧烤), skewers of everything, that comes out in the late evenings, perfect after a few drinks.
Mr. X Escape Room
I've done this activity a few times in Shanghai with friends and co-workers as team building activities. It's one of those things that would never fly in the U.S. because of safety reasons. Essentially, there are themed rooms and clues are provided to solve for ways that would advance to the next room, etc. Our room was a jail-cell theme where we were literally locked in a room with metal bars, and had to throw things between our two cells with ropes and the like. This kind of activities would never be up to fire codes!
Posh Corps
In between the highlights, there was a lot of pampering. Given the lower labor cost, massages, hair blowout, etc. are significantly cheaper. In between the wandering and eating, we were sipping on cocktails and eating delicious food with our very clean, and glamours selves. Posh Corps was in full force!
All of the activities aside, it was simply marvelous to be around people who know me so completely well. A wanderlust lifestyle means making many new friends, and friendship comes in a variety of forms. My friendship with these girls is one of a kind, and rare as gem. As we head into our 30s, the topics of conversation have shifted as people engage in long-term relationship and envision a future much different from perhaps our days in the Peace Corps. Nevertheless, it is wonderfully comforting to know that there is always these friends who will always laugh until there is tears, and who sometimes know me even better than myself, and can pinpoint just exactly the type of guys that would be right for me!
As always, immense gratitude for my life, and the people who enrich this life that is in constant motion. Very much looking forward to seeing how each of our stories unfold, and where we will be at the next reunion!