After stumbling around on non-existent Vietnamese skills for the past month, we finally set up lessons with a private teacher to begin our Vietnamese-acquisition journey. I strongly believe the best way to integrate into a culture is to learn its language. Even understanding basic sentence construction helps one peek into a culture's thought process. We have traveled the world without the ability to speak the local language, yet to live in a country is to commit to its culture, which means putting forth an effort to learn its language.
Apps Can't Replace a Good Teacher… Yet
Sophie, our teacher, came highly recommended. We have lessons with her twice a week for 90 minutes each. After the first 90-minute lesson, I had already learned more phrases and had a better sense of Vietnamese than the hours I've spent on apps like Drop and Duolingo. It's a great comfort to know some jobs can't be replaced by apps, yet.
Language apps can add value to reinforce vocabulary, increase reading comprehension, etc. But a good teacher with a well-thought-out curriculum can accelerate progress from zero to sixty within just one single lesson. Words are no longer random, but rather placed into sentences with context. The ability to decipher sounds and phrases from a native speaker is an incredible confidence boost.
I've had the great privilege of living in different countries and acquiring languages. For me, the key to fluency is to be in an environment where speaking is a necessity. Last week, I discussed how technology has made living abroad easier, which also meant placing ourselves in an immersive environment now requires some effort. We are currently living in the Phu Nhuan district, away from the more popular expat bubbles in District 2 and 7. The lack of access to English-speaking services forces us to be a little uncomfortable and to put our Vietnamese learnings to good use.
Sweet Laundry Lady
My first goal is to be able to speak Vietnamese to our lovely Laundry Lady. On our first week, while still staying at a hotel, we searched for a laundromat. When stumbled upon our laundromat, we were pleasantly surprised to learn that the service is that this nice lady will wash, dry, and fold our laundry. We simply drop off the bag of clothes and pay by weight. Later, we learned she will even deliver the laundry when completed. All of this was communicated via body language and Google Translate.
I have met Laundry Lady only once on our first trip to the laundromat. Over the last few weeks, Xav had been the one dropping off the laundry and communicated delivery detail. This week, I was on laundry duty. Since it's been over a month, I didn't think Laundry Lady would remember me. Upon arrival, I was fully prepared to fire up Google Translate to let her know where to deliver.
To my surprise, upon seeing me, Laundry Lady fumbled through her stack of paper and showed me one with Xav's name, and our address. I was so impressed that she remembered me! At that moment, I wish I was able to tell her in words how much I appreciate her memory. Instead, I tried my best to communicate via body language. Encounters like this one are why we decided to stop traveling and stay put for a while. Repeated connections with a community are remarkable, and better yet in the local lanugage.
Before arriving in Saigon, we had watched the Netflix Street Food episode that highlights all the delicious eats in Ho Chi Minh City. The feature story centers around a Snail Lady. We had attempted to find her, but the business was closed when we arrived. Nevertheless, I have been trying out various Ốc restaurants in the neighborhood.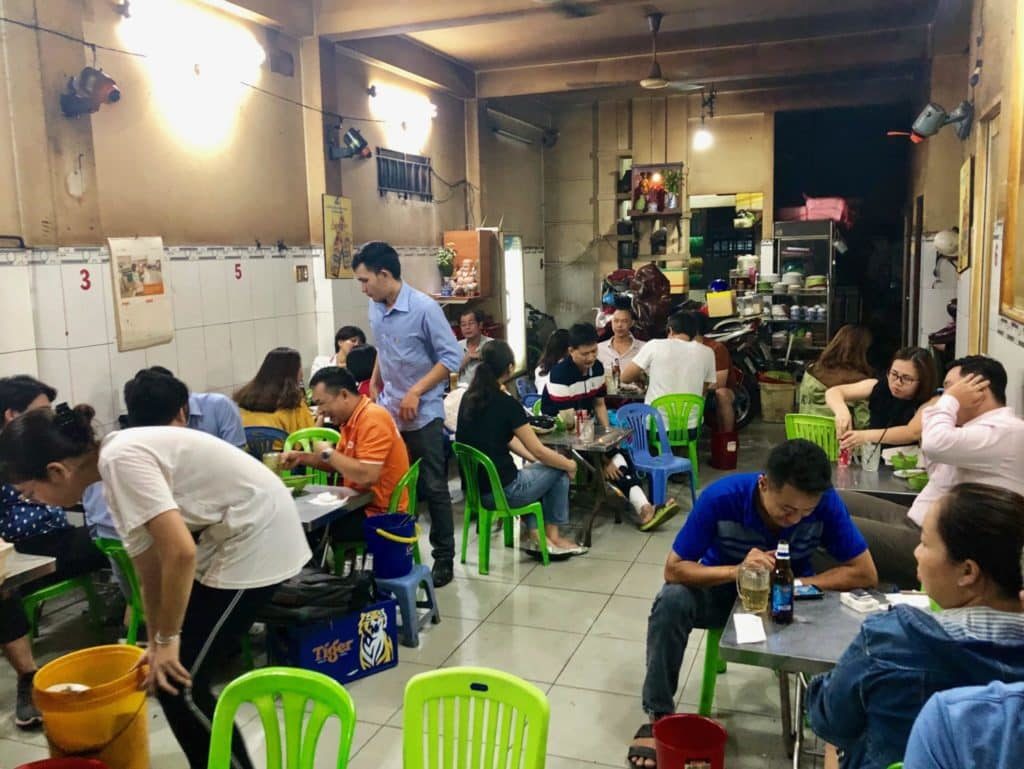 We've tried a few different places, but none impressed us like this stall we came upon on our evening stroll. The restaurant is tucked inside a quiet neighborhood and was brimmed with people, which we took as a good sign. True to form, we ordered randomly. This place had a menu with pictures, which is mighty helpful for random ordering.
Based on my limited understanding, the clams and snails come in various shapes and sizes, and each can be cooked in a variety of ways. Our four dishes were bursting with different flavors, and we especially loved these giant snails. The texture was a bit like a portobello mushroom. Quite surprising and delightful! These four dishes and a couple of beers set us back $8USD.
Wandering Snapshots
One of the best advice I've received on exploring Saigon is to pick a neighborhood and just wander aimlessly. The trick is that the weather isn't always very cooperating. I'm not an early riser by nature, so we often find ourselves strolling under the oppressive afternoon heat, and needed frequent breaks at cafés. Fortunately, Saigon has plenty of cafés.
Early evening strolls seem to be the best, especially after an afternoon rain, when the temperature cools. Activities also increase as people prep for dinner and evening outings. This week, I swapped for a zoom lens and captured some action shots on our wandering around District 1.