Every now and again, a weekend trip is necessary for a Shanghai dweller to get some fresh air, to switch up daily routine, and obtain some fuel for the soul. This weekend, I was invited to a trip to Moganshan (莫干山), a popular getaway destination just 3 hours of drive from Shanghai. A girl whom I met recently invited me, and a group of friends from my recent hiking trip turned out to be a part of this Halloweekend crew. The expat scene in Shanghai isn't that big, and chances are, like-minded people end up finding each other.
Since the last hiking trip was rather rugged, I went into this trip expecting the worst. 32 twenty-thirty-somethings are self-organizing a trip to the middle of the mountain can only mean one thing – a shit show. I expected there to be a lack of decent food, lack of amenities, etc. in these supposedly cabins that we were staying in. I wasn't sure if there would be blankets, or hot water. How wrong I was. My life motto once again held true: low expectation, high satisfaction.
The entire trip was flawlessly organized. 32 people piled into 2 buses on a Friday evening. We arrived at our cabins, which were more like mansions, around midnight, and were very much pleasantly surprised by what we saw. It was two gorgeous, yet cozy houses full of character, but clearly built for foreigners with every amenity necessary for a comfortable stay. Delighted by this surprise, no one was tired, so we began our first party!
International Friendship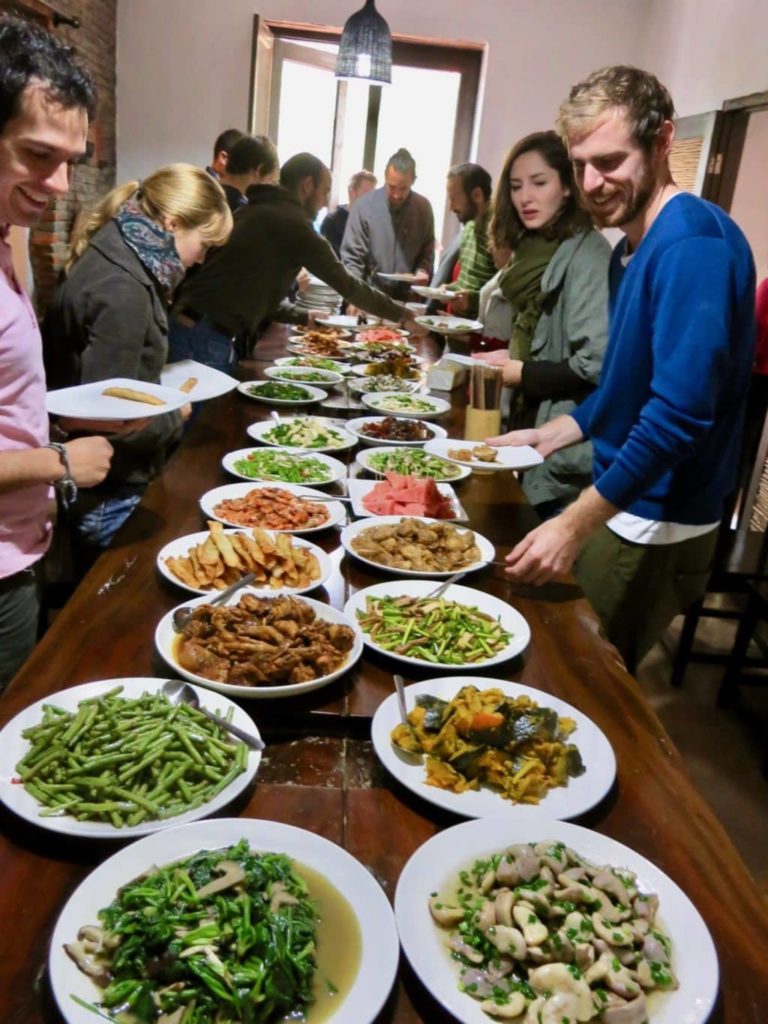 The group consisted of mostly Spaniards (or people from Spanish-speaking cultures), and these kids know how to party! Even though this was the first time I've met most of the group, there is a special energy that emits from a group of individuals who know each other well, partying in a confined space. It reminded me so much of my Peace Corps days, where we were often isolated in the middle of nowhere, but the presence of good people, some beer, and good music are the only essential ingredients for a good party!
The next morning, after sleeping in on the comfy beds, we woke up to a spread of Western breakfast! Eggs, toast, bacon, tomato, jam, peanut butter, coffee, tea, and milk! A few ayi (ladies who cook/clean) are staffed in the house throughout the day to prepare meals, so we didn't even need to go anywhere! I was most impressed, but when they rolled out the lunch spread, that surprise and delight went to a new level. Oh. Em. Gee. There were just so. much. food. There are a few vegetarians in the group, so they prepared many delicious veggie dishes on top of the meat items.
Hike in Bamboo Forest
Post lunch, with our bellies filled and hangovers cured, we set off on a mini-hike in the area. We could spot signs of fall in the trees. The area is known also for its bamboo forest, and that was quite lovely to see. For all of the excitement that Shanghai affords, sometimes it's really necessary to have a change of scenery and to get some fresh air. The stroll filled the afternoon, and we came back with a few hours to kill before the dinner spread.
The big house has ample space to lounge. I snuggled up with a magazine in a big, plushy sofa, next to the fireplace. I didn't read too much of my magazine, because I quickly was curious by my new friends around me, and learning about their stories.
Discussing Imperialism in Costumes
Post dinner, we rolled out our costumes. It was Halloween after all. In China, the easiest, and most hilarious costume to have are these adult-size animal onesies. We had all previously agreed to come on the trip with one of these, but some people were more ambitious and came with more than one costume!
My favorite part of this trip is the intellectual discourse that took place frequently. I've been craving for this level of interaction for a long while, and this weekend filled this void perfectly. At one point of the night, I was dressed in a panda suit, passionately discussing modern imperialism, Iran's relation with the West, and the challenges that African diaspora face, with a witch, a penguin, a monster from Toy Story, and more. It was most excellent.
After the passionate debate came a need for a midnight snack. A few of the guys from the group came prepared with materials for an epic BBQ. We fired up the wood, and all-around deliciousness ensued. The dancing and the good times went into the wee hours of the morning, and I was delighted at how much I was enjoying myself!
We had a lazy Sunday lounging around the cabin, and one more lunch feast before piling onto the busses and returned to Shanghai. Even with 32 people, the weekend was surprisingly stress-free. The best part? The entire trip, including meals, food, alcohol, transportation and lodging came out to be a whopping 1,150RMB (< $200USD) per person. We agree that this trip must be repeated on a regular basis, and had a big group hug – very kumbaya moment as we parted ways in Shanghai.
Year 2 of life in Shanghai is definitely off to a stellar start!