My first activity in civilization aside from my latte at Starbucks was a movie in a cinema. The documentary "Lets Make Money" featured quite a few scenes in West Africa and thus provided an interesting contrast and transition for me.
After the movie, Gary took me to Le Pain Quotidian for a very Frenchy lunch completed with salad, soup, sandwich, cheese plate and of course, a carafe of wine; and to top it off – dessert and espresso. I drank three coffee during my very first day in Paris not because I needed it, but because they are simply so delicious.
The walking tour of this romantic city began after lunch. I was glad Gary was there to be my tour guide since I was absolutely not in the mood to use a map to find my way around. A funny thing happened on the way to the métro. I was stopped by a camera crew from some people who was doing an interview on shoe fashion. Since I had no idea it'd be cold, I was sporting my Cameroonian sandal and apparently that was of interest. They asked me where I am from and why I was wearing the shoes, etc. It was really hilarious that I was getting on TV after being in Paris for less than 24 hours. I told them I just got in from the airport that morning and I had no idea it's this cold in Paris… Gary helped me out when my French was getting stuck et voilà, there is my 3 minutes of fame. I even signed a waiver and all!
We continued the stroll through Paris making our way to a great park in La Republique with an amazing view overseeing the city, then the Canal St. Martin that's featured in Amélie and of course along the River Seine. I'm quite lucky to have befriended this group of Frenchies and was able to experience Paris from a non-touristy perspective.
The next day I met up with Jerome, who is still a volunteer in Cameroon but also on vacation. Since he's also French and also had lived in Paris, I got another tour from a local. We had a lot of fun comparing life between Cameroon and France and how we will react after this grand vacation. I can already tell that after my time in Cameroon, finding people who can relate to this period of my life will be very important and perhaps challenging.
That evening, I experienced another side of Parisian culture. A football match was on – Barcelona vs. Chelsea. Sebastian and Aurelian – my hosts – had a little football gathering at the flat. I'm not a big football fan, but I am a fan of watching boys watching football. That, I tell you, is entertainment in and of itself. I've seen English football fans go mad, but seeing a bunch of French boys going nuts at the TV screen in French is a whole other hilarious story.
My layover in Paris was very low key. I didn't deviate from from where I was staying and mostly stayed within the 1st and 2nd arrondissement. Since I've been to Paris before and had done all that touristy stuff, I took it easy and did a lot of strolling around the streets and people watching. One afternoon I found a delightful café in some little alley. Don't ask me where it is because there is no way I can relocate it. It was perfect – quiet and charming. Some nice jazz music were playing and just one old couple eating their light lunch. I found a perfect place by the big open doorway for people watching. Then the lovely middle-age lady owner came and suggested a refreshing salad combine with some cheese and deli. I ordered a glass of Chardonnay with it. For the next 4 hours, I spent reading my Vogue, eating my cheese, drinking my wine and watching people coming and going. Rambunctious school ages boys would walk by and say bon appetite to me. Cute old couples would walk by as if on their way for an afternoon drink. Perky young girls would excitedly saw friends on the street, give each other bisous and catch up a bit.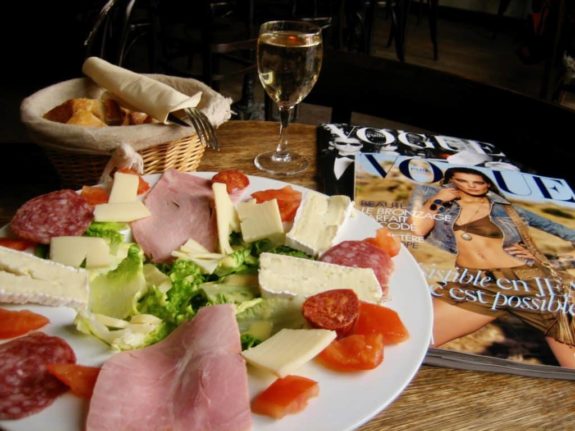 I do miss life in the modern world. Later in the day, I bought some ice cream and sat at Centre Pompidou for a while. It was a gorgeous late afternoon and lots of people about; perfect for people watching. After a while, an older age guy was asking me for the time, and then started talking to me, and then obviously hitting on me. After a while it did get annoying, but I still put up with him for a good 20 minutes, half an hour. After all, the dude did play me songs on the guitar for quite a while and was not being obnoxious asking me if I am married and telling me that he loves me.
I soaked up every bit of Paris that I could for the last few hours before I took the 21:30 RER back to the airport for my flight to Taiwan. I love Paris a lot more this second time around and the fact Parisians understood my French for the most part, and didn't look at me as if I came from Mars instilled quite a bit of confidence. I quite welcome the opportunity to spend some time in France after Cameroon to absorb more of the French culture while polishing up my French. We shall see how life unfolds and if such opportunities present themselves.