One of the perks of having a French partner is the privilege to visit Paris on the regular. The luxury of being in a city not for the first time is the zero pressure to check out top sites. I'm free to roam the streets and do as I please. In my late teens/the early twenties, the movie Before Sunset was one of my favorites. I count my blessings each time I get to wander aimlessly on these Parisian streets during our visits.
Passage Hopping
I love stumbling upon various passages that connect buildings in Paris. Each has its individual vibe and thins they are known for.
Passage Brady
Passage Brady in the 10eme arrondissement reminds me of Brick Lane in London, with all the Indian restaurants and spice shops. I love the authenticity and its no-frills vibe. I particularly like this salon that threads my eyebrow for 7 euros. Whenever I'm in Paris, I stop by to get my eyebrows done!
Passage du Grand Cerf
Passage du Grand Cerf is much posher. Same high ceiling, but definitely with money for restoration – bright ceiling windows and delicate woodwork. Many beautiful textile shops line the arcade.
Passage Verdeau
Passage Verdeau is another trendy little passage that I stubbed upon on our wander. This one has cute cafés and bookstores!
Antique Book Market at Place Saint Sulpice
I love books, and I love old things, so this antique book market in the 6eme in front of beautiful Saint Sulpice Church is ideal for perusing. While our travel didn't allow space for old books in the luggage, I still enjoyed basking in history, and finding some representation of Taiwan!
Les Grands Voisins
Les Grands Voisins (The Big Neighbors) is an old hospital compound converted into a communal living space in 14eme—a unique concept of community and utilization of old buildings. On weekends, markets and various events are held here.
Coulée Verte René-Dumont
Coulée Verte is the Parisian version of Highline in New York, located in the 12eme. An old railway track was converted into pleasant urban green space, elevated above the traffic and bustle. The length spans 4.7km (2.9 miles), and the walk along makes for an enjoyable afternoon activity!
Morning Run/Afternoon Stroll Along Canal Saint-Martin
If you've ever seen Amélie, then you are familiar with Canal Saint-Martin. Despite its fame, the area remains relatively non-touristic. Over the past few visits, we tend to stay near Gare de l'Est since we take the connection train to Xav's home in Les Vosges. I love morning runs along this canal; it's a great way to get over that pesky jet lag.
If you aren't into mornings or running, then the afternoon stroll is equally enjoyable. The vibe is different from the calm of the morning. In the afternoons, bars and restaurants along the canal are active, making it much more lively.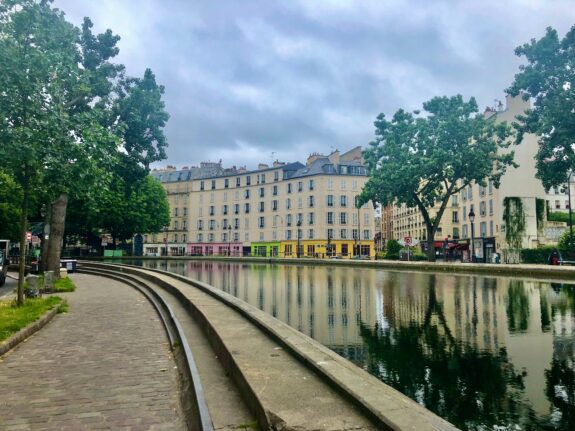 Stroll from Place de la République to Place da la Bastille
Wandering is my favorite activity in cities, and Paris is one of the best cities for aimless walks. I recommend a long walk from Place de la République to Place de la Bastille. The long walk cuts through local Parisian neighborhoods, allow for a feel of local living. The walk takes you into the Marais neighborhood, where the touristy vibe picks up a bit more.
Place des Vosges
Place des Vosges is quiet square in Le Marais for a picnic and rest your feet. It's a great place to stop for some people-watching no matter what time of day. Le Marais neighborhood is hipster central and is an excellent spot for exploring the shops and indulging in great restaurants and cafés. I would avoid the weekends, though. The neighborhood gets so packed these days!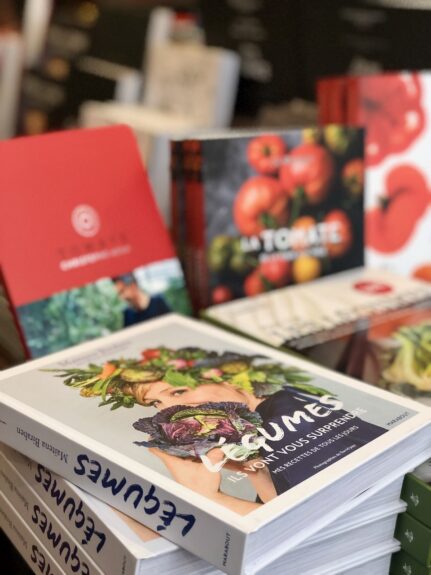 Librairie Gourmande
If you are strolling in Le Marais, stop by Librairie Gourmande, a book shop dedicated solely to cookbooks and food-related books. Food + Books – no better combination exists for me. It's most marvelous.
The Square in Front of Centre Pompidou
Centre Pompidou is a world-famous modern art museum and is hence on the first-time visitor's list. But my favorite part about this place is its architecture, and I never get tired of hanging out in the wide-open space just in front of it. Tourists and locals gather here to eat lunch, have a beer after work, or simply have a coffee and enjoy life. Something about this space is vibrant, and observing this unique architecture adds to that vibe.
Stroll Along Rue Montorgueil
Speaking of lively, I love walking down the hill along Rue Montorgueil towards St. Eustache Church. Always a lot of activities happening on this cobble-stoned street. Very Parisian, slightly touristy, but not in a kitschy way. Have a coffee at any of the bars along the road. The eclectic passerby makes for very entertaining people-watching.
Picnic Along River Seine
This is a very Parisian activity in the summer evenings. Pick up a bottle of wine, cheese, and a sandwich, find a plot of grass along the pedestrian route, and enjoy the sunset! Perfect people watching opportunity.
Good Eats
This crêperie near Centre Pompidou has really delicious crepes with so many different types of fillings. Just the right level of crisp and generous helpings of the good stuff, the savory crepes are a meal on its own, but I always save room to come here for a dessert crepe. It also helps that one of the guys who works here is so smiley and friendly!
On my travels, I do tend to crave Chinese food. When I stumbled upon this little noddle joint near Centre Pompidou, I had to give it a try. The name means "three extra doses of chili," and it lives up to its name, serving authentic Sichuan dumplings and noodles. Do not attempt if you can't take spicy food.
When in Paris, I ditch the cheese and paté for its international cuisine, As often is the case, I go for West African meals. This trendy spot amid colorful 10eme neighborhood serves us some really great West African food. The decor is delightfully bright, service is excellent, and that peanut sauce has me salivating every time I think about it. The only thing is that this place doesn't seem to be open for lunch, and we'd been disappointed to come upon a closed gate a couple of times.
On one of the times that BMP Paris Bamako disappointed us at lunch, we headed down the street to Oh Africa! A family joint with simple décor and friendly service. Great alternative!