Somehow, I've been blogging for over four years, and my favorite year-end tradition is looking back on the year and reflecting the wonderful events that took place. 2012 came and went swiftly. It was a challenging year on a personal level, but the year is ending on a very positive note!
January: 2012 began on a rough personal place, and I begin to take my yoga practice more seriously as a way  to focus my mind on the positive aspects of my life. I started my final semester in graduate school, and little did I know what was in store for me for the rest of the year. I also experienced my first ski trip in January. Learning to ski at 25 is much more difficult than at 5!
February: I continued to cope with some personal challenges that kicked off my year, and began the journey of deep self-reflection. With graduation luring around the corner in a few months, this exercise of deep self-reflection would later prove to be extremely useful.
March: To break out of lingering winter blues, I signed up for a spring break service trip to Honduras, not knowing a single soul who would travel with me. It was an important trip to regain perspectives, and to realize the problems that surround my New-York-Columbia-bubble life aren't really problems at all. Meanwhile, final semester at Columbia SIPA was in full force, and I begin to think about what I would do upon graduation.
April: In an attempt to nip quarter-life-crisis in the bud, I threw myself in all sorts of activities. One of them included organizing for the African Economic Forum. Student-run activities at the graduate school level can sometimes feel like a full-time job. I sincerely believe that dots would connect and the efforts put forth would lead to opportunities in the future. The Forum was a success, and reconfirmed my passion to work with Africa-related issues.
May: The month began with graduation from Columbia! It was a wonderful year at Columbia SIPA and I left with much bittersweetness. It was a month to have a lot of fun with grad school friends as we say goodbye. I ended the month with a fabulous trip to Curaçao!
June: I began life in Corporate America as a Summer Associate, taking a bet that perhaps at the end of the summer, I can drop the summer in my title. Life on Park Ave. in Midtown was glamorous and fun. I relished in the warmth and the energy of New York Summer.  On this month, I also began my duty as a board member for the National Peace Corps Association and attended its Annual Gathering event in Minneapolis.
July: New York summer continued. I put in my 9-5 and enjoyed evenings and weekends frequenting New York's famous summer concerts, happy hours, street fairs, brunches, and the like. I have heard so much about the New York Summer and it was wonderful to see the city living up to its magic.
August: Summer was coming to an end, and my bet on a full-time life on Park Ave. didn't quite pan out. I decided to move to DC in the following month to pursue career in international development, and to be closer to my Peace Corps loves. I soaked up every last bit of what New York had to offer. There is something about moving away that always helps one to appreciate the current life that much more.
September: I packed my bags and took the bus to DC, but something didn't feel quite right about the move. That bus ride between NY and DC was particularly long that day, hitting rush hour on both ends of the cities. I did a lot of thinking, and on the day that I moved to DC, I decided to move to Shanghai. I spent the month in DC with friends and prepping for my move. This marks one of the craziest decisions I have yet to make thus far in life.
October: I spent the better part of the month prepping for my departure at the end of the month. I saw friends once more in New York, visited families in St. Louis, and all the while, reassuring myself this is the right move. It felt very much like when I was joining the Peace Corps back in 2008.
November: Life began to move very quickly the minute I landed in Shanghai. Before I even got rid of my jetlag, I went to Beijing to attend a social investment conference. I also spent another US Presidential election abroad, and was once again reminded of the beauty of American democracy. I started lining up some freelance work. Right away, I encountered some very different culture practices. There is alway two sides of the coin, and while somethings are frustrating, I found the efficiency here to be bar none. Within a month, I had an entirely new life happening.
December: I moved into my own place and officially began my new life in Shanghai. I had to figure out every day life things like grocery shopping, and the sort. I began to see more of Shanghai and building up a social life. Within a blink of an eye, I found amazing new friends to spend the holidays with, and to share this new chapter of my life.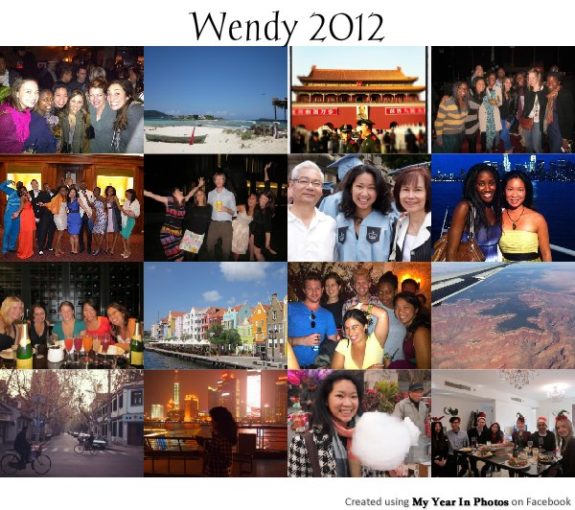 From a tumultuous start to a wonderful end. 2012 proved to be another fruitful year. I hope you are also taking a few minutes to reflect upon your past year, and are ready to face the new year with open arms! Happy New Year to all and may this new beginning bring a great deal of happiness and satisfaction in all areas of your lives.