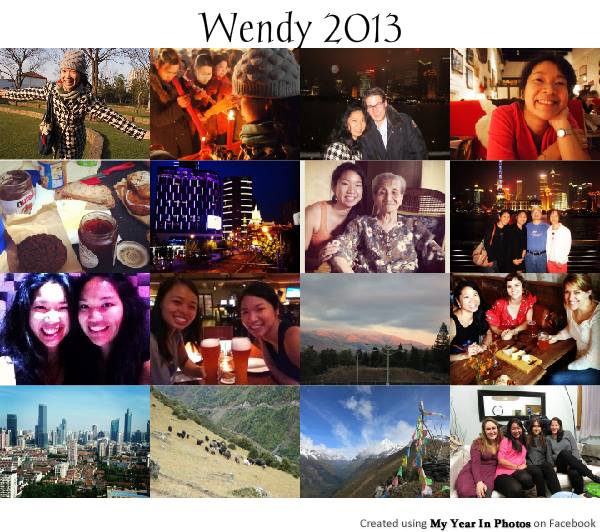 The first month of 2014 is nearing the end, and I am just now writing my 2013 review.  Better late than never? Probably not the best way to kick off the new year, but I simply couldn't drop the ball on this tradition.
January: Life in Shanghai was in full swing. I was juggling between private tutoring, translating for an online language learning platform, conducting marketing research for a start-up, teaching writing courses on weekends, and all the while looking for the right opportunity that fit the Big-Girl-Job bill. I welcomed the new year on the rooftop of one of many Shanghai's high rises, overlooking fireworks from the Bund. I was in good company, with old friends that I reconnected from college, and new friends that was already like family.
February: I celebrated Chinese New Year in Shanghai, witnessed the beginning of Great Migration on the subways as people travel with sacs of goods to bring home. I was fortunate to be invited into a Chinese home, and had the experience of praying at the Temple on New Years Eve. It had been over 15 years since I last properly celebrated this holiday, and it was nostalgic to reconnect with my culture.
March: My job search was in full-gear. Interviews became my full-time job, and I experienced the full spectrum of intricacies of finding a job as a Chinese-American, where I am not quite Chinese, but also not quite foreign. Shanghai winter was finally coming to an end. I began to wander the city on foot much more frequently. It was only after months of being in Shanghai did I finally begin to get to know the city on an intimate level.
April: Life was changing rapidly in April. The job search was offering me a full course of emotional roller coaster, and truly testing my character. After living in Shanghai for six months, I began to reevaluate my social circle and seeking the right balance to be happy. I spent a long weekend in Manila and the surrounding areas to regain perspective. I realize at minimum, an once-per-year trip to a developing country is most necessary.
May: Life took an interesting turn. After months of grueling interviews and juggling many odd projects, a Big-Girl-Job offer came through. The crazy move to Shanghai was worthwhile in the end. Since processing a work permit required time, I took advantage of this free time to travel. I returned to Taiwan for the first time in 4 years, and visited my 95-year-old grandmother, which is always an inspiration.
June: Travels continued in June. Free time right before employment is most blissful. My family visited Shanghai and we traveled to the surrounding cities. I visited Hong Kong for the first time for a quick visa trip. Summer was in full swing. Shanghai was entering oven level of heat, though Hong Kong was already there. I spent a lot of time writing and reflecting during this time, and even went on my first yoga retreat!
July: After multiple delays, I finally had a work permit in hand and began my Big-Girl-Job. It had been almost exactly one year since I was last in a corporate environment, and it was surprisingly refreshing. After months of running around like a mad woman, juggling multiple projects, it was a relief to have a routine again, and to not constantly unsure of how I would make that next student loan payment.
August: Soon after I began my job, I was shipped to California for training. It was my first time in the Bay Area. I relished in the fresh air, and all that America had to offer. While I had a blast basking in American consumerism, and enjoying the beauty of California landscapes, I was also glad to be reminded why I had chosen to move to China. It was a great validation that as wonderful as America is, China remained a better fit for my life at this moment in time. During my time in California, I also met up with a few Peace Corps friends. I was reminded what it felt like to be around friendships that are as deep as family, and it gave me the motivation to seek that level of connection as I settle into my Shanghai life.
September: I returned to Shanghai feeling refreshed, and ready to begin a new chapter. On top of the Big-Girl-Job, I continue to tutor a 7-year-girl who was my favorite. I enjoy the connection outside of the corporate world. Meanwhile, my effort to create a more meaningful life in Shanghai was in full swing. I began to attend lectures, meeting friends of similar interests, and broadening my social circle in a productive way.
October: Taking advantage of the National Holiday in October, I traveled inland in China for the first time. I went on a hiking trip that impacted me deeply. It was fascinating to see China under a different light, and I met wonderful people who very much fit with my goal to define a more meaningful life in Shanghai. I ended the month with another weekend trip to Moganshan, and expanded my social circle even further.
November: The end of October marked my first Chinaversary. First year of anything is full of exploration. I was proud of what I have accomplished, and was very much looking forward to settling in in year two. I traveled again within China, this time to Xi'an. There is so much of China to explore, and it's wonderful to finally have the time on weekends to do so (no longer teaching on weekends, nor running around with random projects help a great deal).
December: The second holiday season in China was interesting. In all of my years of living abroad, this was the first year that I had to work both on Thanksgiving and Christmas. Spending holidays abroad never seem to get easier, but one does get better at coping. I followed the tradition of watching Love Actually on Christmas Eve, and making homemade eggnog, along with various delicious food items. I was also incredibly fortunate to have receiveda surprise holiday care package from my team in California. It's the thoughts that really warm the hearts. I rounded our the year with a trip back to the East Coast, to catch up with friends in the rare Polar Vortex. The weather might have been freezing, but I was warmed by the incredible friendships.