Day 1: Bangkok
Arrived in Bangkok. There were 4 of us; one coming from Shanghai, two from Washington D.C., and another from Michigan. We managed to all arrived within 24 hours of one another. We spent the night at THA City Hotel, a no frill, cozy boutique in a nice part of the city. Conveniently located and easy to get around.
Day 2-4: Koh Samet
The hotel arranged a taxi for us to take us to Ban Phe Pier, where we could take the ferry to our resort oh Koh Samet. The drive took about 3 hours, and the ferry added another hour or so in total. Our resort, Nimmanoradee Resort, locates on the southern tip of Koh Samet. It's pretty far away from the touristy strip. The food is good at the hotel for reasonable prices though, so you don't feel trapped. The hotel will also organise taxi or moto to rent.
We were really glad to have stayed here instead of the resorts in town. Much more tranquil with a vast view since the resort is on the tip of the island. We stayed two nights, and one of them was New Year's Eve. Recommend ordering a taxi to take you into town, since the roads at night are really dark, and thus not very safe for motos. Also, this way, you can have as many beers as you want!
Day 5: Bangkok
Ferry picked us up mid-day to head back to the mainland. We arranged the same taxi driver from our Bangkok hotel to pick us up. The ride back into the city took much longer, given the traffic and all. We were flying out to Cambodia the next morning, so we stayed in an AirBnB next to the airport. It was a basic AirBnB; the host arranged a taxi for us for the next morning.
Day 6-8: Siem Reap
Siem Reap. You can read more about it in the Siem Reap post. We had the AirBnB arrange a tuk tuk taxi for us to pick us up at the airport. Siem Reap Airport, by the way, is one of the nicest airports I've ever seen. We paid for the visa on arrival, but needed to have passport size photos.
Day 9: Bangkok
Flew back to Bangkok late in the morning. By the way, if you are short on time and looking for good coffee prior to the airport, just get to the airport first. Our tuk tuk driver took us to a place that was less than stellar, and turned out there's a FCC Angkor serving up creamy lattes at the departure gate of Siem Reap airport.
Back to Bangkok in the afternoon, and we pampered ourselves at Centra Central Bangkok hotel for the last two nights. Located near Chinatown, just across from the train station. Really easy to get to places, and next to the yummy Wanderlust Café!
Day 10: Bangkok
Explored Bangkok; lots of eating and drinking!
Bangkok Tips:
Eat/Drink
Thip Samai – famous pad thai restaurant. I didn't make it here my first time in Bangkok since the line was so insane. This time around, they've renovated the restaurant with some expansion. Much more spacious and thus no line. Definitely good pad thai, though I'd imagine the local could tell you another place that's even better, and less touristy. The restaurant sits on a street full of yummy local eats though, so be sure to leave some room for other goodies.
See
Erawan Shrine – located on a busy intersection, near shopping malls, but an interesting place to see locals paying homage.
Chulalongkorn University – we passed by at random during our walk, but actually quite a pleasant campus to walk through and observe Bangkok's student life in action.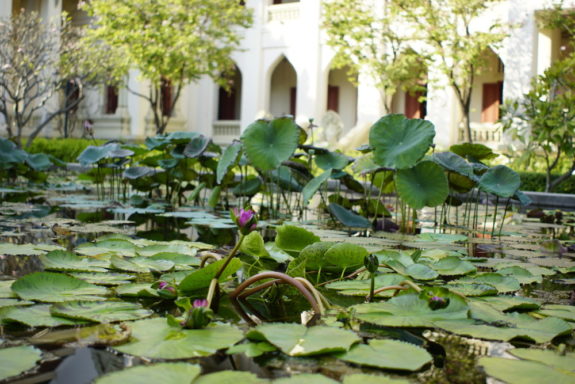 Flower Market – a tad touristy, but it's an easy spot if you bought the ferry pass.
Hop-On/Hop-Off Ferry – really recommend getting this if you are planning to hit up touristy sites all in a day or two. Much easier way to get around the city than taxis.
Grand Palace – it's worth the hype. Incredibly intricate architecture and fascinating history.
Jim Thompson House – an American had built this house in 1959. The architecture and the antique collection is impressive. The tour was well done with a wealth of history. I would skip the adjacent restaurant though. Okay for a drink, but food was overpriced and meh.
Chinatown – Even as someone who lives in China, I find it worthwhile. In same ways, Chinatown in Bangkok is even more Chinese than my daily life in China. They've managed to preserve many of the traditional Chinese cultures that's rapidly disappearing on the Mainland. Definitely experience the variety of street food!
Ride on a tuk tuk taxi. I presume this form of transportation will rapidly disappear as Bangkok builds up its infrastructure. But for now, it's still a common way to get around. It's not for the faint of heart though. The one ride I had went on a highway. I am on ride on the back of a metal rickshaw at 40 miles an hour without a seatbelt, helmet, etc.