Few weeks ago, Antoine, a driver for the Peace Corps who happens to be the chief of my neighborhood threw me a going-away party at his house. True to Cameroonian form, I was unaware of the time and whether I was suppose to invite people myself until the day before the event. I was running all around town on that Friday prior, contacting all my friends and people whom I've worked with and informing them to come for my send off "tomorrow at 2pm".
I received a lot of, "that's kind of a late notice, but I'll do my best". Usually, when you hear that in the US, that means, "um yeah, I won't be there". Since there were also lots of funérailles happening and various events on the same day, I was expecting for a small gathering with some villagers, instead, I was faced with a FÊTE!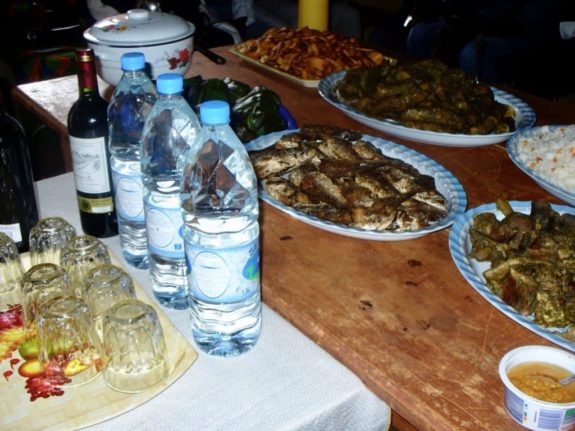 People trickled in slowly. While not on time, the party was well on its way an hour in – this is amazing for a Cameroonian event. I think my friends have all been well-conditioned to my on-timeness. Those 100 CFA fine for tardiness is paying off!
The mayor and his secretary general presented me with three traditional kabbas. Antoine's family prepared a huge feast. My landlord showered the event with champagne. I was symbolically presented with a set of twins in hope that I will have lots of kids and return for a visit in the future. Friends came in from Yaoundé just for the party. People sang my praises for FIVE hours. If it wasn't for the sporadic jokes about me staying and never going back in between, I don't know how I would have held it together. All of my close friends from the village made it despite the crazy events that were occurring simultaneously that day in village.
I was really touched by the speeches that people gave. They made me realize that people do notice the work that I had done and are incredibly appreciative of it. The positive energy gave me hope again in development work and reassured my decision to pursue graduate studies in international development.
Later in the week, I was in Bafoussam and ran into one of my previous business students that no longer lives in village. I told him about my departure, and few days later, he phoned to tell me that he had left me a gift at the local bar. Today, I picked it up and it was a beautiful wood-carving hanging. As I was packing, gifts of appreciation from my time here filled my bag. They mean so much more to me than any souvenir that I could possibly purchase. I am going to miss this country despite its quirkiness, and there will always be a place in my heart for the village of Batié. I hope to do all that I can to pay a visit in 5 years and see how it has evolved.