After our year-long whirlwind travel, we were looking for a vacation. Not travel, but a vacation, where we don't feel pressured to check out all the sites, and hanging out all day by the beach is perfectly acceptable. Five days on Phu Quoc Island in Vietnam checked the boxes.
The Night Before Tet Holiday
We flew out the night before Tet Holiday began from Saigon's Tan Son Nhat airport. Big mistake. The airport was absolutely packed to the brim. Every single flight out that night was delayed. Families were sprawl over every inch of available floor space to pass the time. For those of means, the line into the airport port lounge snaked around the block.
Tip: For domestic travel in Vietnam during Tet Holiday, fly out a day earlier or later to avoid the peak of this rush to get home!
Did We Arrive in Russia?
I booked us a room at Cottage Village near Bai Ong Lang. Upon entering into the neighborhood, I was confused. Russian signs everyone, and presumably, many of the Caucasians walking around were Russia? Yes. We learned quickly that Phu Quoc is a hot spot for Russian tourists, and our area in Bai Ong Lang apparently is one of the main hubs. Admittedly, I felt slightly disappointed as I had hoped for a less touristy area. But after trotting around the island for 5 days, we still most preferred our beach and the immediate area.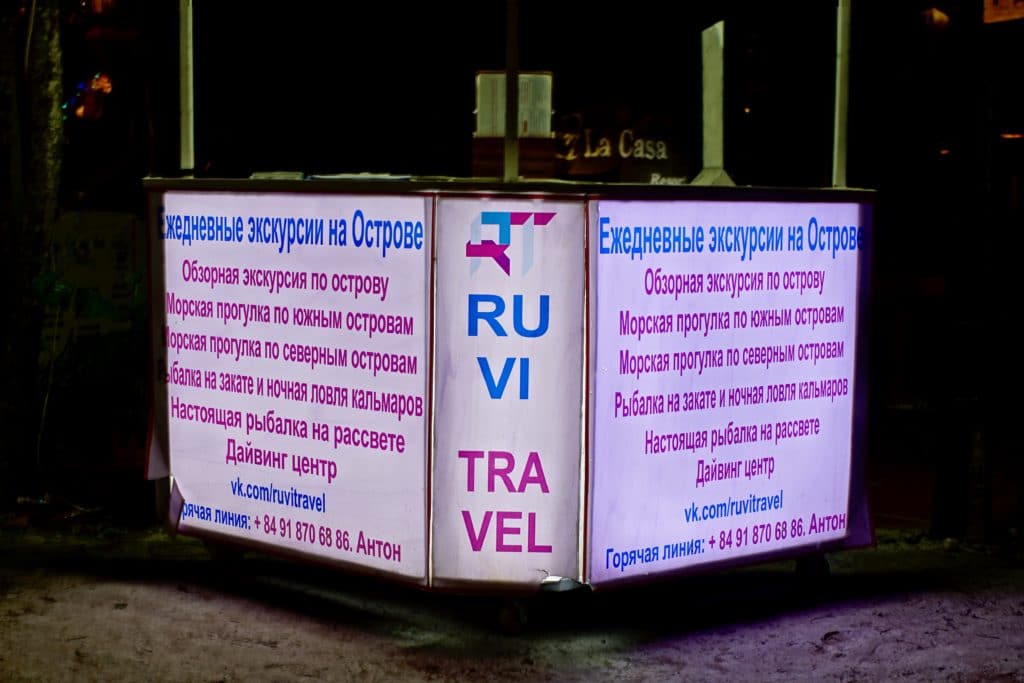 Rent a Motorbike
Having a motorbike is really the most efficient way to get around the island. We rented one every other day, alternating between lounging at our neighborhood beach and exploring the island. Gas stations were closed on New Year's day, but rest assured, small vendors near the official gas stations have bottles of gasoline available. Look for little stands that have small plastic containers and a funnel placed out front.
Tip: Most hotels have a motorbike or bicycle rental. If not, they can refer you to places that provide daily rental. I recommend renting them only for days that you plan to explore, to save cost on days that you simply hang around the neighborhood.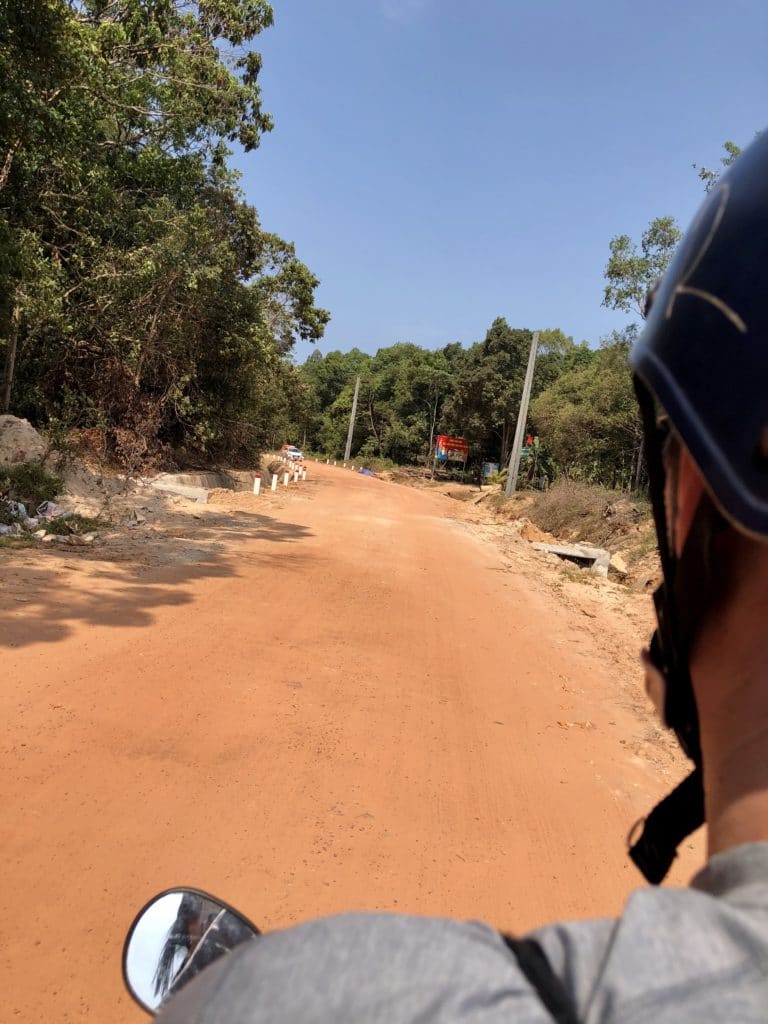 Bai Ong Lang – Our Favorite Beach
Bai Ong Lang is the nearest beach to our hotel. Right on the beachfront are two fancier hotels, Coco Palm Beach Resort & Spa, and Mango Bay Resort. Prices were nearly three times what we paid for our hotel at Cottage Village. I was quite happy to walk down for the day and rent a lounge chair from Coco Palm to enjoy the beach. You do need to arrive quite early to secure a chair. For US$10 a chair, it's much cheaper than actually staying at the hotel.
On the walk down to the beach, we often pass by La Belle Crêpe for breakfast and a good coffee before commencing the full day of lounging. The French (or maybe Quebecois?) guy serves up a really solid and authentic crêpe, both savory and sweet!
The best part of this beach is the sunset. Even on days that we didn't spend lounging here, we made a point to come here to see the sunset. Every night is a little different but never disappoints. After all, a big part of a good beach vacation is catching sunrise and sunsets.
For dinner, there are plenty of choices on Duong Le Thuc Nha; many serve fresh grilled seafood that is priced by weight. Our favorite place was the Vuon Sim Restaurant. They were closed for the few days after Tet, and No Name BBQ was a decent alternative. If you are a seafood lover, then this is really a version of heaven. I could not get enough of freshly grilled squid and fish!
North End of Phu Quoc: Starfish Beach & Mui Trau Nam
Bai Bien Rach Vem, otherwise known as the Starfish beach, is a popular destination on Phu Quoc Island. A small stretch of the beach is home to thousands of starfish, just hanging out. The water is immaculate where the fish hangs out and makes for quite a sight. I've never seen a starfish live like this, and was suitably amazed.
I recommend getting here early or late to avoid the tourist bus crowd. Many come here to have lunch at the popular Son Hai Quan that situates on the ocean. One gets there by walking on bamboo bridges. They keep the fish fresh by quarrying off sections of the sea as a natural pool. Good food and friendly service.
One note, which I can't believe this needs to be said, is to please DO NOT pick up the starfish. I was astounded to see how many tourists would pick up the starfish and throw them around like a frisbee, or arrange them for their perfect photo. These are animals who are alive. Imagine being picked up randomly against your own will…
In the afternoon, we followed paths marked on Google Maps in an attempt to find Mui Trau Nam; instead, we found a stretch of abandoned beach FILLED with trash. It was heartbreaking to see. Most seemed to have been wash ashore, a grim reality of irresponsible tourism…
After that sad encounter, we headed to Thom's Beach Bar, a local spot, to have fresh coconut and watched the high tide. A quiet place to retreat before a long moto ride back to our hotel.
East Coast of Phu Quoc Island
We ventured out to the East end of Phu Quoc Island on New Year day. The streets were totally empty. I had plans for us to go hang out at Kiki Coconut Beach, but it was closed. Instead, we headed for Rory's Beach Bar, a popular expat joint that transports you to Australia. The place has a giant TV for sports, houses in a high-ceiling wood cabin.
The beach here isn't a typical beachfront, so they constructed a swimming pool filled with seawater, filled sand around it, and completed with umbrellas for shade and lounge chairs. The service and food were both excellent, and we ended up spending the whole day there. The bar recently relocated from the more popular district to the East end, signaling the growth of tourism on this side of the island.
Long Beach – The Tourist Mecca
On our way back from the East Coast, we decided to take a peek at Long Beach, the popular tourist area. And boy, in comparison, our area feels quaint. This stretch of beach is filled with high rise hotels and all the trappings of a typical touristy beach destination. Great for parties and all the vacation hustle and bustle. Not quite our scene, but we were happy to pay a visit for comparison purposes.
Phu Quoc Night Market
One of our friends from Saigon happened to also be in Phu Quoc with his parents from the U.S. We met up at Phu Quoc Night Market for dinner and had a walk around. It's a lively night market, but 100% catered for the tourists. You can fulfill all of your souvenir needs and eat delicious food at the same time. I recommend the coconut ice cream that many vendors sell. So creamy and satisfying! Phu Quoc is also known for its peppercorn production, and we bought a bag of it at a really reasonable price.
Would I Recommend Phu Quoc During Tet Holiday?
Absolutely. But do your research and stay in areas off of the touristy path. The East end of the island has quite a few quiet lodging options, and if we were to return, that's an area we would explore more. The island is ideal for a do-nothing vacation, and as such, not affected much by the closure that takes place from Tet.
I would also consider returning to the island on an off or shoulder season, say October. The middle of winter attracts a lot of winter snowbirds from the North. The shoulder season may be quieter and more even more peaceful.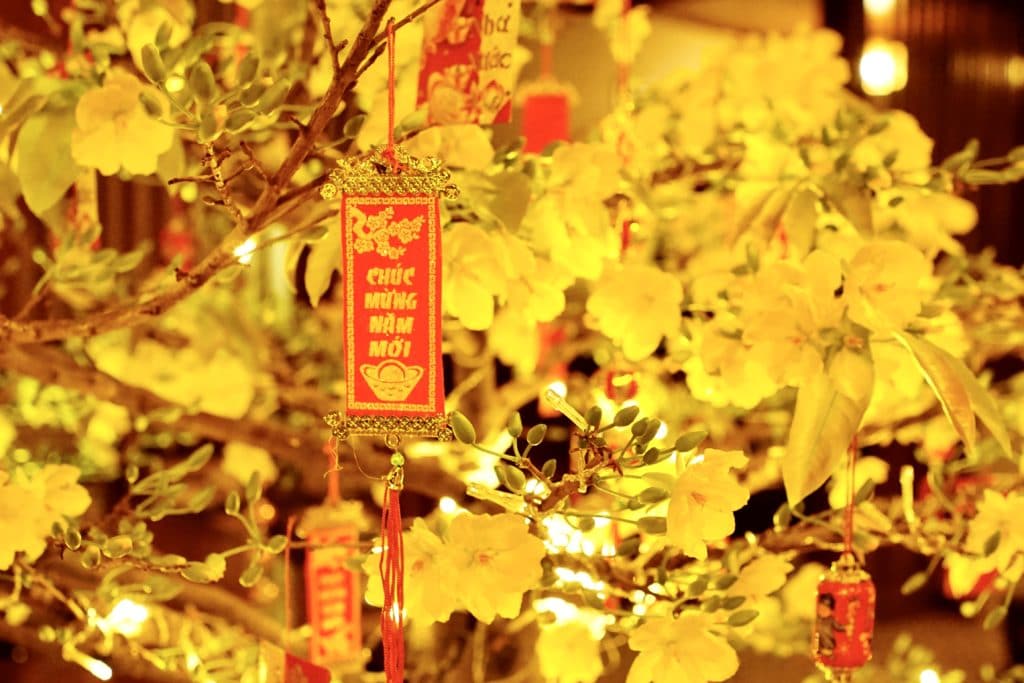 Visit Best of Vietnam Travel Guides to see other travel writing and guides from me and the blogosphere!