One of my favorite pastime back in the "real world" is to sit at a café alone and people watch. Also the same reason why I love airports. Strangers I do not know are very interesting to watch. Each possesses their own aura and have their individual stories. I can sit for hours watching people and capture their own ordinary life in that moment in time.
Here in Cameroon, I don't have such luxury as Starbucks or other cutesy outdoor cafés. But when I do go into Bafoussam for various errands, I always stop by El Campero – white people's favorite bar in Akwa. When I'm alone, this becomes the closest equivalent to an outdoor café. I usually order some brochettes and friend plantain, then sit with my bottle of coke and watch people pass.
There are always people walking around with items on their heads that they are trying to sell. We call this activity, "bar shopping". You sit at a bar, and when people pass, you browse at their items to see if there are anything interesting to buy. It ranges from food (peanuts, prunes, fruits, etc) to handbags, shoes, pirated DVDs, magazines, electronics – you name it, and there are probably someone who sells it. Sometimes if you are really looking for something specific, you can tell one vendor, and he/she will pass the words on to whomever selling the item you are looking for. Definitely one of the more amusing and rare bar activities.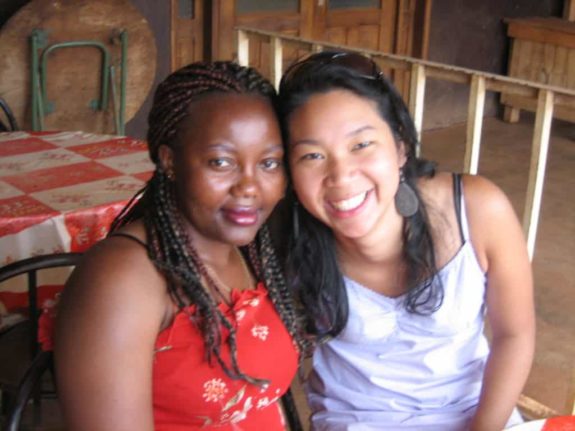 When I'm alone at El Campero, I'm pretty at ease. One of the ladies at the bar, Ghilain, is a good friend to all of us "white people". When she's working, we always hang out and have a good chat. Since El Campero is the bar of choice for us, I often run into others while sitting there – Americans, French, etc. We always order food from the vendors around – salad shack, grilled fish, brochettes, friend plantains, etc. and then gather here. El Campero is a fun place and many a fun gathering have occurred at this very bar.