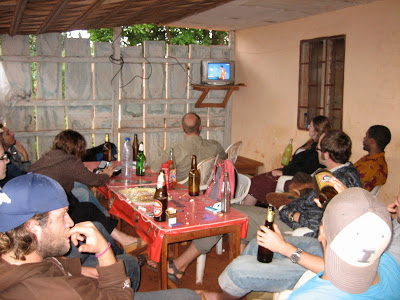 The above photo sums up how I spent most of August 2008. This was the tail end of our stage (training) and we spent a lot of time at Chez Pierre's in Bangangté watching the Summer Olympic in China!
I love the Olympics! And this is why I didn't hesitate when Team USA contacted me to see if I would write something about the Winter Olympic in Vancouver that's starting this Friday on my blog. They need some support because the sad Winter Olympic gets only a fraction of the coverage compares to the mighty Summer Olympic games.
I know we all prefer the sun over the snow, but there is something pretty nifty about the winter games amongst the white fluffy snow. Perhaps I'm just a bit nostalgic for winter weather since I've been living in Africa for 2 years. And besides, these athletes also spent their whole life training for the games, they deserve some attention, right? I never get into those major league sports in the USA. Last night's Superbowl did not interest me one bit, but I do love the Olympic games, and this is my way of showing a little support, and hope you will, too!