Some days, things take place so smoothly much to my surprise; today was one of those days. This morning could have gone like this: I could've left my house and not able to find a moto into town and have to walk 30 minutes. Once I reach the Carrefour, I could've waited another 30 minutes to find a car to Bandjoun, where I have my French tutoring, and then be completely late for my 10am appointment. After my lesson, I could've walked another 20 minutes without finding a moto back to town, and then have to argue with the moto guys or the drivers about getting a ride back to my village. Then, I could've gone into my bank in the afternoon and sit there for 3 hours without really meeting anyone and study French words that I likely won't remember.
Instead, my day went like this: I left my house and there was moto guy coming my way and took me to town. As soon as I reached the carrefour, there was a car taking me to Bandjoun, and I was able to ride most of the way with only 3 people in the back seat! I then got a moto guy right as I got off the car to take me to my teacher's house. I was there for my lesson by 9:25am. During this smooth process, I was thinking that even though transportation can frustrate me to my bones (see previous entry), I still can get around much better without a car here than I could in a driving city like St. Louis. That's quite the shame.
After my lessons, I got three packages from Anna, who received packaged from HQ for people in the West. Three flat-rate size boxes full of goodies from the US of A (2 actually from Guam!). I didn't have a way of carrying them back, so I borrowed a duffle back from Gaston (my French tutor) and unpacked the boxes into the bag. I got a box from my parents and two from Michelle. In the package from my family, I got practical things like seeds for my garden, some clothes, Chinese snacks, Starbucks coffee, delicious Tazo teabags, Season I of Sex & the City and other great movies of mine! And then I get to the boxes from Michelle, and I gotta give it to her for the work she put into them. One box was full of yummy snacks and another full of goodies wrapped in colorful tissues and ribbons. When I got home, it took a good half an hour to unwrap all the items I had received and then it took another half an hour to get over the excitement. I think I was more excited with all of my goodies than I've been at Christmas. Kate took pictures to document the utter ridiculous/marvelous pile of things sitting in my living room. It was as if I had just gone to Target and raided the store. I am so absolutely loved and forever grateful!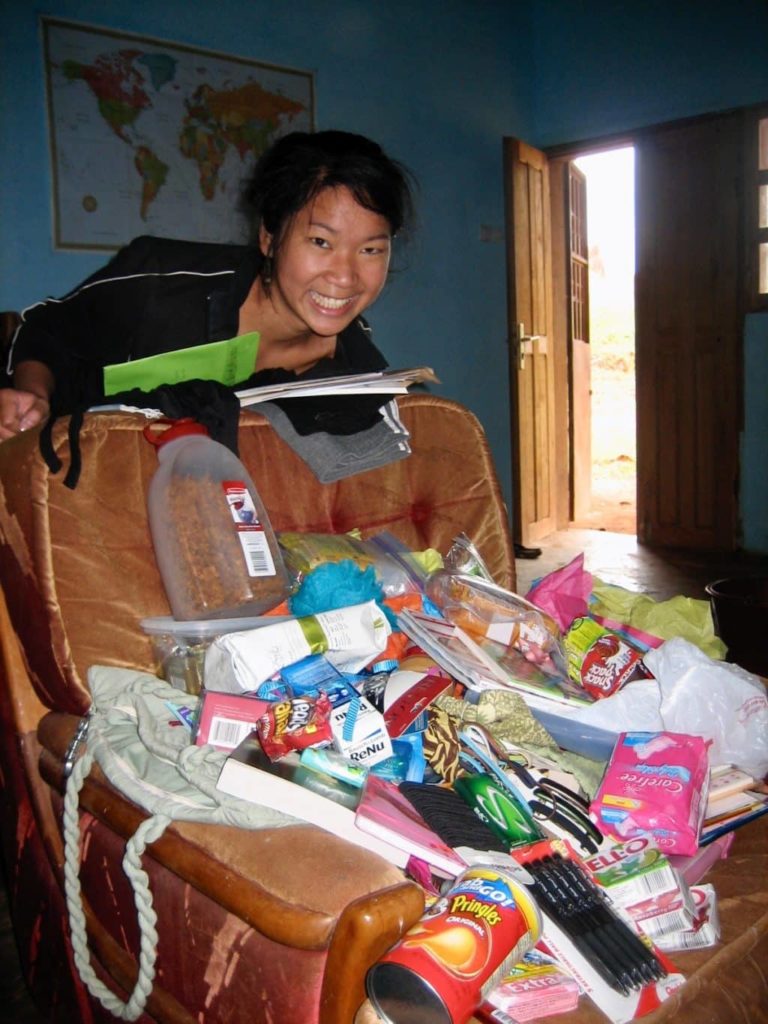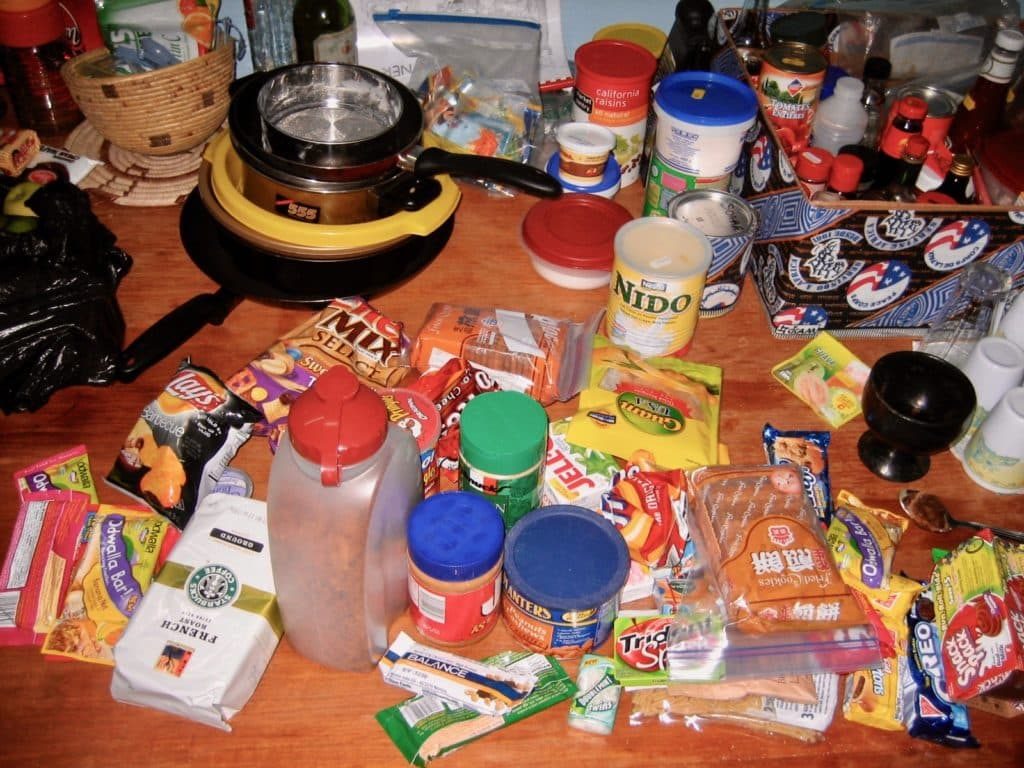 Another great thing about today includes some progress in community connection. I decided to not go to the bank per usual and instead walk around town and talk to people. I found a furniture guy who will make me things I need after I get some pictures, hopefully printed from Pier One or Crate and Barrel! I then took Kate to this fantastic spot on top of a hill that overlooks the village and its surrounding towns. We sat on the great big rock surrounded by unruly natural grass and took in the breathtaking view. The sky was blue and grey decorated with dramatic fast changing fluffy clouds. Beneath the clouds were rolling green hills for as far as the eye can see mix with reddish brown dirt and brown houses scattered throughout. I have come a long way from bustling city life of childhood to quiet, one and the same of suburbia life, and now, rural, quaint, modest village life.
My trek up to the hill also allowed me to show my face to the part of town that I don't usually frequent. Also, I found a guy at the bottom of the hill who makes those little wooden stools I've been looking for. Before heading home, Kate and I raided the street and bought all kinds of groceries for our dinner party tomorrow. We are hosting a yummy spaghetti dinner for our new French friends tomorrow. Hope it goes well. We'll be giving Siobhan a call in the morning to ensure I got the correct steps for a perfect sauce! While buying my veggies, I met a guy who was quizzing us on the names of the vegetables for sale. As it turns out, he's a teacher in a neighbor town's primary school and speaks English quite well. We began chatting and I said I am looking for some work and would be interested in teaching English at his school since they need a teacher. The teaching would be once or twice a week at most, but a great way to get familiar with the community and see what other work I could carry out. Also, a guy who took me home on a moto today was also a teacher in my village. We chatted a bit; he also spoke English quite well. I expressed interest in finding work and he said he will stop by in the future to discuss opportunities with me.
Things are looking up! My spirits are high even though my French is still struggling. There are lots of works to be done; I simply needed to find an alternative way to get started, and not waiting until my French gets better. The language learning is gradual, but my desire to get things done is immediate. Hopefully these opportunities pan out and I will have more fulfilling days in the near future!