First day in Manila, I wandered – my favorite way to travel. I had lunch plans with a Twitter friend, so I had an entirely free morning. Manila is much like Yaoundé – chaotic, loud, and has very clear divide of income level in neighborhoods. It was hot – 90 degrees with heavy humidity that makes it feel like it's nearly 100 degrees.
My path went from the financial district of Manila, where streets were lined with shiny buildings and palm trees, to a neighborhood that reminded much like Cameroonian cities – boutique kiosks, carts selling fruits, cakes, clothing, etc. Manila has some really neat public transports – jeepney – short-distant buses, and trike – a modified motor bike with a seat attached on the side!
Manila's urban planning isn't really suited for someone to wander aimlessly, at least not beyond the fancy expat bits. Most of the streets didn't really have sidewalks, and I find myself meandering through some of the worst traffic I've ever witnessed. I thought the honking problem is bad in Shanghai, Manila raised it to a whole new level. The car horns, mixed with the smell of exhaust and then sweat seeping through one's clothes definitely do not make the recipe for a leisurely stroll.
Unlike my previous travels in the developing world, I blended in quite well in Manila, and did not receive any "hee-haw" catcalls in respond to my Asian looks. As I wandered and observed, I was intrigued by what meet the eyes. While my surroundings were so foreign to me, the individuals whom I walked passed share the same human desires as I do.
My favorite part of Manila was Intramuros, Manila's old city. I visited this part of the city on a Sunday, and it was eerily quiet. Given that Philippines is a rather religious country, most shops and places of attractions were closed. I walked a long time before finding a Western restaurant that was opened for business. Interestingly, it was housed within a well-preserved Chinese building. As it turns out, Chinese has played an interesting role in the Philippines. The Bahay Tsinoy Museum within Intramuro told many interesting stories. But then again, what country has the Chinese not make mark?
I would've imagined that a place like Intramuros, so full of history and gorgeous architecture, would have completed been overtaken by developers and turned the entire area into chic cafés and shops. Thus, I was incredibly surprised to see streets within it with people living their quiet (actually, quite loud), ordinary, and simple lives.
The Madness part of Manila
If you are still reading, you are probably wondering what is so mad about Manila. Well, let me tell you. I thought I would travel Peace Corps style when I decided to go to the mountains two hours outside of Manila. Taking crowded, hot buses is nothing new to me. Yet, when I arrived to the bus station, I was stunned by the long line that wrapped around the block. Even in Cameroon, I seldom was faced with this kind of wait. Turns out, it was Friday afternoon, and people were heading out of the city. In the end, I waited 3 hours for a two hour journey – at least there was AC on the bus.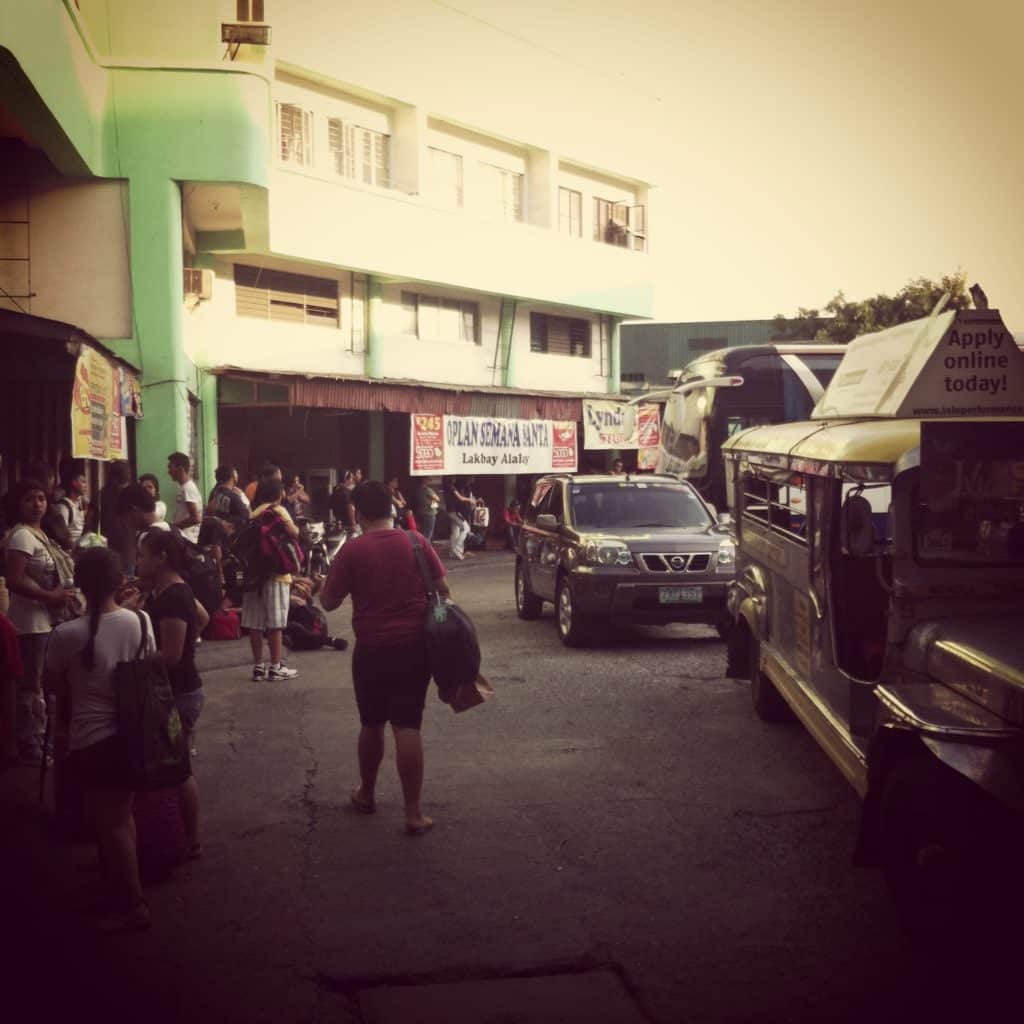 I waited and waited in that 90+ degree weather; the wait became almost amusing, but also incredibly humbling. It was just one Friday afternoon for me, but a regular occurrence for the others. I knew this because no one complained. Sure, people grew tired of waiting as well, but everyone waited as if this is simply the norm. Imagine people having to wait that long for MegaBus – there would be a riot for sure!
I waited for 3 hours next to a girl my age. We communicated with her limited English. She also was kind enough to sit next to me on the bus and let me know when I was suppose to get off of the bus (I was clueless). You win some, you lose some. I lost a few hours of precious travel hours, but gained a glimpse of local life.
Et voilà, my impression of Manila from the short time that I was there. They city didn't make it to the top of my favorites, but interesting nevertheless. Oh, one more thing, the city did fulfill many of my American cravings that Shanghai lacks – Pinkberry, chai tea latte from Starbucks, to name a few!