In 2020, I pivoted from being a long-time index-fund-only investor to an active trader and options investor. My perspective on money, wealth, and the possibilities in life has shifted dramatically for the better. It's been an absolute blessing, and I am eager to share my experience and help others to get on this path of financial freedom.
Last year, I had written about my mega-success learning to Trade and Travel with Teri. This post is a follow-up to detail how I've taken those skills, combined with long-term options strategies taught in The Come Up Series, to create generational wealth. I'm putting myself out there sharing all the highs and lows. Success doesn't come in a straight line. I hope my story inspires you to craft your own financial future.
Upgrading to Trade & Travel VIP
After a successful first month of trading, I upgraded to the Invest with Teri VIP course*, which offers additional support and teaches advanced strategies. Initially, I didn't sign up directly for the VIP package because I wanted to ensure it was legit. Since, I've recommended friends and family to go directly to VIP if they could afford it to have all the coaching available.
The VIP portion covers shorting, Globex, and options trading. All of these advanced strategies build upon skills taught in the Trade and Travel section. The methods are incredibly powerful but more complicated. More ways to make money also means more ways to lose in reverse. Tread carefully but confidently.
I didn't binge through the materials this time in VIP. Instead, I practiced and implemented one strategy at a time and saw success right away. Combined with the high of the market momentum at the end of August, it all seemed too good to be true.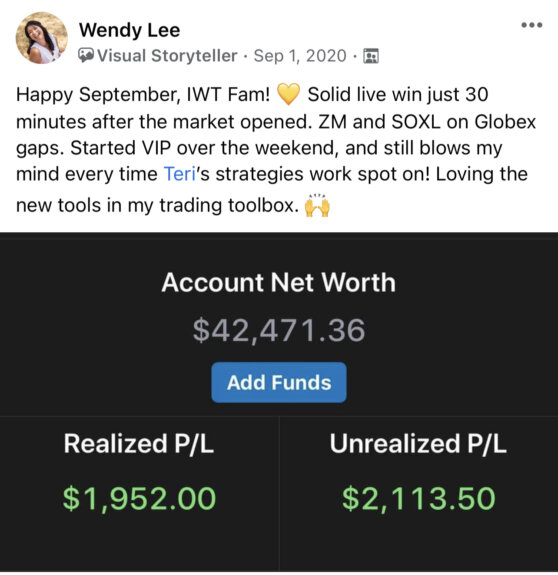 Growing Pains
And then, the September correction happened. I attempted to juggle all of these new skills while facing market volatility unfamiliar to me. It quickly became very overwhelming. I seem to be making every mistake in the book, most notably – not taking profits when the market is up, and then panic sell when the market is down. At one point, I averaged a loss of 1% a day instead of earning 1% a day, wiping away August gains. Yikes. I needed to stick to the script and leave the emotions behind.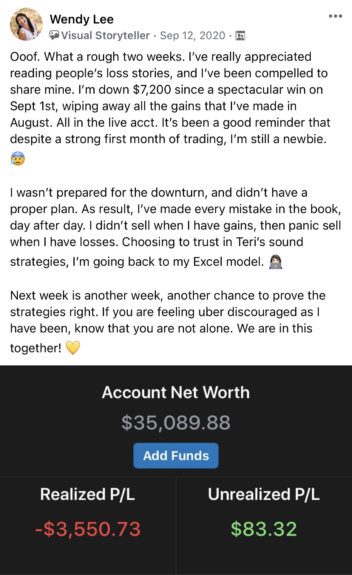 I knew I would face bumps along this trading and investment journey. September and October gave me plenty of opportunities to learn. Instead of feeling defeated, I double-down on learning. Whereas I quickly grasped the concepts in Trade and Travel, the options portion in VIP took me a while to wrap my head around. I had flashbacks of learning about options in my college finance classes over a decade ago. Except for this time, I was determined to put theory into practice.
Mistakes are a part of the trading and investment life. I would encourage every student to give themselves the room to make these mistakes. Turn losses into lessons. Looking back, had I not have those two months of failures, I probably wouldn't have learned enough to craft my current set up. Despite two months of wobbly performance, I am still averaging 0.5% a day from the start of my journey back in August. I am now working to bring this average back to 1% a day and keep it consistent.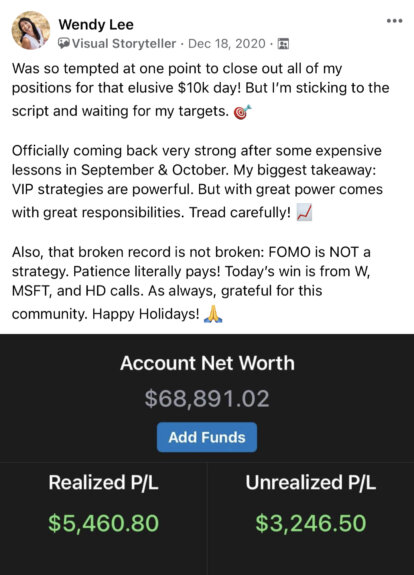 Discovering the Come Up Series
One of the many reasons for learning to invest with Teri is her collaborative efforts with other great investors, who all share the same mission to bring more minorities into the investment community. In September, I first watched her video with this guy named Mark Monroe from the Come Up Series.
He's a successful options investor and began a YouTube channel last year to share strategies on long-term options investment. I hadn't learned options yet at this point, but his talk about long-term positions intrigued me. The buy-and-hold investor in me liked the sound of this low maintenance strategy. I also love the whole ethos of giving back to the community and bringing everyone up to success.
Once I grasped what options were all about, I began binging through every episode of The Come Up Series. Whereas Teri teaches trading from a purely technical perspective, Mark shares research methods on fundamentals and industry trends. He teaches us to find solid companies with high potential growth, then, with proper analysis, buy into long-term options positions under the right market condition.
The Come Up Series content is all out there for free on YouTube, but I must admit, the early episodes were rather rambly. The nuggets of useful information were buried under loads of chitchat. While I was preparing for an international move from Vietnam to Taiwan, I often had the episodes in the background while I clean and pack.
Fortunately, there's a helpful guy, Tevo, who marks time stamps to each episode so we can quickly find the important nuggets. The Come Up Cousin Facebook Group is also an excellent source of information and inspiration. The members call themselves cousins, and I love that! The Series has since organized content with this starter-pack to help newbies to get started. Watch the videos in this order to help you understand Mark's strategies. Some other helpful person has put all the video links into a playlist.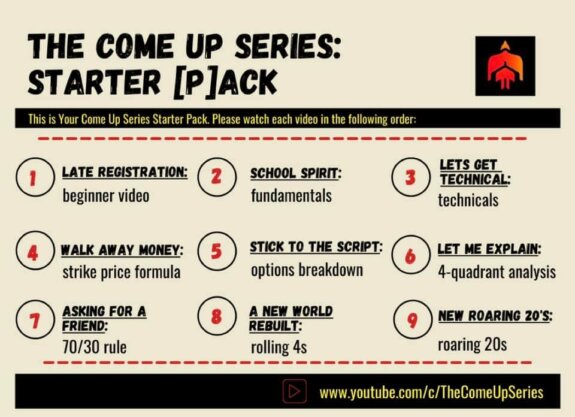 Invest with Teri + the Come Up Series = Powerful Wealth Creation Combo
By the end of October, the market volatility had subsided. All of the information that I had binged in September and October began to make a lot of sense. During my two-week COVID quarantine, aka hotel jail, I devised a plan to build that generational wealth, taking my financial freedom journey fully toward financial independence and creating generational wealth.
When I first heard of Mark's new math formula on the Come Up, with shocking returns of 300%, 500%, 1000% over two years, my spam alarm was ringing on all fronts. Yet, the theory makes perfect sense. I decided to give it a try. I began buying into various long-term options based on Mark Monroe's strategies and picking companies and ETFs using his research methods. Pictures and numbers speak louder than words. Below is my progress since November 1st, 2020, less than three months ago. I still have a hard time grasping these numbers myself. I feel I learned to walk the stock market roads with Teri, and Mark taught me to sprint.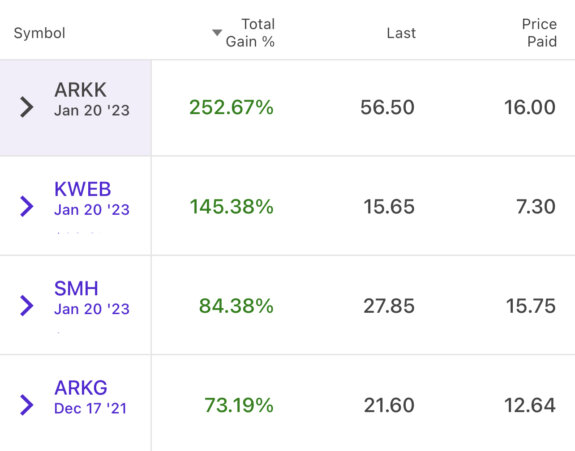 Tip: I find the foundation taught by Teri in Trade and Travel set me up beautifully for the Come Up strategy. I would recommend any newbie investors to save up and invest in Teri's Trade and Travel course* to build a solid foundation in stocks trading before applying Come Up's options techniques. It's not mandatory, of course, but I find it immensely helpful. Don't try to sprint before you can walk.
My Trading Setup and Routine
I came up with an allocation that will allow me to earn income while pursuing buy-and-hold strategies both in stocks and options. For the first time ever, I sold some index funds! This is one of the significant shifts in my money mindset. I was taught to buy and hold for the longest time, but that doesn't need to literally mean buy and never sell until age 65. Now, I want my money to work for me, and I care about performance. My goal is to shift to the following investment allocation by the end of 2021.
40% Long-term Options
40% Index Funds and Stocks
10% Income Trading (Trade & Travel VIP*)
10% Real Estate Fund (Fundrise*)
For my long-term stocks and options position, I house them in E*Trade* while swing-trades following Teri's recommendation in TradeStation. I like keeping them separate since they require different levels of attention. In case of a market pullback, I am shifting the investments in batches. I also always have at least 5-10% in cash to average down or buy into new positions when the market turns.
While I let the long-term options slowly cook, I apply Teri's VIP options strategies to earn monthly income. Out of pure laziness and time zone inconvenience, I no longer day trade. It's too stressful. I like to keep my life leisurely. I only swing trade now, which means I will buy into a position but sell only days or even weeks later, when the prices reach the right zone or my target.
Time Spent on a Typical Week
Since I'm located in Asia, I now spend only about an hour each night when the US markets open to monitor the overall market condition. If opportunities are present, I then set my entry and/or exit levels before going to sleep. Waking up to profits is extraordinarily wonderful!
During the week, I spent a few hours researching, understanding industry trends, and dissecting companies and funds that I am investing. This keeps me informed and on the lookout for the next batch of long-term investment. I've always been interested in the markets and economics, but now I have a strong reason to follow it closely. I often have Bloomberg TV, the Economist audio edition, or ARK Invest's Podcast on the background while doing a puzzle or cleaning the house.
In some ways, the dots are connecting yet again, and now I see maybe studying finance and economics wasn't purely because they could get me good jobs, but that I genuinely enjoy the topic. It merely took over a decade for me to finally find an application that I enjoy.
Embracing Life as a Lady of Leisure
Another reason I love the Come Up Series is because of Jolyn GC, the fabulous co-host. She has a fantastic Wealth Rituals series within the Come Up channel, where she outlines her investment journey. My absolute favorite thing about her is her unapologetic attitude to claim the Lady of Leisure title. It's something that I privately discuss among friends and dream about but never could confidently proclaim.
I feel empowered to have someone out there preaching what I believe. Seeing the public proclamation to be a Lady of Leisure encourages me to shoot away voices that keep telling me to get a job. God willing, I don't ever want to spend another minute doing things I do not enjoy for money. Isn't this the ultimate dream? My entire financial freedom journey has been about the ability to wake up leisurely, do whatever I want, whenever I want. Though it's surprisingly challenging to suppress those "get a job" voices.
My Investment Purpose
Being a Lady of Leisure doesn't mean my days are filled only with relaxing mornings, reading and writing in cafés, and yoga classes. I am leveraging these investment skills to create wealth not just for me but also for those in need. My short time in the nonprofit as a donor relations manager taught me that I absolutely prefer being a donor rather than writing reports to donors. I often caught myself thinking that it'd be infinitely more efficient if I simply make the money to give to our beneficiaries directly.
And that is what I am doing now. I had committed to giving 50% of my Trade & Travel affiliate income to GiveDirectly. Also, I'm giving 10% of my income to both Give Directly and other initiatives that invest in individuals. In grad school, I had wanted to go into impact investment; instead, I counted beans for a tech giant. Now, this is my version of impact investing. Dots connect yet again.
Long Road to Financial Freedom
It's hard to fathom that in 2012, less than a decade ago, I took a gamble and moved to Shanghai with negative US$120k to my name. Only less than five years ago, I turned that negative net worth positive. I had no idea it'd be so exhilarating to have a zero net worth. Today, I proudly live the dream as a Lady of Leisure. I've come a long way, and this journey has been long and rewarding. With hard work, discipline, and a bit of luck, dreams do come true.
These days, I am having calls with people curious about investing every week. I love these conversations so much. If you have any questions about Trade and Travel or my combo strategy with the Come Up, please feel free to contact me for a call. Even if you have no utter idea where to begin because you are drowning in debt, I'm happy to brainstorm with you to help get things started. Your questions also help me to craft future blog posts to benefit even more people!
In 2020, the wealth gap grew with the pandemic. People invested in the market grew richer, and those who didn't fell behind. But, it's never too late, and this movement wants to pull you up. As Mark says on the Come Up – if your dreams don't scare you, they aren't big enough. Let's get after those big scary dreams and bring others along!
Tip: Please don't let my account size dissuade you. I've built it up over time. Many people in the Trade and Travel course* begin with as little as $500. There are many Come Up Cousins in the #1GC – the one-contract gang. You build up from one, then two, then multiples. The important thing is to make a plan, and then take the leap forward to start!
Disclaimer: I'm not a financial advisor. I'm merely sharing my story and investment journey. Do your own research before throwing hard-earned money at investments that you don't understand! Also, the links shared above with * are affiliate links. I get a small commission if you sign up for these services with the link. 50% of that will go toward GiveDirectly's COVID-19 response.