Hi Friends! Sorry I have been MIA for a while. These past week and a half has been a crazy whirlwind, and certainly been the best time since I arrived in country. I will do my best to recap and also section off this long entry for easy reading!
Yaounde
Right before all 36 of us go through the swearing-in ceremony to become real volunteers, we had to make a trip to Yaounde, the capital city, for some administrative businesses. After living in Bangante for months, going to Yaounde was a real treat! I for one, brought every single piece of clothing with me to throw in the one washer and dryer that exists in the volunteer house.
The CASE (ka–ahze), volunteer transit house where we stayed is frat house meets summer camp! It's the first time we could all hang out 24 hours a day without having to go home for curfew. Other than washer and dryer, the CASE has other fabulous amenities such as hot shower, a ridiculous collection of DVDs and books. Yaounde, the capital city offers things like Sneakers/Twix bars, delicious Chinese food, milkshake, hamburgers, gigantic supermarkets and the like.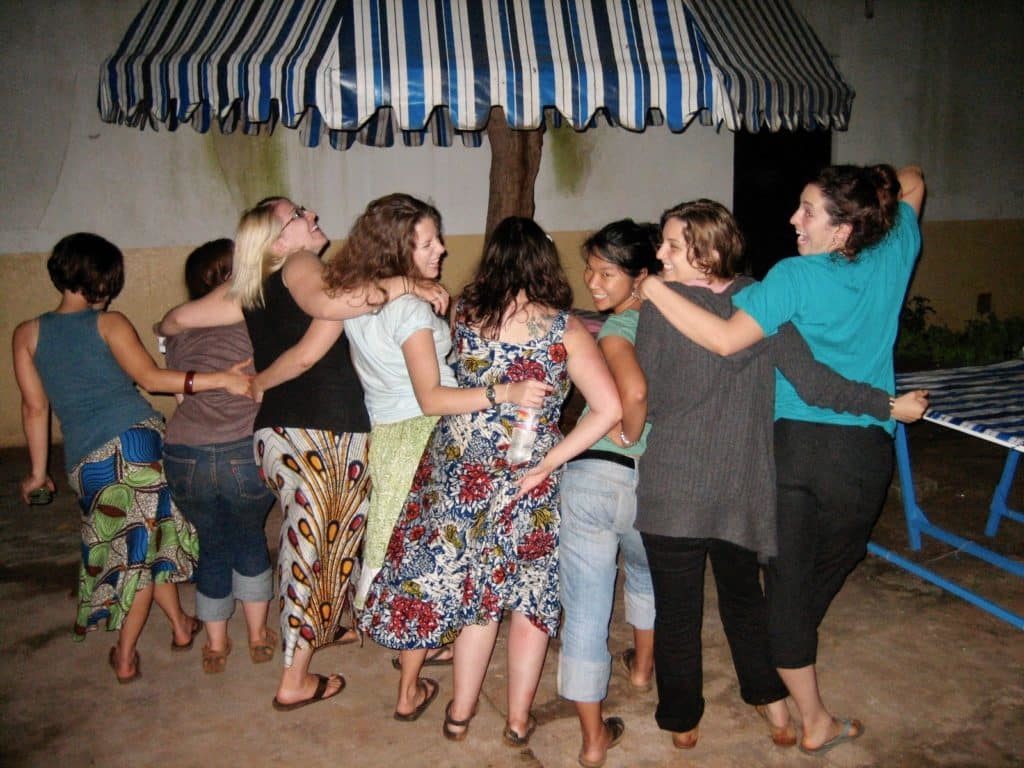 One of my favorite days in Yaounde went like this: We got paid in the morning – three months salary + moving in allowance! Afterward, David, Ehab and I went to a recommended Chinese restaurant and gorged ourselves in some insane amounts of food, including two desserts for me. The highlight of the meal was after I said, "omg, I really overdid this with two desserts, I can't eat anymore." and then I took another bite. Delicious food aside, the three of us had great conversations about everything. It's rare to hang out in small groups of three and I quite miss it.
After the meal, we walked around town and found an Espresso House. We walked in and this place was more or less America, with posh seating and flat-screen TVs. We had milkshakes (yes, after two desserts) and watched the Brazil-Argentina Olympic football match. The fabulous day continues when we got to this huge supermarket where I found an isle of Chinese food including Taiwanese ramen, soy sauce, sesame oil and the like!
Another day, a group of us went to the Hilton hotel for its two-for-one happy hour. We all had a bit of culture shock riding the posh elevator and using the bathroom that's completed with toilet paper, soap and paper towel! The boys rocked out there mustache and sunglasses look, and the girls indulge in martinis (not as good, but good enough!). There was a piano there, and after one martini, I was rocking out on the piano with Trevor. I play much better with a little alcohol in my system! It was a lot of fun, and I quite miss the piano!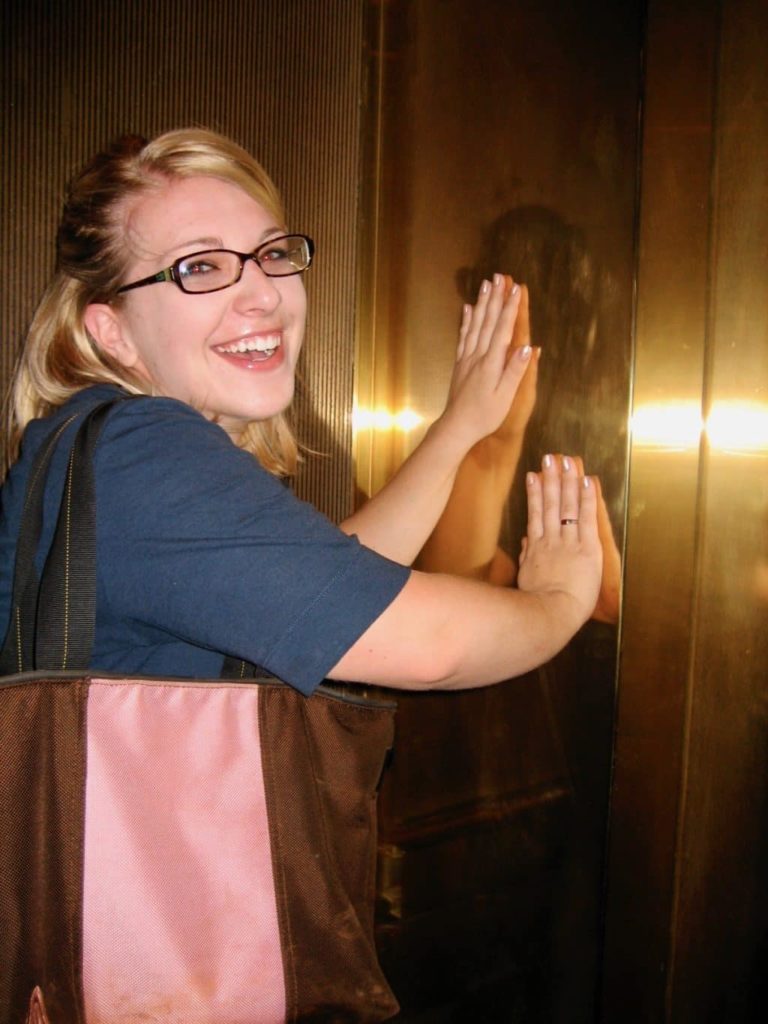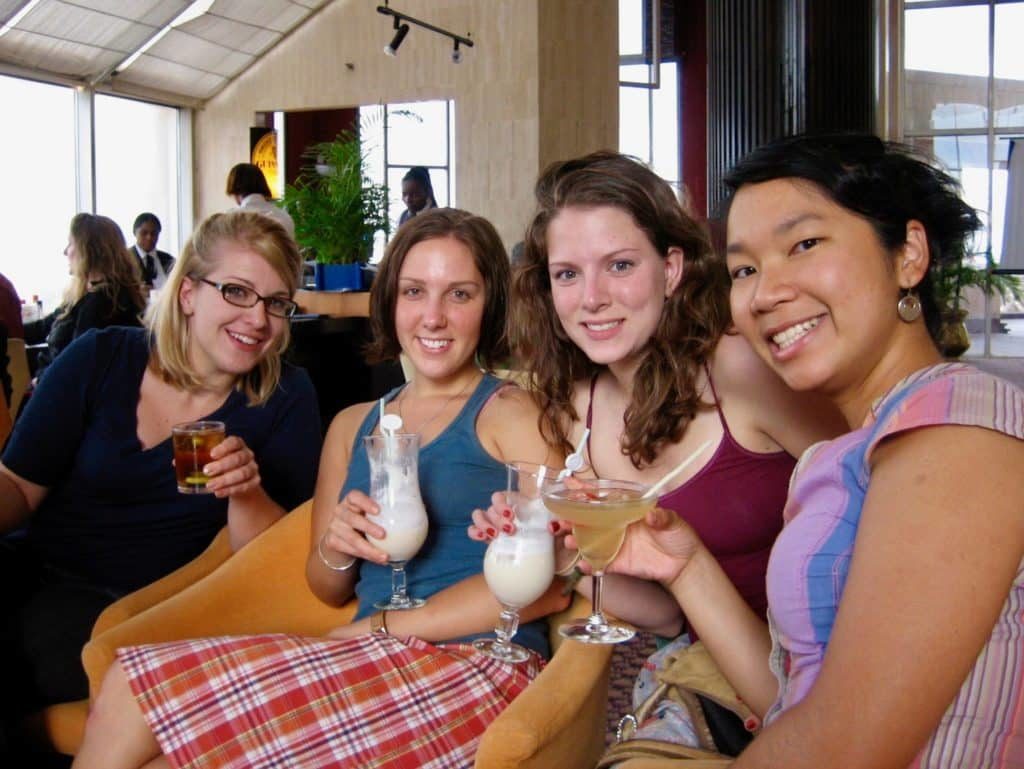 The three days in Yaounde was a really good time and the last hurrah for us to all be together before parting our separate ways. For the past week and a half, I've more or less spent all day every day with people, yet I am not craving alone time. I think all the alone time that is ahead of me makes me cherish time with others as much as possible!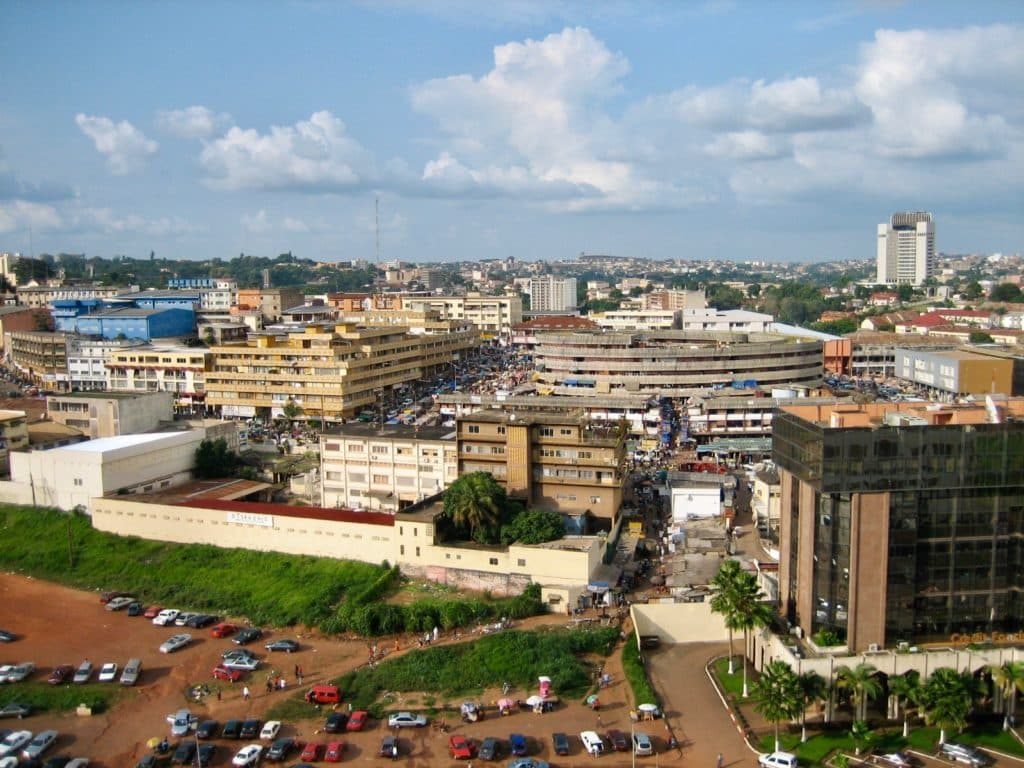 Swearing-in Ceremony
Just two days after we got back from Yaounde, the ceremony took place where we became "real" volunteers! It's a tradition that everyone buys the same pagne and get outfits made out of them. We were all quite happy with the choice of pagne and I got a little Chinese dress made out of it! It looked great on me and is definitely my "skinny dress". I can hardly breathe in that thing, especially after I eat! We all look cute/kind of funny in matching outfits!
The ceremony itself was kind of anticlimatic. The actual "swearing-in" part took 5 minutes, and the rest 3 hours and 55 minutes were people speaking and other traditional things. The event went very well overall, except when the power went out and the mic stopped working. The rain also started to fall half way through the ceremony – typical Bangangte in rainy season.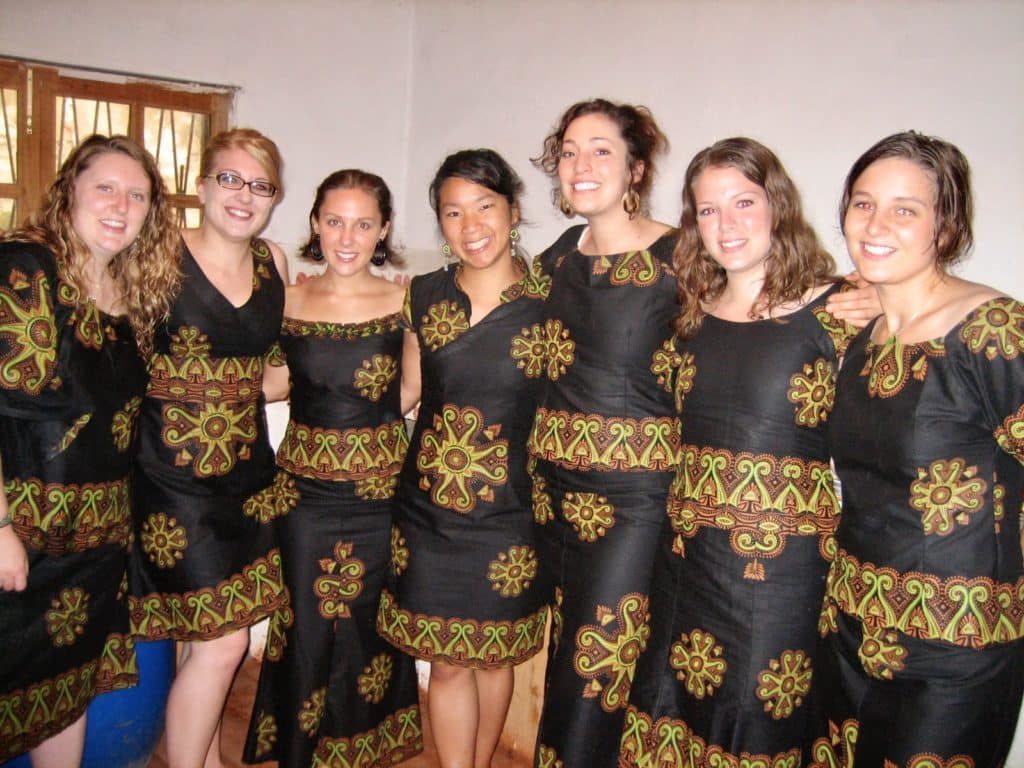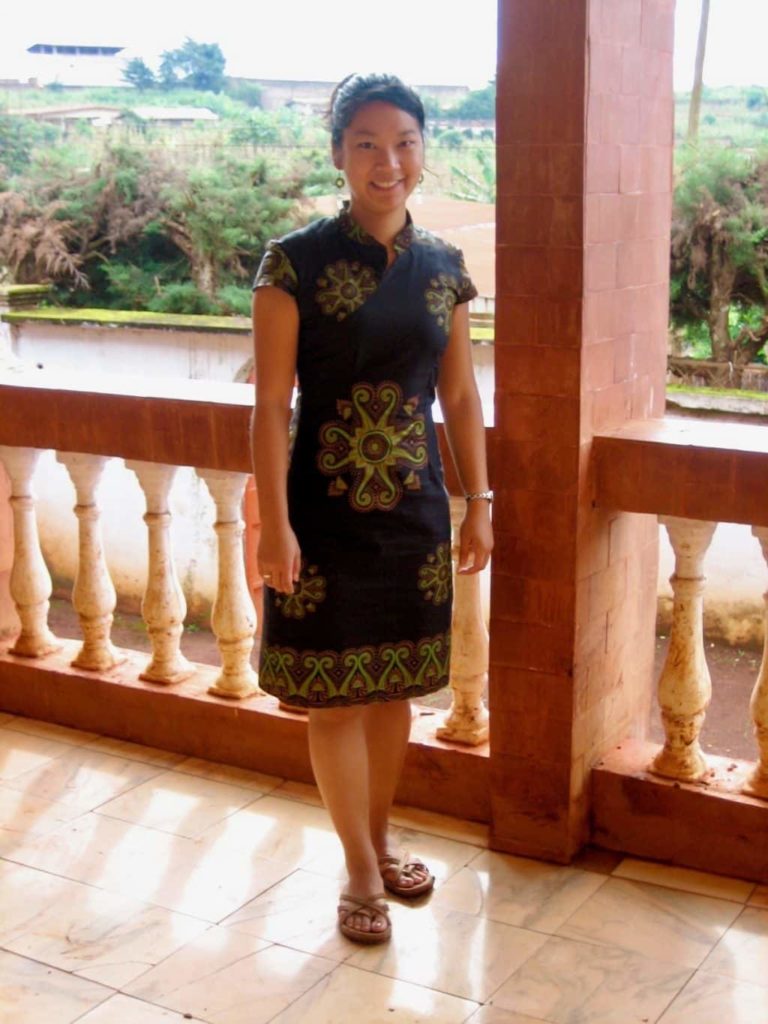 We had a big lunch with our host families after the ceremony and that was the last of it. The rest of the afternoon, we hung out at the SED house per usual. Later in the evening, us free-no-curfew volunteers went into town for dinner and then stopped at a "dance club" in a hotel. That was really pretty hilarious and a good release for us all before we part the next day. That night, a group of us had a slumber party at the SED house. sigh good times.
Leaving for Post
After the slumber party, we woke up to the harsh reality that we all must part. I am staying here in the West province, so I was the last to go. It was quite emotional saying goodbye to all the wonderful friends I've made over these past few months. I am quite lucky since my good friend Kate is near me, but even then, it was hard to say goodbye to the others.
The journey to post started with the people heading to the West plus Lee, who is heading up North, but must come through Bafoussam. Kate's house isn't ready, so she stayed with me for a few days. Lee was going to stay in a hotel, so I told him to also come along. I am so glad those two were with me during our first few nights. I got to my house and it was a disaster. The walls were getting painted, and it was no where near done. Paint was everywhere and my house was an utter mess. Later in the afternoon, around 5pm, two guys showed up at my house to paint. But the electricity was out and it go dark relatively soon. Of course it would have made way too much sense for them to come earlier in the day to paint. Anyhow, it was the two of them painting under the candle light while the three of us sitting awkwardly in the chaotic living room!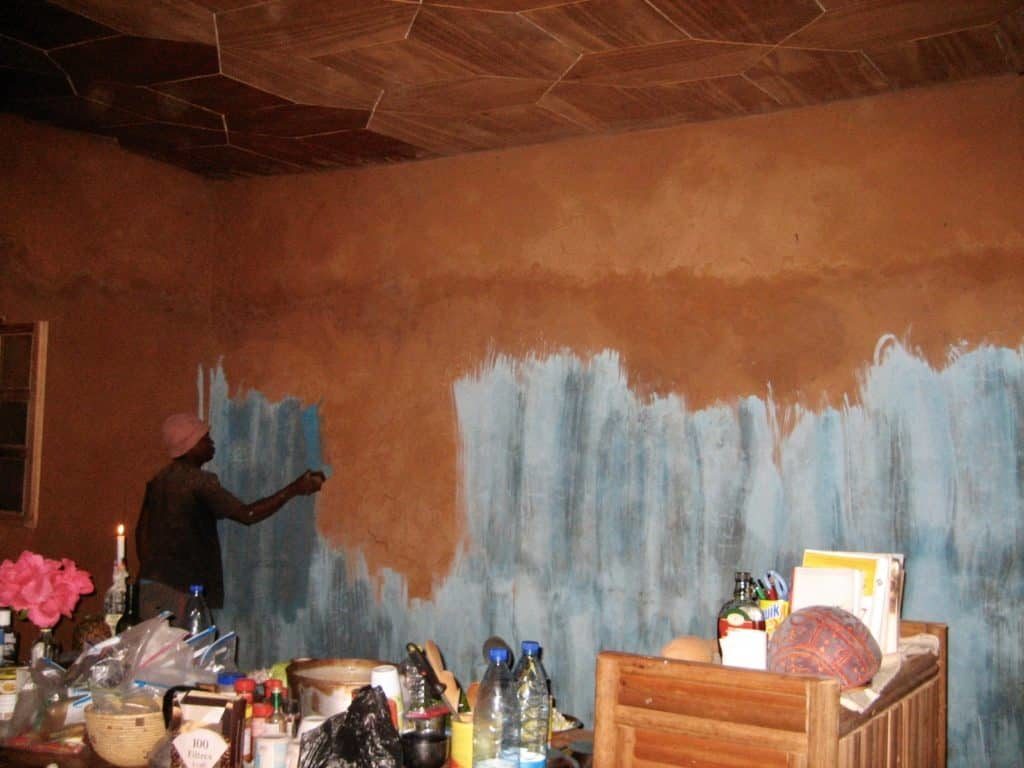 Chinese to the Rescue
The good thing that came out of that day was that I called the Chinese guy I had met a month ago, Mr. Zhang. He was so excited to hear from me and invited us over for lunch the next day. I must say, that lunch was one of the best meals I've had in quite some time. We got to his place and hung out in his big living room. He invited over another Chinee couple who were closer to our age. I did some mad translating that day between the three Chinese people and two Americans. The lunch was phenomenal – Mr. Zhang had hand made these delicious dumplings. He's from the North of China, where that dish originates! In addition, there were ducks, soup, vegetables. I dare say that meal was far better than the Chinese restaurant where I gorged myself in Yaounde!
Mr. Zhang and the Chinese couple are extremely hospitable and excited to have me around. There are only 8 Chinese people in Bafoussam, so I am adding new blood into the mix! Already, I feel like an adopted daughter into this community. Mr. Zhang has been here for 9 years and knows all kinds of people. In these past few days, he's introduced me to some big shot in my village, got two gas stoves delivered from Yaounde for Kate and Lee, making plans to come inspect me and Kate's house and making more delicious food for us! I am very excited about this new suppor network, and already, this is making my life so much easier! (As we speak, I am using the couple's faster Internet to make this post!)
Other things about the first week at my post – I haven't been alone yet. Kate's house still isn't ready (no water and electricity), so she is staying with me until further notice. Our first three months at post are intended for us to become integrated into the community and setting up our house.
I didn't understand how it's possible to take three months to set up our house and the like until yesterday when it took us three hours to open a bank account. Yes, three hours. Everything here takes forever. It's near impossible to budget your time and expect to get things done in certain time frames. This should be an interesting next few months!