This year is the first time that an Africa nation has hosted the world cup. I am sure you are all well aware of the significance. Being in Cameroon, one of the 7 African countries that had advanced to the World Cup, is quite exciting. I have never watched so many World Cup games as I am right now. I'm sure the fact I don't have much on my schedule helps.
Unfortunately, Cameroon didn't do so hot and was eliminated from the tournament just after the second game. Nevertheless, the two games they did play, I watched them at bars with fellow volunteers and it was quite the event. Sure there are sports bars in the US, but there is something quite intoxicating about watching the games at semi outdoor bars on not so fancy televisions. People crowding around, sitting in plastic chairs or benches. When the game begins, the streets were completely quiet. Everyone stopped what they were doing and crowded around the nearest television to observe the game.

MTN is the the official sponsor of this year's world cup, and they happen to be my cell phone provider here in Cameroon. During the Cameroon – Denmark game, MTN had promotional activities in major cities where big projectors were set up in the streets, they gave out noise makers, wrist and head bends, etc. The pre-game festivity was much like any tailgate in the US, but the national unity and energy level was outstanding. Just few minutes into the game, Cameroon scored its first goal and the excitement was indescribable. You really just needed to be here. I've never seen anything quite like it!
Watching the U.S. games here is equally exciting. For the U.S.-England game, we brought the U.S. flag to the bar. Cameroonians were rooting for us. The ambiance is so incredible! Although, I have a feeling people won't be cheering for the U.S. during tomorrow night's game of U.S. vs. Ghana. After all, Africans have to unite and support the last remaining African remaining team in the World Cup.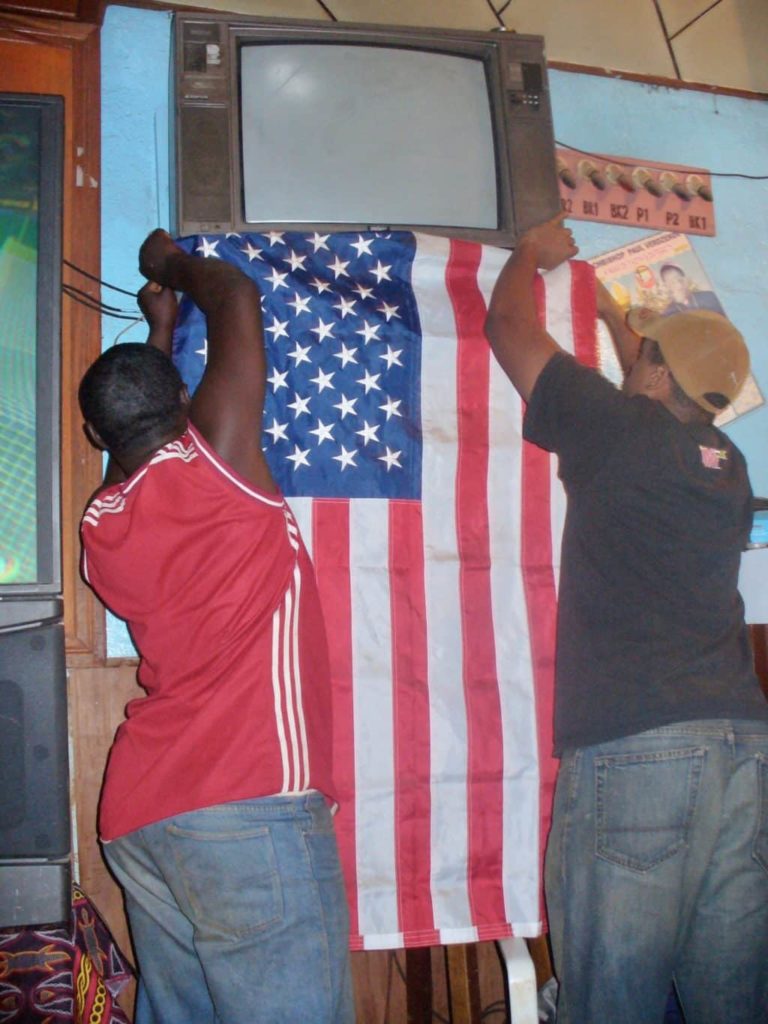 The World Cup, more than other sporting events, seem to have this unifying effect for the world. That feeling of togetherness is so contagious. After all, as they say in Cameroon: On est ensemble! (We are together)!